Adipurush actress Kriti Sanon visits Tulsibaug's Ram-Sita temple on the occasion of Maa Sita Navmi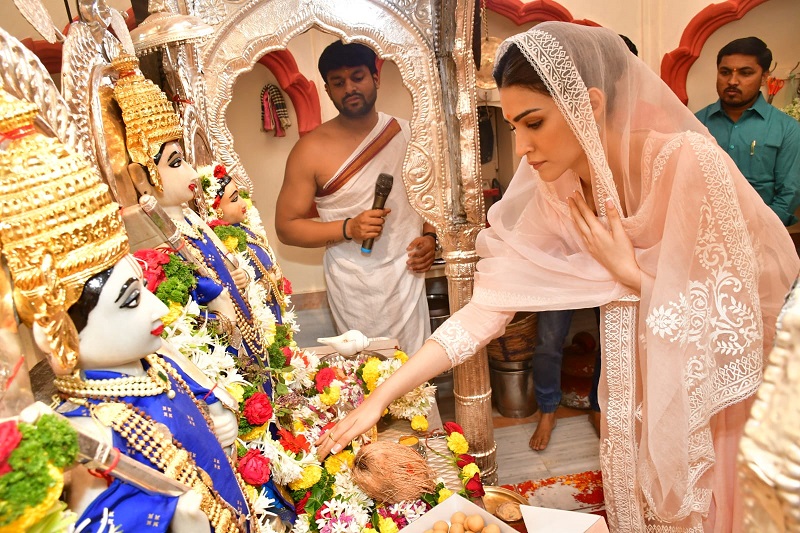 After launching the enchanting poster of Janaki along with the audio teaser of Ram Siya Ram on Maa Sita Navmi, Kriti Sanon visited the most revered Ram Temple in Tulsibaug, Pune to receive the blessings of Prabhu Shri Ram and Maa Sita on the auspicious occasion of Maa Sita Navmi.
View this post on Instagram
The visit was intended to seek blessings for the success of her upcoming movie and pay respect to the divine couple. The visit also served as a symbolic gesture to honor the strong and inspiring bond between Prabhu Shri Ram and Maa Sita.
In 1761, the Peshwa dynasty built the Shree Ram Mandir of Pune, which is one of the most revered temples in the world. As part of her visit, Kriti Sanon performed puja to the deities and soaked in the temple's tranquil atmosphere. She was overwhelmed by the grandeur of the temple and the divine energy it radiated, which she felt was palpable and calming.
Om Raut's Adipurush produced by Bhushan Kumar released on June 16 globally.Earlier, the motion poster and audio teaser of the melodious 'Ram Siya Ram' were unveiled for Janaki starring Kriti Sanon. Kriti Sanon portrays Janaki as a symbol of purity, divinity, and courage as Raghav's consort. Janaki was also a source of strength and resilience for Raghav in his fight against odds. The motion poster and audio teaser emphasize Janaki's strength and inner courage, as well as her ability to be a source of support and guidance for Raghav. The song also conveys a message of hope and perseverance, which is a central theme in the film.
View this post on Instagram
In Ram Siya Ram, the melodious tune encapsulates Janaki's unwavering devotion to Raghav and will transport the audience to a world of spirituality. The uplifting lyrics of the song, combined with the emotive melody, captures the courage and optimism of Janaki and serves as a reminder that faith can guide us through any trials and tribulations.Sachet-Parampara sings and composes this soulful rendition of 'Ram Siya Ram'.
Adipurush, directed by Om Raut, is produced by T-Series, Bhushan Kumar & Krishan Kumar, Om Raut, Prasad Sutar, and Rajesh Nair of Retrophiles. It will be released worldwide on June 16, 2023.
https://www.highonpersona.com/neha-dhupia-diverse-dignified/