"Animated shows and movies are more popular with kids than live action shows",-Niraj Vikram: The Pioneer of Creating Iconic Kids Shows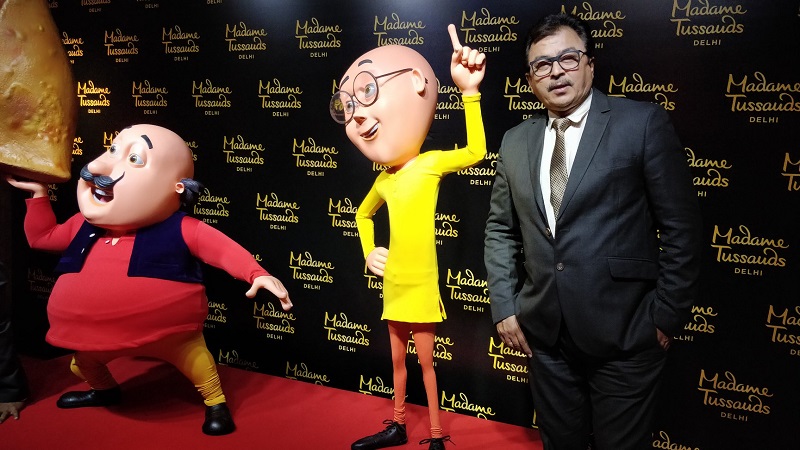 The man behind famous Indian kids shows like Motu Patlu and other popular homegrown animated shows like Dabangg: The Animated Series, Rudra, Daduji, Ting Tong, Gattu Batuu, and Chacha Bhatija to name a few, Niraj Vikram has gracefully revolutionized the television entertainment industry with his myriad ideas and talent.
His kids show, Motu Patlu, has received a lot of love and appreciation from the audiences, such that it has become the first Indian animated character to get its figures at the internationally famous wax museum – Madame Tussauds. While it is his creative acumen and a relentless zeal to put his best foot forward, Niraj Vikram's belief to follow his heart and constantly upskill himself as per the ever-evolving industry standards has helped always stay at the forefront in this industry.
Not only this, but he has also worked primarily for some sought-after television shows of the 90s such as Sonpari, Sharaarat, Shakalaka Boom Boom, Ghar Jamai, and Akkad Bakkad Bambey Bo. Before venturing into this flourishing industry as a television and movie script writer, Niraj has also served in the Indian Army for 5 years as a Short Service Commission Officer. Currently, he is on his new adventure of penning another iconic kids' show titled 'Pandavas' for Pogo.
In an exclusive interview with High On Persona, he sheds light on his journey so far, his experiences as a writer and actor, and his escapade of acting and producing various Nepali movies. Read further to know more about this iconic writer!
As a Captain you left the army after approximately five years of service. How did you get interested in joining the army in first place and what motivated you to take on the work you do?
My interest in Bollywood dates back to my school days. I used to write plays during my school and college years, and I came to the army first as a short service commission officer for five years, so I could save money for my struggle in Mumbai, and I didn't want to burden my parents with my struggle. It took me five years to save enough money to sustain myself without burdening my parents for at least two or three years. After my army tenure ended, I moved to Mumbai.
Now that you are a successful writer, what do you miss most about your army job?
I miss the bonhomie, camaraderie and discipline of army life.
What made you decide to write for animated shows?
The primary reason is that I can stretch my imagination to any extent I want, think of anything, and write, which was not possible in live action.
Secondly, I got an offer to write Motu Patlu animated series, Motu Patlu were my favourite characters since childhood, I have grown up reading Motu Patlu stories in Lot Pot comics.
View this post on Instagram
Many of your shows have been hugely successful, including Shakalaka boom boom, Sonpari, Shararat. You also write animation movies like Motu patlu, Dabangg etc, which are well received compared to writing for animated shows. What are the things you need to keep in mind while penning for non-animated shows?
Currently, very few kid's live action series are being made, which shows the trend that kids are liking more of animated movies and shows. Animated movies are more well received than animated shows and live action series. while writing non animated shows we have to keep in mind that don't write anything thing be it location, expression, fight sequences, chases etc etc. which can't be shot in live action. It is impossible for us to imagine a strange world on the ground, in space, or underground. Animation allows us to do this. We have to control our flight of imagination.
First Indian animated characters to have their figures displayed in Madame Tussaud's were Motu Patlu, what was your first reaction when you found out?
I was totally blank for few seconds, I just couldn't believe it, I could hear voice coming from miles away that motu patlu are going to enter Madame Tussauds. Then I gathered my senses and asked what? And I was told again, it was like a dream come through. I have no words to express my joy that day.
When it comes to living up to the expectations and success of your previous shows, has it ever been a challenge? What would you do in such a situation?
Every time my new series start, I have to face this challenge, because most of my series are successful but I ignore that feeling of competing with my own serials and just start living in that new series and give my hundred percent.
Almost every writer experience writer's block at some point. To break the writer's block, what tips would you recommend?
I would say, just take a break and stop thinking about that series or topic, think of other things, see movies, plays aur do anything which will refresh your mind and then start writing again. By taking a break and refreshing your mind, you will start getting fresh ideas again. That's what I normally do.
View this post on Instagram
Please tell us about the challenges and struggles you faced in your journey to success and how did you overcome those challenges?
My main challenge was to get the people know about me, I didn't know anyone in Mumbai so I had to start from scratch. First three years I just kept on making rounds of producers and directors office and that is the toughest part of your struggle since most of the time you don't even get to enter their office. My main strength was positive thinking and self-belief that I can do it and so I never got depressed and never thought of going back home, with blessing of God almighty people start giving me work and slowly I made my own place.
What is the best animated or unanimated show of yours?
As per me, Sonpari is my best unanimated show and Motu Patlu is my best animated show till date.
One of the most popular shows amongst kids is Motu Patlu. Where did you get the inspiration for it?
Motu Patlu are character from Lot Pot comic. I have been reading them since child hood. Cosmos Maya studio took rights from them and made this series. Most of the stories of Motu Patlu are inspired from slice of life situations.
Have you ever written a show or movie thinking it would not be very successful but ended up being surprised at its success?
Answer is no, because I always write a new series with positive frame of mind that it will be successful, having said that, I would like to add that may people didn't think Motu Patlu will
do well, firstly because they were adult protagonist, normally kids shows have kid protagonist and secondly because of their looks, not very handsome, bald headed etc lost of people thought it will be a failure but to their surprise it's a huge success, even after ten years and more than 1000 episodes of writing.
Is the Indian animation Industry lacking in anyway? When compared to international animation? How can it be improved if yes?
Indian animation industry is not lacking when compared to international animation, because most of the work on international animation movies is done in India also and we are giving same quality but when it comes to making our own local content for our channels, quality is not good enough comparatively, for simple reason that time and money given to local project is very less, in comparison to international projects. The day local projects get more money and time to make, we will be as good or even better than international projects.
View this post on Instagram
When writing for children, what are the things you focus on?
Firstly entertainment, kids should start smiling and laughing from very first scene only and enjoy throughout the episode. Secondly, language. I should not use such language which may have bad effect on them, they should speak in good language, thirdly action – in fight scenes I don't use such action, which kids may copy and harm others.Fourthly, good message.
Every story should have a subtle message, which I don't preach but kids will get it, like be positive, don't ever give up, respect elders, be helpful, good vs evil, etc etc
What advice would you give to the upcoming generation of script writers?
As a writer, our job is not only to entertain kids or adults but we have a huge responsibility towards society also, we should not write anything with may create rift in the society or which may have bad effect on kids and make them a bad kid instead of a good one. As they are the future of nation.
Can you give us a little insight into your upcoming projects?
I have three upcoming projects in different channels, one is family entertainer, second is chase comedy and third is magical serial but I won't be able to reveal their name and details now, till the time channel announce themselves. My latest series is The Pandavas, based on childhood of Pandav brothers, when they were in Guru Dronacharya 's ashram.
Can you share with us some of the mistakes you made in your early days in the industry that you would like the upcoming generation to learn from?
I was very shy and introvert, wouldn't make friends very easily, wouldn't mix-up with people easily, so it took me very long to make myself known to directors and producers. Here one should grab the opportunity when it comes, leaving all inhibitions at home.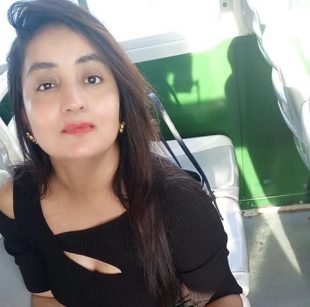 She has been there and done that. After graduating from Delhi University, she completed her diploma in Journalism from Bhartiya Vidya Bhawan, Delhi. Down the line, she completed her internship with National Herald Newspaper successfully,, and went on to Join Mainline Business daily, Business Standard. She also dabbled in image management and brand consultancy. She is a prolific writer on lifestyle entertainment, branding, lifestyle, travel, and politics.
Contact her at [email protected]