Striking a chord with musical symphonies: Dino James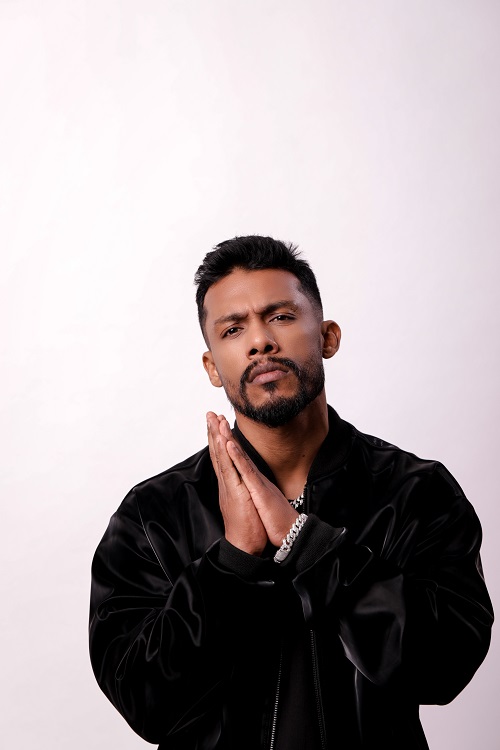 Rendezvous with multitalented rapper, singer, songwriter and music producer
Meet Dino James, an iconic rapper, singer, songwriter, and music producer who has become a name Synonymous with excellence in the rap industry. While James never thought that music would be his "rescue from tyranny", he continued to follow his passion for musical symphonies and as destiny would have it, he created a unique identity for himself over the last 5-6 years. A true rap star at heart, James believes in the power of stories which are the strongest form of expression as it comes with an example hidden in it, and his compositions like 'Girlfriend', his tracks On the rocks", Loser, Dooriyan, Wishlist stand testament to the same.
In a heart-to-heart tête-à-tête with this rising star, we explore more about his professional journey. this industry, his source of inspiration, his mantra towards dealing with criticism and trolling, his fuel to write and compose music, and a lot more!
HOP: How did your journey begin? Are you a rapper by choice or happened inadvertently?
I never in my wildest dreams thought Music would be my rescue from tyranny. If you listen to my track called. "On the rocks" you will get a musical documentation of my journey which talks about what all I did before doing music. My mentor always thought I could write but being a rapper was nowhere near my radar of profession.
HOP: Which song proved to be the breakthrough for you in the industry?
"Girlfriend" was my claim to fame but it also came with its backlashes as it was raw and unfiltered emotion put in a form of rap. I would look upto Eminem & he would be all brutally honest in his verses, so I took him as my inspiration & started being raw with all that I write. Some other tracks like Loser, Dooriyan, Wishlist & some more laid my foundation in this Rap scene. Around ⅚ years ago when I dropped my first track & ever since then I've been here & will be here with god's grace. All I had were three rap songs which I used to strum on my guitar & play loud to everyone I met because I had no sense of beat making or never had any guidance towards it. My belief in those three records laid the career path in this field.
HOP: It is said that you draw inspiration for your work from your own life experiences, so which experience in particular pushed you to become a singer?
I am a rapper who believes in stories being the strongest form of expression as it comes with an example hidden in it. Initially I used to tell my breakdown stories & now I'm trying to tell stories of where I was and where I am in this new album.
View this post on Instagram
HOP: You said this in an interview that you never trained professionally to become a rapper. Do you think that this ever holds you back in the industry?
No one can train you to be a rapper. Every rapper has role models rappers that they follow & then try to sound or express in a similar way. Only thing that holds you back is YOU. I have learnt my style from Eminem & my melodies from AR Rahman by being an observer & that's the only way I think.
HOP: Your album 'D' is getting huge recognition and is being loved by people. How does that make you feel?
Is it everything you had hoped for the album or is there something still left? There was no hope or expectations when I did this album. I did this album for me & for the sounds I wanted to explore. Now I'm on tour with the album & I get to see the love it has garnered live. It's all that I wanted & it's all that I received, nothing more nothing less. I know the album will grow on people & it will have its longevity.
HOP: Which song among all the fantabulous songs in the album 'D' is your favorite and why?
My favorite track is Jealous as it's a balance between my old style & newer flows & it also has my favorite collaborator Kaprilla who always adds just what the track needs. Bittersweet feeling of lost love is portrayed with melodies & story glimpses making it my favorite. Also, the production on this by BLUISH
HOP: How do you deal with criticism and trolling?
I only take it from people I vibe with who have an understanding of where I am coming from. Other criticism does no harm to my creation. Also, this entertainment & music business comes with criticism & trolling in it as a package, so I don't worry about it too much.
HOP: Recently you opened up about having anxiety. How do you deal with it and what would you suggest to the people who deal with anxiety?
Consistency & self-belief is the key to all your mental imbalances. All I was at it through thick & thin and would suggest the same to everybody dealing with anxiety currently. Also, it's not something you overcome in a day or even a month or more probably, so give yourself that time to heal through everything.
HOP: What drives your fuel to write and compose?
I love doing what I do which is enough of a reason to write & compositions are a part of me as I grew up to AR Rahman's music just like a lot of us.
HOP: What do you like to do when you're not working or writing songs
I'm very health conscious which leads me to the gym every day. I like that soldier's lifestyle of getting up in the morning, hitting the gym & planning the rest of my day around my family & friends. I don't go out that much but I'm trying to change that consciously. I like to hang out with my group of friends & do nothing at times.
https://www.highonpersona.com/as-smooth-as-makhan-and-crunchy-as-makhaana-oye-makhna-is-a-movie-you-do-not-want-to-miss/