A week dedicated to sustainability & development of women and children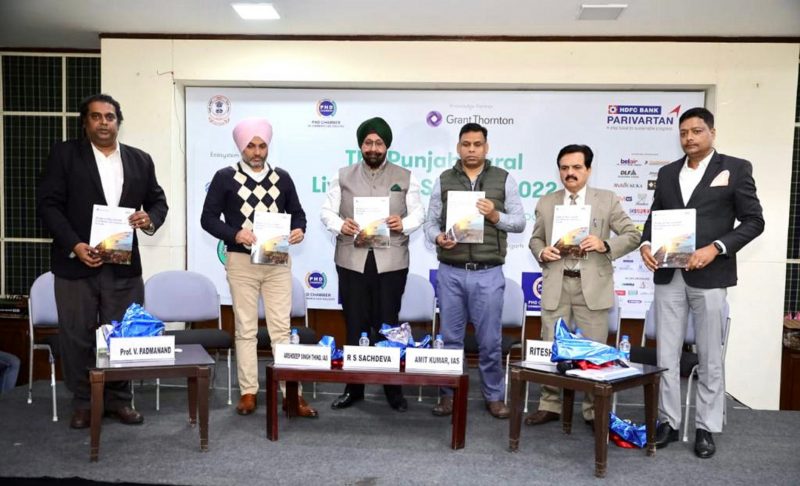 The Rural Livelihood Summit 2022 – Enhancing Sustainable Livelihood
Throughout this week, Chandigarh held a number of events for women and children, and sustainability remained a key focal point for most of them.
One such event was dedicated to the sustainability and entrepreneurship of women, and High on Persona was privileged to have attended this event. The Rural Livelihood Summit 2022, which aimed to enhance sustainable livelihoods for rural communities. The occasion was organized by Grant Thornton Bharat LLP in partnership with the Punjab State chapter of the Punjab Chamber of Commerce on 16, November 2022 at PHD House, Chandigarh. The purpose of the event was to create awareness and promote agricultural livelihood ecosystems. Several delegates and policy makers from the State Government, institutions, input credit providers, insurance providers, FPOs and SHGs attended the summit, as well as members of FPOs and SHGs.
Kuldeep Singh Dhaliwal, Hon'ble Cabinet Minister for Agriculture and Rural Development, Government of Punjab was the chief guest. While addressing the eminent guests and gathering he hailed the efforts of PHD Chamber & GT Bharat towards promoting women's entrepreneurship and self-help groups and FPOs. Hee highlighted how women represent 50 percent of total workforce in Punjab and the Agriculture sector remains the key focus areas of the Government. He stressed on the need for establishing women's role and entrepreneurship in the agricultulture sector and he chose the occasion for releasing the book "Scope of silage industry in Punjab.
While gracing the event, Professor V. Padmanand, Senior Partner of Grant Thornton Bharat LLP, said that GT Bharat LLP remains committed to improving livelihoods for artisans, self-help groups, and rural women entrepreneurs, and to achieve this, it facilitates market & industry connections and skill development.
On this occasion, Arshdeep Singh Thind, I.A.S, Secretary, Agriculture & Farmers Welfare, Government of Punjab expressed his concern over challenges on the employment front which is halting growth of the nation and emphasised the need to enhance productivity to remain progressive.
Devinder Pal Singh Kharbanda, IAS, Director, Technical Education & Industrial Training, Government of Punjab also joined the occasion and said that youth should be encouraged towards being self-reliant.
Amit Kumar, IAS, Joint Development Commissioner, Integrated Development Government of Punjab hailed the role of women for earning livelihood for family and spoke about the efforts of the Department of Rural Development towards upskilling self help groups and women entrepreneurs.
SAY NO TO PLASTIC
We also attended another unique event dedicated to sustainable practices and children remained at the forefront in this event. There was a competition organized by Chandigarh Commission for Protection of Child Rights (CCPCR) called "Weeklong Celebration of World Children's Day". The theme of the competition was, "Best Out of Waste: Say No to Single Plastic", and Ankur School in its Multi-Purpose Hall was credited with organizing a mindful and conscious event.
M. Debendra Dalai, IFS, Director, Department of Environment, Chandigarh graced the occasion as the chief guest. Madam Harjinder Kaur, Chairperson of the CCPCR, also marked her presence on the occasion. As part of this event, Dr. Monika Munjal, a member of the CCPCR and a member of the Ankur School Management Committee, also attended. For their creative presentations and for their innovative concepts relating to the conservation of natural resources, the students were recognized and rewarded for their efforts. In addition to poster making competitions and other forms of communication, students were given the opportunity to demonstrate their creativity through a variety of other means as well.