Neha Dhupia : Diverse & Dignified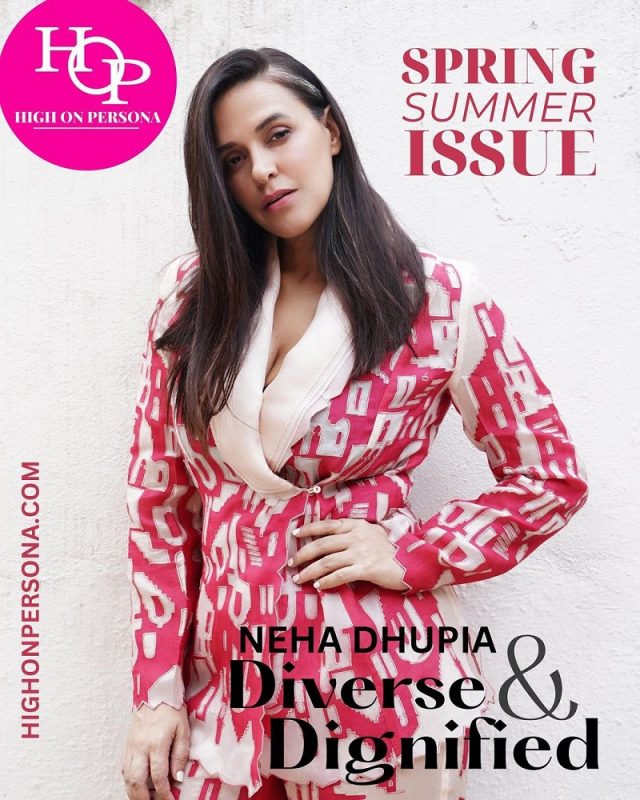 From Being a Prominent Runway Face to Carving a Niche on the Silver Screen, Neha Dhupia makes an indelible mark across genres
View this post on Instagram
From being a girl next door from a navy family to becoming a fashion and beauty icon after winning the much-coveted Femina Miss India pageant, Neha Dhupia's trailblazing story is one that model dreams are made of. Neha Dhupia is a shining example of how ambition and diligent work can lead to remarkable heights. She has become an inspiration to women across India and has encouraged them to pursue their dreams.
Born and bred in Delhi, Dhupia graduated in history from Delhi University before moving to the city of dreams – Mumbai. Ever since then, there has been no turning back. In 2002, she won the Femina Miss India pageant and was later selected among the top 10 finalists for Miss Universe in the same year. This feat opened many new avenues for her, which also led her to act as a driving force in the rise of young models in the film industry.
Fast forward to the present-day scenario, with over two decades bygone, Dhupia has an array of Blockbuster films and awards in her kitty, which makes her one of the most celebrated actress in B-town. From her prolific fashion sense to her exemplary acting skills, relentless charm, and anunflinching perseverance to make a mark, Neha Dhupia has carved a niche through all her endeavours. In an exclusive interview, we explored more about her humble beginnings, her story of rising to fame, her chemistry with her better-half Angad Bedi, and her adorable role as a protective mother. Also read on to know about her take on living in Delhi and Mumbai, growing up in a Navy family, and more. Happy reading!
HOP: What propelled you to enter the film industry? Was it planned or did it happen inadvertently?
I think it was winning the crown, it gives you confidence, When you win Miss India, you will have a huge platform because first of all, the confidence, then the faith, and more importantly, the platform will not go unnoticed. So, that was a big thing for me. Aside from that, I was always interested in being a part of the film industry. You just get an edge out like a path.Which doesn't make it easier, but opens a few extra doors until you get noticed. Of course, it wasn't the time of social media. In comparison, the route you had to take was longer, i mean it's hard both ways but a bit harder to get noticed at that point.
HOP: Could you please tell me a bit about what inspired you to become a model and participate in beauty pageants?
Oh, what sparkc my interest answer to in Beauty pageants and modelindg. It would have to be said that the one thing that sparked my interest was I was doing theatre and I happened to stumble across a chance to be part of a music video that sparked my interest. I was like "Oh, I just happen to be doing theatre and I stumbled across an opportunity. I thought it was excellent , one of my CLOSEST friends was in modelling. Then she was fully into professional modelling but for me it was a strict no no as at that point in time I had to finish college then start off something I was very interested in but it was something that I gave a shot and it was a shot well done because it paid off. Till now I mean I've been modeling and acting and all of that for over 20 years now.
HOP: There was a common misconception in Bollywood at that time that models couldn't act. Few models were recognized for their acting skills, and most got roles based on their looks. What are your thoughts on this?
There was always this bagagge that was put on models at that time that they couldn't act, at that time that was one question models would be asked, these days people don't ask this question. There have been many people who come from modelling backgrounds and have proved themselves with time. They are recognised as talented actors like Priyanka Chopra, Johan Ibrahim and many more. There are many models who have become successful actors. And so yeah I'd like to include myself into a list of models who have now become actors.
HOP: Over your career, you've worked across a variety of genres and verticals starting with Quamat, followed by Julie, shootout at Lokhandwala, ek chalis ki. Styled with Neha, BFF with Vogue, MTV roadies, etc. Which of these did you enjoy the most?
My love is mainstream cinema. I've done films, reality shows, hosted, but nothing can take that away from me. In terms of hosting shows and producing content, is something I did to move ahead along the way, I am very proud that I have the ability to access that its time to slower the pace or move faster, I can test the waters and change gear.
HOP:- You have demonstrated your versatility through different platforms, such as television, big screen and OTT. Which one do you prefer the most and why?
Everybody remembers their first one, whether it's doing mainstream blockbusters like Singh is King or just getting your first film. I liked everything like doing ek chalis ke last local, obama, being 8 months pregnant and being on screen, redefining cinema in your own head and having the faith, pushing ahead and doing more, I like to pat myself on my back once in a while, sometimes I can be harsh on myself.
HOP: Since you have a penchant and predilection for fashion, what form of fashion do you like the most, high street vs designer brands?
I'm all about comfort when it comes to fashion and that makes you feel confident, once I wear something I don't want to feel fidgety or uncomfortable and not myself with myself, its no hidden fact but I do love oversized clothes and a little bit of androgony .
HOP: In your opinion, what is the difference between Delhi and Mumbai in terms of lifestyle, fashion, and food, since you have experienced both cities and are familiar with their glories?
I'd have to see that Delhi and Mumbai are very different in cities. You know, I am glad that I grew up in a military household where you know there was just the right kind of exposure and I didn't see the part of Delhi that can get a little overwhelming as a city it's got so much culture and education, different kinds of people, in my growing years it carved out a lot in me as a person. If I move to any city in the country as a single woman or single girl in her twenties, I was 21 when I moved to Mumbai. I don't think any city embraces you like Mumbai does.
Whenever I'm in Mumbai and Delhi, I'm a lot more relaxed about my fashion, so you know Delhi is a bit more dressy but I don't change anything about myself because I just like being relaxed all the time. Whenever it comes to food, I would have to give it to Delhi, but you have to remember home is where your heart is. I live in Delhi with my in-laws too who are there. I'm here in Mumbai with my husband and kids, and my work is here in Mumbai, so, yeah, it's been good. I like both cities.
HOP: What inspires your own sense of style and how do you keep updating it?
I want my personality to come through my clothes. This is not the other way round. Fashion is something that doesn't bother me and that I don't need to update. But style is timeless. I hope I'm a lot more stylish than I am fashionable.
HOP: How much time are you able to spare for physical fitness or any other form of workout? Please share your fitness regime and tips? Also tell us about your diet and food preferences?
I have been through two pregnancies, and very close once , so yes for me getting fit and staying fit is an ongoing journey and not like from start to finish. I would like to treat fitness as a marathon you know you gotta keep running at your own pace and stay fit. I learned from my husband that once you reach your target you have got to maintain ur target as well. You have to make it a part of your lifestyle. I spend about 75 to 80 mnts a day minimum. And working out on Sundays, it's a no show in the gym for me on Sundays, I never workout on Sundays. Otherwise, I try and do about 7 to 8 sessions in a week, and that is a good one when it comes to fitness. I need that level of fitness to run behind two kids.
HOP: How much do you pamper yourself and how often do you indulge in beauty rituals?
I don't indulge enough as much as I should in beauty  Rituals. I spend about 5 to 7 minutes at night taking my makeup off, moisturize, and apply the right kind of serum to my face. II swear by this brand called Dermalogica and I'm not shying away from mentioning it. And I've been using it for 15 to 20 years. So I love that and I think the time i take off daily to pamper myself is the time when I am having my coffee , those 15 mnts I just give myself a break. I feel far more refreshed.
HOP: How did you strike a balance between family and work?
I feel like some days your work needs you more and some days your family needs you more. It's not regimented, but I mean the only reason why you need to strike this balance is so that you know thatyou can doo both for yourself. You don't have to make false promises anyway. I go to work for myself as well as spend time with my family for myself. I'm not driven by any sort of guilt but I'm driven with just a drive to go to work and the drive to spend time with my family. I love my children unconditionally. They never tire me out. I love my work. It never tires me out. I just weed out which day what needs me more. That's the only way I can be a thorough professional and I'd like to be a good mom to my children.
HOP: What do you believe are the most effective ways to combine work and family life?
I would have to say that choose your work wisely, sometimes it's okay to take time away from your children because you know your work needs you more, and sometimes its ok to kind of maximise work in minimum time, its most important to do time management.
HOP: The privacy of an actor goes out the window when he or she becomes an actor, How do you manage the absolute loss of privacy and also the countless trolling ?
I mean the trolling you have to ignore, take it with a pinch of salt I know its not easy but you have to ignore, as far as privacy is concerned you have to deal with it. You signed that deal and you knew what you were looking to achieve. Now it comes to a point when you go somewhere if people don't know who you are, to start off there is a sense of relief but then you ask a question to yourself if you are doing well enough or not, so yeah its a part of the package and if the package is really a good one so no problem.
HOP: You must be traveling extensively due to your professional commitments. Which country fascinates you the most and why?
Which country fascinates me the most, I mean I like different parts of Europe, and I am very fasinated with that. This summer I will definitely plan a trip. We have never taken our children there, my husband has seen and spent very brief time in Europe and I would like to show them Europe through my eyes because I have been very fortunate to have really wonderful experiences in through localized so I really like Europe a lot.
HOP: How do you unwind? Do you enjoy days when you don't have to apply greasepaint?
The days in which I apply greasepaint are the ones I enjoy the most, but how I enjoy and unwind is when I am with my babies, I am away from the phone, I am in a park with my children, I am unwinding with Angad, we bond over food, we go for a ride, we love doing all of these things. In addition to hitting the pool with the kids, we also enjoy being at home and having fun with the family.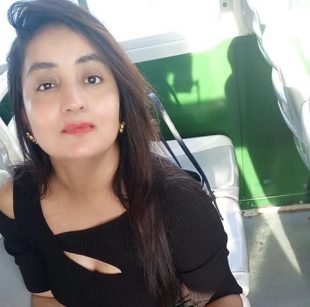 She has been there and done that. After graduating from Delhi University, she completed her diploma in Journalism from Bhartiya Vidya Bhawan, Delhi. Down the line, she completed her internship with National Herald Newspaper successfully,, and went on to Join Mainline Business daily, Business Standard. She also dabbled in image management and brand consultancy. She is a prolific writer on lifestyle entertainment, branding, lifestyle, travel, and politics.
Contact her at [email protected]