Goa is poised to become a culinary and cultural mosaic of the country across all possible formats of eating out: Tarun Sibal, Chef Entrepreneur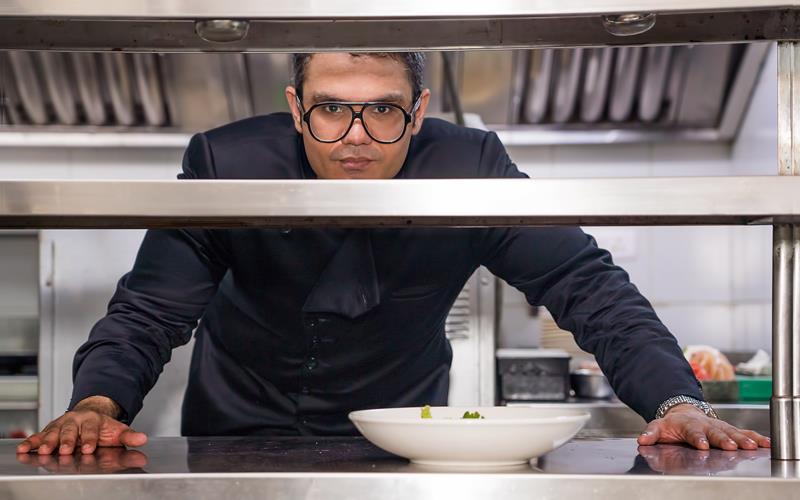 Having heard much about 'Titlie', an oceanside restaurant and bar located along the shores of Ozran Beach in Vagator, North Goa, I thought it was high time I paid them a visit. Although I had not made an advance reservation for Titlie, I nonetheless decided to go there, even though this was peak season and it took an hour to get there from Candolim, where I was staying. Upon arriving there, I was dismayed to see the premises packed with people and the fact that I couldn't find a seat. While I almost cursed myself for not making a reservation in advance, I spotted a couple getting up from their table after having paid. In some time I acquired that cozy spot which was at the entrance to the green path corridor terrace area, but the grass looked greener on the other side, and now I longed to sit in the elevated gazebo area or the spot facing the beach. That looked like the most coveted and sought-after spot and I was hooked on the sight of the couple sitting there and wanted to take their seat. 
Since I was hungry now, and just as I began to place my order, I noticed an elegant man leading the waiter to a table facing the beach and pointing towards me. It piqued my curiosity to see him at the table opposite me now. "Hi I'm Chef Tarun Sibal, Co-Owner of this place, and I would like to offer you the best beach-facing table so that you can enjoy the 180-degree panorama of Ozran beach while savoring your meal", he said while introducing himself.

View this post on Instagram
Having experienced the hospitable gesture, I was deeply moved by his graciousness and chivalry, and I was thankful for my stars too at that moment. Like 'Titlie', I felt chirpy and free-spirited and wanted to soak in the good times over good food and music. My journalistic side, however, desired to reciprocate and ask him an interview about culinary trends in Goa, so I introduced myself. Further impressing me was his response, "No rush, I would be delighted to give you an interview, but first I would like you to enjoy the time relishing meals you like and feeling comfortable, and the work can come later". Keeping a formal smile on my face, I contained joy and thanked him before digging in. As I soaked in the sun enjoying the laidback vibe of this idyllic setting, I became enchanted by the youthful energy of this scenic place. Having enjoyed a lavish lunch and salad line, I made my way to the chef. We discussed Goa's burgeoning food trends and the challenges he has faced as an entrepreneur in the food industry. The discussion with him also.
As an Expert in culinary and beverage operations with over two decades of experience, Chef Tarun has been leading new culinary initiatives and innovations from conception to execution, including product development, food and beverage production, and operations oversight. Besides being an IHM Pusa alumnus, he has served on the boards of many Indian and international companies and organizations. He showcases the best of Indian and International hospitality with innovative cuisine combining an imaginative fusion of local and international flavors and bringing together the best of both worlds. Check here for an in-depth interview with Chef Tarun Sibal.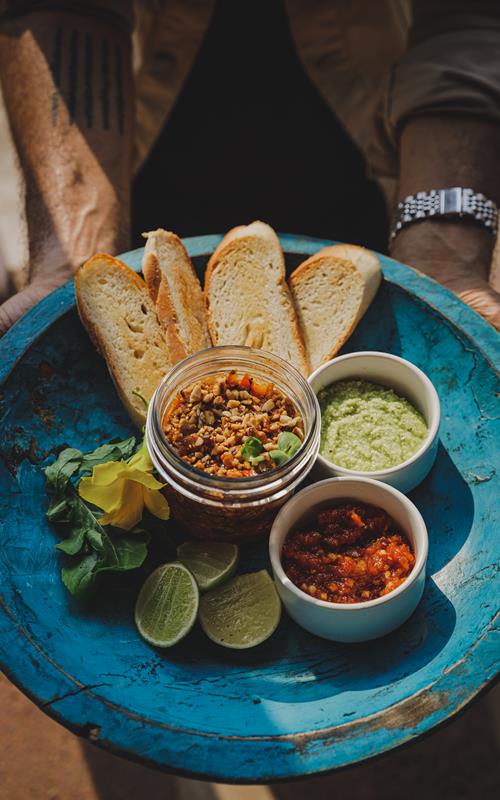 Q. How did you begin your journey as a chef and what translated your interest in food?
I was exposed to culinary arts from a very young age as I belong to the third generation of a family. Intimately involved in Delhi's catering industry, which conceived 'One Fine Meal'. I started my culinary journey at IHM Pusa. Becoming an Industrial Trainee at the Oberoi, a Management Trainee with the India Habitat Centre and a Sous Chef were the three major milestones of the first phase of my professional life. Working and learning with the best chefs during that period became the core of my food sensibilities and strengthened my interest in food.
Q. Describe your style of cooking and food and how you cater to the evolving tastes, preferences of your guests?
Gourmet Casual is a philosophy of serving "warmth" on a plate, serving "Joy" on a plate, the philosophy that, the intent will matter the most when you are laying out food. Also, that no substandard ingredient will turn into quality produce. Non-pretentious yet gourmet food that makes the familiar more exciting, and the non-familiar approachable. Food that is about great taste.
Q. Considering the long lull created by the pandemic, what kind of challenges are you facing and how is the response and turnout of visitors to Goa now?
It's been a constant struggle since the first lockdown. I have opened Titlie 3 times since 2019. The first lockdown was the most challenging, as no one was prepared for it. The challenges were multifold. The travel norms, the consumer sentiment, the numbers, the team, the new compliances all such things are at play. We knew there was no quick fix solution and we could only survive if all stakeholders play ball. Goa has seen peaks and rock bottom scenarios in the last two years. There is no one in Goa, and suddenly and everyone is in Goa. As business owners, you need to be prepped up for both scenarios.
Q. How is the holiday season shaping up? What special arrangements are in place for the holiday season?
The Holiday season has been hit hard due to the third wave. Currently, we are operating at 50 percent strength and the focus like always is on compliance and the health and safety of our consumers and our team.
Q. Do you feel that your style of cooking appeals to a diverse palate?
Yes, it does. Irrespective of the cuisine [European, Indian or Oriental], my vibe has not changed. And this includes cross-pollination, too. I can take the same techniques as Indian cuisine and use them to plate European cuisine. For me, food is food and has broken down the cuisine barrier. I make ingredients jam on a plate and the results are quite formidable
Q. What are some of the new trends you see emerging in the hospitality sector in Goa?
Everyone has taken notice of Goa. In the last 1 year, there have been multiple launches and many more are in the pipeline. Goa is going to become the food and beverage hub of the country across all possible formats of eating out. The competition will be fierce and we will also see some corrections too.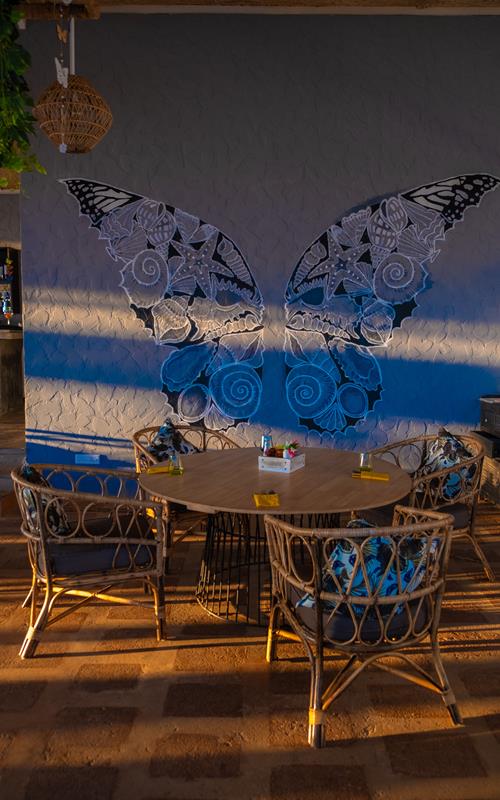 Q. If you were asked to describe your eating philosophy, what would it be?
There is nothing more enjoyable for me than eating out, trying out new places, discovering new cuisines, meeting chefs, meeting home cooks, learning about food cultures, hearing food stories, etc. India has been the most influential country as far as my culinary journey is concerned, and it's an ongoing process. There are many things and people that inspire me, from ingredients to a period of time, to a work of art. My understanding of cuisine and food has been influenced by France, Japan, Germany, UK, Thailand, and Sri Lanka, in addition to my own country
Q. What kind of changes are you observing in the eating patterns of your guess following the pandemic?
Post COVID-19 we are looking at new rules of engagement and there won't be a single mantra that will work. From a consumer perspective, safety assurance is the focal point when making a dining out decision. The consumers are making informed choices basis what has been shared with them. Even more important than the information, it will be the practical application of the laid-out hygiene and safety standards that will determine whether a restaurant, bar, club, or café is successful.

Q. Ingredients in your style of cooking you feel are under-appreciated?
Fresh and seasonal produce is the mainstay of my plates and slowly and gradually people are becoming appreciative of seasonal produce.
Q. What goes into creating a perfect dish?
A perfect dish is a story well told. I equate it to the box office; a dish should talk to the one that's consuming it. It should have a great star cast of ingredients, that complement each other, it should be true to its genre/flavor, should have some drama and a little song and dance routine.
Q. Is there anything that you won't cook with, that you hate?
Reptiles, and game animals.

Q. Please suggest some healthy and vegan food options?
Today as a chef you can't plan a menu without including vegan and gluten-free options. I love to cook Vegan meals. Two of the Vegan recipes that I have enjoyed putting together are – a Quinoa and Chickpea Cake with Pineapple and fresh Mango salsa, and a Salad – with fresh salad leaves tossed together with Sundried tomatoes and sundried tomato oil with salt and pepper. And the second is the Coconut and Mango kheer.

Q. And what's your message to the millennials who are health conscious?
Eat everything, but don't overconsume. Don't limit your choices, but be mindful of what you consume.
Q. How important are food reviews for you?
Guest feedback and food reviews both matter to me. I cook for my guest and for my audience and to know if they appreciate my plates is imperative to evolve and move forward.
Q. Do you have any tips from the kitchen that you've picked up that could be useful for YouTubers or housewives?
The three tips are:
1. Be patient when cooking. Take your time and cook slowly.
2. Trust your senses more than the recipe. When we create something likable, only then will we develop a recipe, not the other way around.
3. Be ready to experiment and be ready to fail. The success of every dish is the result of many unsuccessful attempts.
View this post on Instagram
Q. Any message for amateur cooks and You tuber chefs?
Tenacity, grit, hustle and integrity. Consider twice before entering this industry if these are not your strong points. You should love your life in the kitchen or in the restaurant and only then will you be able to perform and excel.
Q. Would you consider blogging? Can you please tell us if you would like to cook for Chef?
I used to write a lot at https://insideratfood.wordpress.com/
But haven't been able to give much time to my blog lately. I do contribute to F&B columns and author articles on a regular basis. In terms of people who cook, I am a big fan of Jamie Oliver for how he makes food approachable and what he is doing in the battle of nutrition vs junk. I'd love to cook for him

Q. Fresh and out-of-the-box strategy you will take to re-energize the business of your restaurant?
The industry is in disruption now and trying to be back on its feet slowly. However, quality is timeless. The low quality of the ingredients will not result in a good product. Places offering distinctive experiences, places that are true to their form will prevail. For me, it will be #GourmetCasual, my food philosophy, that I will move forward with.
Q. Do you practice sustainable practices in your restaurant property in order to contribute to a more sustainable environment?

The interest in sustainable development, where food is produced with equal importance to responsibility towards the environment as well as economic growth and viability, has created a demand for locally sourced and hyperlocal food. Though a lot of things can be hyperlocal, the trend is typically to grow herbs and plants on rooftops and in kitchen gardens, which don't take up much space or maintenance. In Goa, we use a lot of avocado, passion fruit, and papaya in our dishes as they are grown there. In Delhi/NCR, we use a lot of black carrot, saag and bathua in winters.

Q. We now live in a world where social media has made our lives more transparent. How does your restaurant utilize the same to grow the hotel?
We use our Social Media pages as a means to continue the conversations we initiate with our guests on-site. For us to be able to strengthen the recall for our product long after the meal is over is an integral part of the overall dining experience. We make sure our customers (#TitlieTribe) remain a proud part of our brand universe via Instagram, Facebook. Real-time updates ensure that the audience stays engaged and it's a way for us to reciprocate the love we get.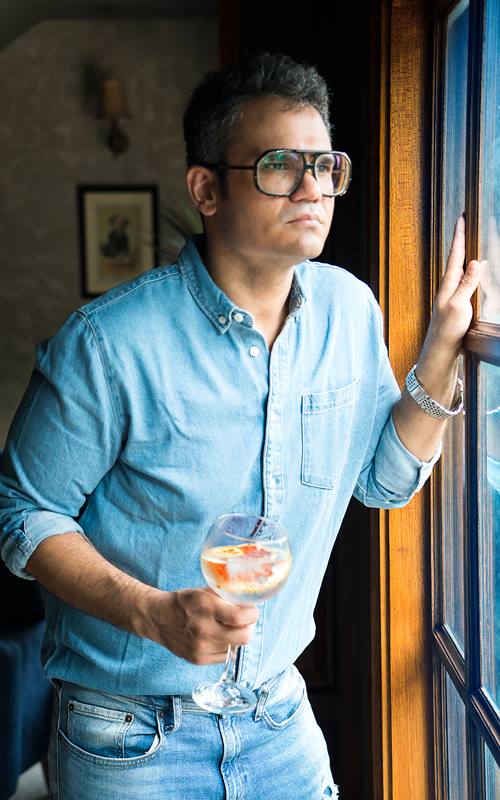 Q. As we move towards digital marketing instead of traditional formats such as billboards, and TV commercials, what are your thoughts?
Digital is the way forward. The need for speed, reach, and 'current-ness' that we have become accustomed to cannot be fulfilled by traditional media in the context of marketing. The sooner restaurants embrace digital, the better it will be for business.

Q. Additionally, consumer habits have changed dramatically. Customers are more knowledgeable and sophisticated today. When booking a hotel or a restaurant they conduct research online. Do you feel under pressure to provide better service as consumers expect more services and amenities at lower prices or do you tend to improve on all fronts?
I believe in the concept of value for money. I can charge 2000 for a dish and still be value for money vis a vis 500 for a plate and still be classified expensive. All my restaurants have equal depth and width, and it is mandatory to keep evolving and updating your offering for not only the guests who have returned back but also for the perspective loyalist.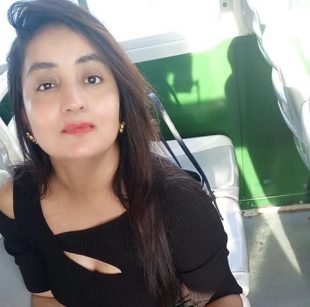 She has been there and done that. After graduating from Delhi University, she completed her diploma in Journalism from Bhartiya Vidya Bhawan, Delhi. Down the line, she completed her internship with National Herald Newspaper successfully,, and went on to Join Mainline Business daily, Business Standard. She also dabbled in image management and brand consultancy. She is a prolific writer on lifestyle entertainment, branding, lifestyle, travel, and politics.
Contact her at [email protected]