NMACC fashion was blingy and repetitive for many Bollywood divas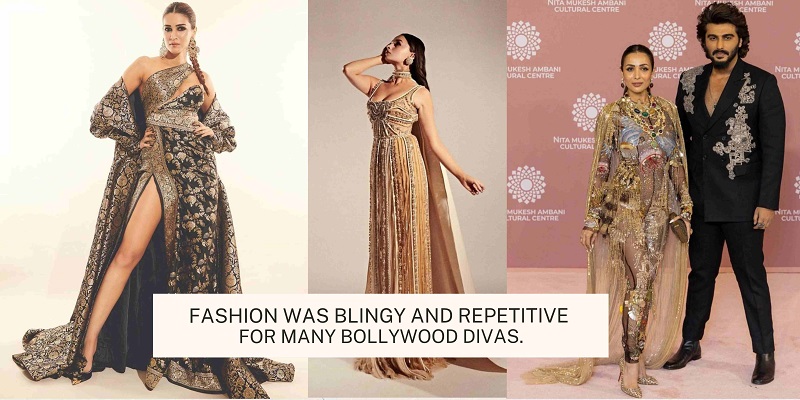 NMACC fashion was blingy and repetitive for many Bollywood divas
We are smitten with the extravagance of fashion and the confluence of Bollywood and Hollywood that came to life at the Nita Mukesh Ambani Cultural Centre NMACC. This has swayed social media all over the world and made us swoon with fashion extravagance. This confluence brought together the finest of both worlds in Mumbai. The event was attended by the who's who of the entertainment world and the stars dazzled us in their designer outfits.
However, Bollywood celebrities missed this great opportunity to showcase fashion diversity. They competed with each other in repetitive, bold, blingy, and outrageous sartorial choices. Moreover, we also want to highlight that fashion is a subjective topic and dressing is a personal choice. We don't want to criticise anyone's style or dressing sense and we simply provide our opinion on what could be improved. Our compilation does not include those whose looks remained a complete fashion disaster. We skipped them and mentioned only those with potential for improvement.
To sum up, Bollywood celebrities missed an excellent chance to create a fashion statement. Some of their choices were reasonable, but some weren't up to the mark. Ultimately, this was a missed opportunity for many of them. As an alternative to overloading themselves with gold, shimmer, black and silver, they could have showcased India's cultural diversity through the craftsmanship of its artisans. Instead of opting for all-out bling, they could have created a spectacular showcase of India's creativity.
India's #IndiaInFashion exhibition was a truly surreal occasion, with Zendaya and Law Roach looking gorgeous in their handcrafted ensembles. Zendaya donned a saree gown called the 'Verdure', featuring the 'Flying Cranes' with a bralette. Law was seen wearing the 'Shirley Poppy' sherwani jacket, which was hand embroidered, and a coordinating lehenga skirt in black. It was an amazing display of traditional and contemporary fashion, and everyone involved should be proud of the outcome.
Zendaya – Showstopper of the night
View this post on Instagram
I think Zendya completely stole the show with her outfit on the pink carpet, she looked absolutely gorgeous in a deep blue sari with gold embellishments on the blouse which she wore by Indian designer Rahul Mishra. There was something traditional yet modern about her look, she looked ultra glamorous yet sophisticated, striking a perfect balance with minimalistic jewellery with an already sequined outfit that had embellishments.
She completed her look with a sleek bun and a bindi that matched her sari. The entire outfit reflected her personality, bold and feminine. Overall, she made a stunning statement with her outfit. She was the epitome of grace and elegance and her look was the talk of the evening. She was definitely the showstopper of the night.
Fashion celebrates diversity as Gigi Hadid demonstrated
Gigi Hadid looked stunning in her ensemble at the event. Her look was perfected with a gorgeous gold and ivory sari designed by the renowned Abu Jani Sandeep Khosla. The intricate details of the sari made it a glamorous and elegant choice. The look was further enhanced by a gold bangle stack and a jeweled blouse that gave the ensemble a modern and traditional feel.
The sari was made in Lucknow with chikankari embroidery, and we couldn't help but love the way the fabric added an extra layer of sophistication to the look. Gigi Hadid looked beautiful in this ensemble. And the world definitely agreed with Gigi Hadid's look – the picture quickly became one of the most popular posts on her Instagram, liked by millions of followers. The sari was praised for its intricate craftsmanship, and it was seen as a tribute to Indian culture and tradition. It was a great representation of how fashion can be used to pay homage to different cultures and to celebrate diversity.
View this post on Instagram
Priyanka Chopra – Chose modern interpretation with a Desi touch
Amit Aggarwal, the designer of Priyanka Chopra's thigh-high slit gown, had a modern twist to it, as it was cut on traditional fabric. This thigh-high slit gown had a modern twist for Priyanka Chopra. The outfit was created using a 65 year old vintage Banarasi patola (brocade) saree that was made with silver threads and a gold element to create an outfit made from a 65 year old vintage Banarasi patola (brocade) saree.
View this post on Instagram
Alia Bhatt – Keeping jewellery to a minimum is recommended
Her Elie Saab gold and silver gown exuded modern goddess charm, but we wish she hadn't chosen either necklace or statement ear tops.
View this post on Instagram
Kriti Sanon – An experimental look that worked
The outfit is curated in Banarasi Sarees and Kriti took the risk of going experimental with this gown and cape. The colour of the cloth adds another soothing factor to the look, which Kriti carried beautifully. Even though she went overboard with the kajal and jewelry, she still looked amazing. With so many stylists, maybe she could have gotten a better hairdo and jewelry.
View this post on Instagram
Gauri Khan – Elegant as ever
Zoya's jewellery is described well in Gauri Khan's post. However, it's her saree by Manish Malhotra that we loved the most in this look. Jewellery definitely added to the look. She accessorized her saree with traditional jewellery, including a statement neck piece and earrings. The combination of saree and jewellery created a beautiful, classic look. It was the perfect ensemble for the occasion.
View this post on Instagram
Aditi Rao Hydari – Went overboard with the look
The Indian actor wears an embellished white shirt with a heavily embroidered lehenga.by designer Rahul Mishra, Although we loved her dress, we wish she had avoided wearing a string of bold neckpieces, especially with a sequined white shirt and western hair accessories. Despite keeping her outfit elegant and vibrant, she went overboard with hair accessories and jewelry.
View this post on Instagram
Saba Azad – Flawless in Red
Her entire look was flawless. Red Banarasi adorned the lovely red gown as a drape accentuating its beauty. With that already accentuated gown, she did not wear jewellery. Everything from her hairstyle to her makeup was perfect for the event. In this case, Amit Aggarwal outperformed many other designers. In creating this stunning ensemble, Amit Aggarwal did an outstanding job, and the overall look was pure perfection.
View this post on Instagram
Sonam Kapoor – Fashionably Correct
It goes without saying that Sonam Kapoor will always remain the reigning queen of fashion, she wore a lehenga by @abujanisandeepkhosla that had 20 unique embroidery panels representing 25 years of the brilliant @abujani1 and @sandeepkhosla . Everything from the jewellery to the makeup to the hairdo complemented the look perfectly
View this post on Instagram
Disha Patni – A Saree look that went wrong
I think it's better if we say less about Disha Patni, she totally missed out on this larger-than-life fashion event, even though she is wearing a saree, but she is still looking outlandish and repeating her many previous looks just like what we have seen from her in the past. Her saree was a classic example of how to not wear a saree. She needs to up her saree game and take some fashion cues from other celebrities who know how to carry off a saree with grace and finesse. We had high hopes for her look, but she failed to deliver. It's time for her to switch things up and experiment with her saree looks.
View this post on Instagram
Jahnavi Kapoor – The look did not fit in with the vibe of the evening
This dress looks loud and out of place, Jahanvi Kapoor looked like an actress from the 80s attending a friend's wedding, and I'm not sure what made her choose this look, or what she was thinking. Her hairdo saved the look and jewellery wasn't needed. Overall, her look was quite an eyesore and didn't fit in with the vibe of the evening and was a fashion disaster. She could have chosen for something more subtle and elegant.
View this post on Instagram
Ananya Pandey – What a terrible outfit
The upper half of the dress is awesome, and we love the minimalist jewellery you're wearing, but the outfit as a whole was terrible.
View this post on Instagram
Repetitive look for Sara Ali Khan
Manish Malhotra's black and gold lehenga, blouse, and cape set was Sara's choice, but we wish she had chosen something different. She has worn these types of outfits on a number of occasions, including recent fashion shows.
View this post on Instagram