Jaipur has a new address for partying & celebrations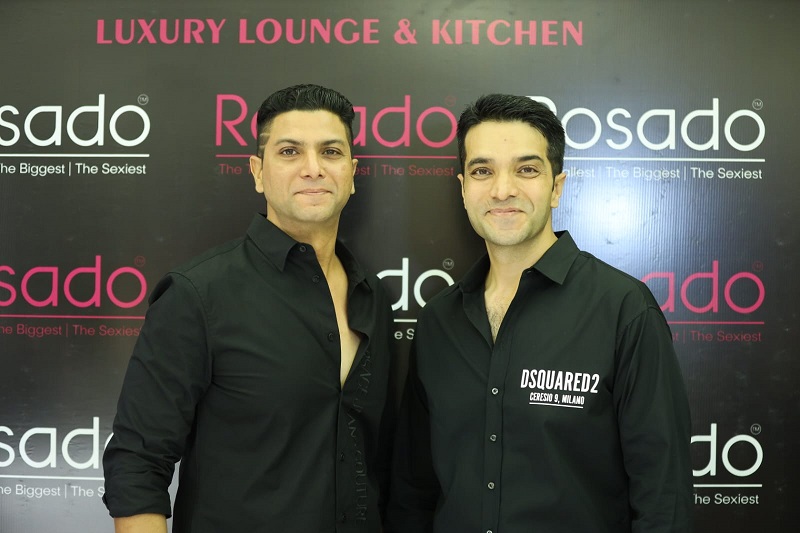 Tarun & Varun Behl, Co-Founders, Rosado
Celebrate and party like never before at 'Rosado'
In addition to its gastronomy and heritage, Pink city has a rich and royal culture and tradition. Talk about cuisine and there is no one who has not heard of Kebabs & Curries which is a chain of restaurants that specializes in offering a wide range of tastes from Mughlai and Indian cuisines. Ajmer, Kota, and Udaipur are home to 19 restaurants of Kebabs & Curries, under The KCCO India Pvt Ltd.
View this post on Instagram
The group enters the luxury hospitality and lifestyle segment with 'Rosado', which means pink. With its expansion spree, the group offers a luxurious way to celebrate and party in the city. The magnificent interiors, skyline views, royal ambiance, and lavishly curated menu clearly reflect this. There were a number of elements that will contribute to the success of this luxury lounge.
View this post on Instagram
The place is situated on the 11th floor of Mall of Jaipur, Gandhi Path Vaishali Nagar, and boasts of being Jaipur's Tallest-Biggest- and most Luxurious Lounge with Indoor and outdoor seating and multiple spaces with different themes. Whether it's a small or large gathering, or simply a casual evening with family and friends, the venue can accommodate both.
View this post on Instagram
According to Tarun Behl, the proud Founder and MD of KCCO Group, Rosado is aimed at bringing a heightened level of luxury hospitality to Jaipur. It will also attract customers from Delhi and Chandigarh. The Rosado offers a variety of spaces that are ideal for families, groups, and parties. "Our most impressive features are the city views from 135 feet and a menu that will appeal to both foodies and party goers." So now those from Delhi and Chandigarh known for throwing larger than life parties can look for a place beyond their cities and head to Rosado.
View this post on Instagram
In response to Rosado's launch, Varun Behl, co-founder and Managing Director, KCCO Group, said "We are expanding our brand beyond restaurants and dining spaces. As our brand is based in Jaipur, we take the craftsmanship and art of the pink city very seriously. This reflects in the interiors and architecture here as well. In this way, we can ensure that our brand remains true to its roots and committed to sustainability.
In describing the menu of this luxury restaurant, Jay Kay Govind, COO, KCCO, stated, "It is one of a kind menu with a global variety; you can say we have brought flavors from the Middle East, Morocco, Southeast Asia onto the platter. At Rosado, you can also enjoy local and regional flavours, and we are incredibly excited about the Magnum platters, which are a must try specialty platter.
View this post on Instagram
Kobid Sinha, Restaurant General Manager of Rosado, stated, "pink city showcases culture that is traditional and contemporary, offering charm of the royal and historical eras while displaying contemporary class and elegance." Rosado's menu reflects both styles. With thoughtfully curated food and drink menus, this luxury lounge and kitchen can accommodate up to 500 guests for social events, get-togethers, and fine dining events. The place also features different and dedicated segments, including Rajwada section, elevated VIP section, alfresco seating, and other sections based on distinct concepts and themes. Skiyline is another out of the box feature of the place.