Christmas 2021 : 11 looks in red to rock XMAS festivity!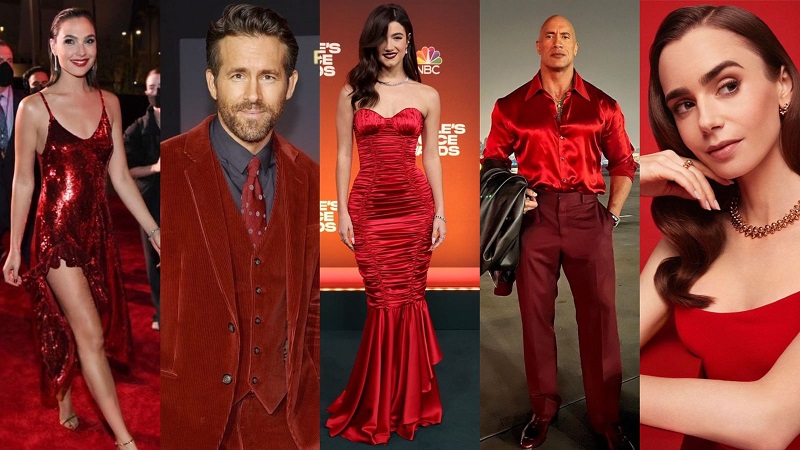 Take this season's red trend to the next level by taking a cue from these Hollywood cognscenti. 
As the holiday season approaches, a palette of greens and reds can be seen swirling in the air with festive cheer. With the holiday season in full swing, the spectrum of colour red has already taken over the fashion scene and captured the attention of Hollywood stars and their stylists. As the epithet of Festivity, red perfectly conveys the spirit of Christmas and the exuberance of celebration. From runways to red carpets. Cherry, Crimson, Candy, Rose, Vermilion, and Scarlet shades are adding glitz to every occasion Stars and stylists in Hollywood have come up with a number of creative ways to embrace and celebrate this color of the season.
Check out these Hollywood fashion stylists and celebrities who have added a new twist to red, they've got a bunch of great ideas on how to wear it. The possibilities of how to dress with this colour are limitless – whether you choose to go fiery or mellow, sequined or textured, shimmery or muted, you can dress as innovatively as you wish and add passion and power to your festive look.
LOOK 1
View this post on Instagram
Ryan Reynolds and Gal Gadot look in perfect harmony and are complementing each other in color Red, respectively. They radiate charm and oomph in their red outfits while attending the Netflix event for red notice. Gal Gadot is sporting a sophisticated and sleek look, thanks to Renato Campora, whilst fashion stylist Elizabeth Stewart ensures that her outfit is both stylish and feminine in a sequinned red dress with a long slit and frills. With makeup by Sabrina Bedrani, she paired her outfit with copper glass patent leather nudist sandals, the nude color of the sandals creates a good balance and softens her look in a red dress.
LOOK 2
View this post on Instagram
Ilaria Urbinati, a renowned fashion stylist in Hollywood, broke the image barrier through her choice of color hues when styling Dwayne Johnson aka the Rock. In a way that does not overdo it, Maroon trousers and Red silk shirt further enhance his look. The rock, he wore a custom Dolce & Gabbana look consisting of a brown leather bomber jacket, a red silk shirt, current red trousers, and a pair of markchris while attending the 47th Peoples Choice Awards in California.
View this post on Instagram
Charli D'amelio wore a red silk Dolce & Gabbana ruched gown for the same occasion styled by fashion stylist and personal shopper Jill Jacobs. With her Jimmy Choo bag, she accessorized the look and upped the glamour quotient by wearing beautiful festive jewelry.
LOOK 3
View this post on Instagram
It's so true, Alexa Chung never fails to impress with her choice of fashion. She looked absolutely beautiful in the rose-red leather dress with long sleeves. Long boots completed the look and she made a strong statement.
LOOK 4
View this post on Instagram
Taylor Swift is as beautiful as ever, glowing from head to toe in red and showcasing her entire wardrobe in cherry, scarlet, and ruby reds because it's a red season for her.
LOOK 5
View this post on Instagram
A timeless clash of styles appears in Lily Collin's festive look in candy red, wearing Cartier. She started off the holiday season with Cartier and describes the holiday season as her favorite time of year. Adding a Cartier necklace to the décolleté enhances the look, but if you don't feel like paying through the nose, you can substitute a Peals necklace to complete the look.
LOOK 6
View this post on Instagram
This is a very exciting time of year with a twist and it takes on a whole new meaning for the holiday season. There is no doubt that celebrations have evolved, with oversized cotton poplin dickies and vintage western accessories, as well as embroidered dresses and coats with beautiful buckles. Lela Rose, the fashion designer and author, defines a sophisticated yet modern lifestyle with her Instagram punchline Eat, Drink, Dress. Additionally, she is promoting tropical fringes with her recent collection and offers a red printed beautiful floral long dress that is also comfortable and pretty. The look is good to go for creating a comfortable yet very stunning look to go with the festive mood.
LOOK 7
View this post on Instagram
Let your attitude be reflected through your attire by dressing in none other than Cashmere which is the epitome of luxury and opulence. Gabrielle Union-Wade wore a scarlet cashmere shawl, a collared coat, a cashmere sweater, and double crepe sable caroline trousers from Michael Kors collection.
LOOK 8
View this post on Instagram
The fashion icon Zendaya wore VERAWANG Haute to 2021 at the CFDA fashion awards, styled by Hollywood's ace fashion stylist Law Roach.She wore a crimson silk faille two-piece outfit comprised of a tight skirt and asymmetric bubble waistband, coupled with a bandeau bra.
LOOK 9
View this post on Instagram
In a Blush Red velvety texture Blazer and bell-bottom with nude makeup, Gwyneth Paltrow looks like the cynosure of all observers. Velvet is a texture that represents celebration and vibrancy, experiment with the vibrant hues of velvet this festive season to enhance your look – and nothing beats red. 
A well-tailored velvet suit in red colour was worn by her, she loved the look to stay in style at all times. It was a special night for her wearing Gucci.
LOOK 10
View this post on Instagram
In advance, Karla Welch wished everyone a merry Christmas wearing a red liquid perfection dress with matching accessories, posing beautifully and receiving all the compliments.  Curves flaunted in a snug red gown make a striking fashion statement for this free-spirited diva.
LOOK 11
View this post on Instagram
Celebrity stylist Micaela ushered in the festivity in the colour red. This garnet red colour Decollete neck shimmery gown is perfect for Xmas complementing your silhouette and festive fervour. Wear it with a Chignon or high bun for an oomph quotient.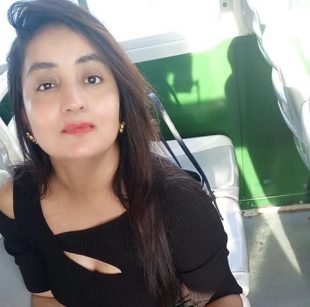 She has been there and done that. After graduating from Delhi University, she completed her diploma in Journalism from Bhartiya Vidya Bhawan, Delhi. Down the line, she completed her internship with National Herald Newspaper successfully,, and went on to Join Mainline Business daily, Business Standard. She also dabbled in image management and brand consultancy. She is a prolific writer on lifestyle entertainment, branding, lifestyle, travel, and politics.
Contact her at [email protected]