An art festival of a grand magnitude to be held in Chandigarh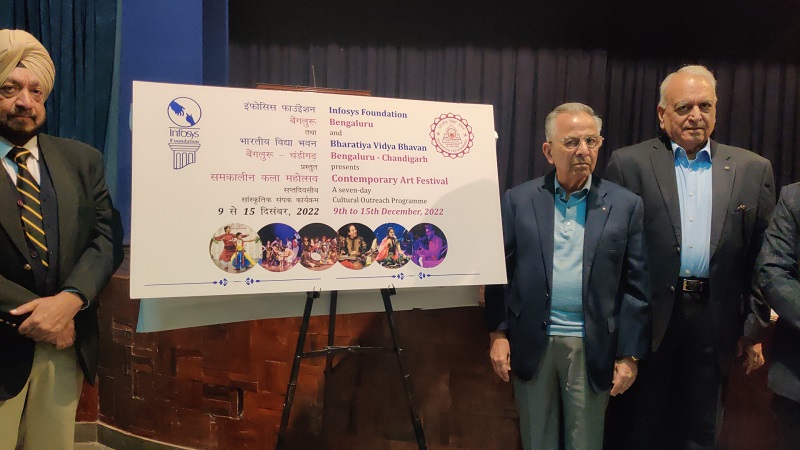 In the presence of Padmashri R K Saboo, Madhukar Malhotra, along with other dignitaries, the poster launch event of Art Festival took place.
Bharatiya Vidya Bhavan, Chandigarh Kendra and Infosys Foundation, Bengaluru have joined hands to celebrate a week-long event of art, music, and drama through the Contemporary Art Festival in December this year.
There will be a one-of-a-kind event hosted by Bharatiya Vidya Bhavan at its Bhavan Vidyalaya Chandigarh Campus (Sector 27), and it will be inaugurated by His Excellency the Governor of Punjab Shri Sundar Singh along with the UT Administrator Banwarilal Purohit.
Other dignitaries attending the event include Mr. Sameer Goyal, the Chief Executive Officer, Infosys Mohali, as well as Mr. Abhishek Goyal, the Chief Executive Officer, Infosys Chandigarh Shri. K.G.Raghavan, President, Bharatiya Vidya Bhavan, Bengaluru and others. Padmashri Shri R.K.Saboo, Chairman, Bharatiya Vidya Bhavan, Chandigarh Kendra and ex-president Rotary International, will preside over the ceremony.
Padamshri R K Saboo, Madhukar Malhotra, Renowned Artists and other dignitaries unveiled the festival poster. In an attempt to put indigenous artists from Tricity on the cultural map of India, this musical extravaganza features performances ranging from classical recitals and Qawwalis to clown theatre and fusion concerts.
A live art workshop is also included in the festival, along with an art exhibition showcasing the works of more than 40 local artists. The festival lasts for seven days, commencing on December 9th and ending on December 15th, and it will take place over a span of seven days. It is intended that the general public will be able to enter the festival for free throughout the duration of the event.
There will be live broadcasts of this event from the Chandigarh and Bengaluru branches of Bharatiya Vidya Bhavan on the YouTube channels of both offices. This is the first time that Bhartiya Vidya Bhavan Chandigarh has held an event of this magnitude. In the past, Infosys and Bharatiya Vidya Bhavan have organized similar events in Pune and Bangalore, respectively. The purpose of this program is to expose Tricity citizens to music, art, drama, and spirituality through the mediums.
Shiv Aradhana will be performed by spiritual seeker Geet Rao followed by Bharat Amrit Manthan by the artists of Pracheen Kala Kendra. Artists will demonstrate their art live in an Art Workshop. An evening concert will be presented by Guru Rohit Ashwa Bali from Chandigarh and Rajwinder Kaur from Amritsar. In addition to the play Romeo Juliet and Saat Maskare, singer Hardeep Kainth from Ropar, Punjab will perform fusion music. Kavi Ghosti will be performed by Shri. Vijay Kapoor and team and then the Piano Recital by Anu Bains, Pratham Pal Singh, Atul; Lakra and Nainika. An evening of Bharatanatyam performances will be presented by the father-son duo of Rahul and Bharat Gupta.
A musical performance by Poonam Rajput will be followed by a play staged by the city's famous theater artist Chakresh Kumar.
All days of the week will be open to the public for the Art Exhibition.