Providing quick solutions to unemployment through entrepreneurship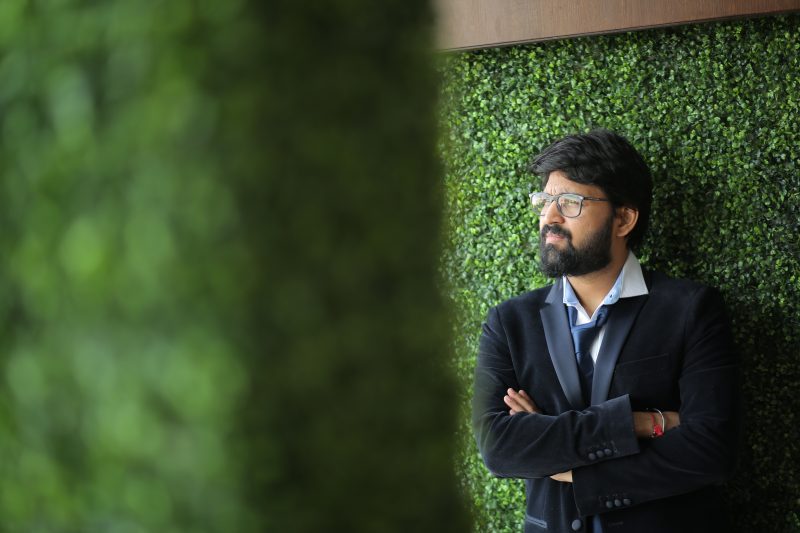 In addition to being an entrepreneur, technology expert, and educator, Vimal Daga wears a variety of hats and handles a number of responsibilities. However, it is he who combines his success and education with a touch of philanthropy that makes him stand out from the rest of the pack. With technology, he has taken several initiatives that are making a positive impact on society.
"Technology is useless unless we use it correctly, and I want to maximize the benefits of technology to empower youth and harness technology for societal good", says Vimal Daga.
His mission is to train and transform students that society considers below average into successful entrepreneurs and technology geniuses. As he continues to pursue his goals, we were able to speak with him.
He talked to us about initiatives he's taken to further his passion and his plans.
What are your current initiatives for students ?
In India, average and below-average engineering students are ignored by society. Factually, it is found that over 90% of students in India belong to this group of students, and to make India the Creator Of Technologies, we must empower this group. Hence, we created a community called IIEC where Innovation Starts.
Our goal is to change the existing perception that Engineering Students are freshers only and are unable to work in technical or research-based roles utilizing the latest industry-required technologies.
You are preparing students to address a myriad of issues that present challenges in today's society. What are some of the problems you think technology can resolve?
Students in my community are actively working towards providing solutions to major social problems such as women's safety, child security, autism-related problems and more. Smart devices are being developed using industry technologies like Augmented Reality, Machine Learning, Deep Learning, and IoT. Since a product that truly solves our day-to-day problems will be accepted by the general public, the idea is to create one.
In addition, we should look at issues from a broader perspective and then come up with technology-based solutions. I believe 90% of the issues can be solved with the help of technology alone. On top of that, we organize fairs and events to provide students with a platform where they can network. One of these events was Jazbaa.
During this event, we hoped to instill entrepreneurial traits among engineering students at the right time and showcase the technologies they had created for social good. It was also demonstrated that all engineering students can be creators, even with just a little passion, Jazbaa. More than 60% of colleges participated in our event in Jaipur. The event was unique in that it showcased students launching their own startups using innovative technology.
What are the responsibilities of the government when it comes to dealing with social issues, or should the private sector play a larger role in this matter?
I am firmly opposed to the view that only the government is capable of providing solutions to societal problems. Every individual is equally responsible for finding solutions. In my opinion, we should all assume our responsibilities and try our best to solve major social problems. Working together makes us stronger.
Do you think the government is open to adopting new technologies?
As Indians, adaptability is one of our best qualities, and the same can be said for the state and public institutions. New technologies are being embraced by these institutions.
The biggest problem facing our country is unemployment. In your opinion, what can be done about it?
Youth should take entrepreneurial endeavors and start-ups seriously. They can avoid relying on others by creating their own startups. Mentoring with the right approach and a pinch of patience will definitely reduce the extent of this problem. In addition, we need to change our approach to encourage entrepreneurship and decrease unemployment by focusing more on innovation.
How does your company assist start-ups, entrepreneurs, and individuals?
Engineers dream of attending the biggest international conferences and summits around the world while pursuing their degree. We help our 2nd and 3rd year students attend such conferences in Tokyo, Edinburgh, Barcelona and much more. They learn, explore, and meet researchers, founders, and creators of technologies.
Our community is changing the way we educate young people. There is a need to define skills correctly. We need to make youth ready for Industry 4.0 Intelligent technologies.
Ultimately, they must show their outcomes (products developed) to Core Product Based Companies so that they are hired according to their profile. We organize fairs and events that provide opportunities to showcase their skills and talent.
How did you develop your entrepreneurial spirit?
I developed it over time. And while doing so, I faced challenges, failures, obstacles, and setbacks. Passion and humility helped me on my way to becoming a better entrepreneur. With knowledge and skills, constant learning, exposure, and the background of having worked in various environments, I contributed to my success.