Nikki Tamboli: Charm with dash of audacity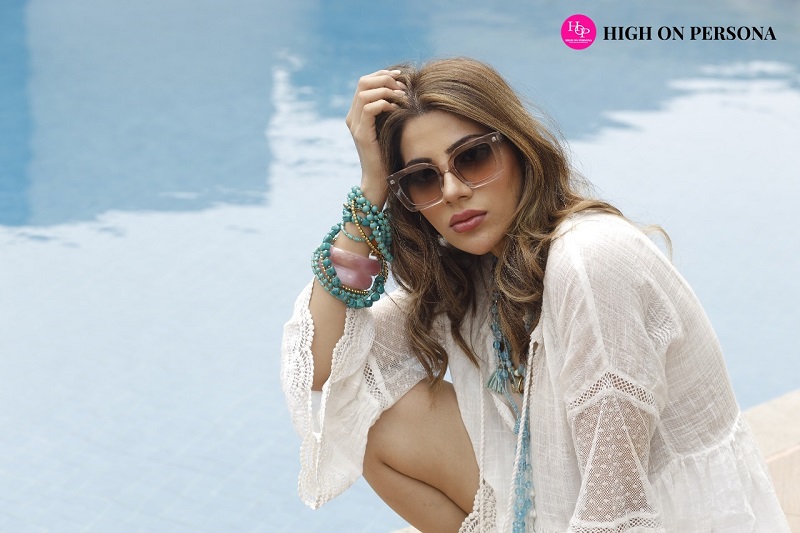 The entertainment industry is often criticized for its tendency to dislike or ignore people who are outspoken and have strong opinions. However, one woman seems unconcerned about this bystander theory while doing amazing work and tackling her critics with no qualms. Recently, the actress was trolled tremendously for her lackluster performance in 'Khatron Ke Khiladi, but she was unfazed by the criticism and replied rightfully to the trolling.n addition to having a distinguished career and a strong following in south Indian cinema, she has also gained fame and popularity on reality shows like Big Boss where she has made her a household. Even though she got a lot of flack for being assertive and confrontational in the Big Boss house, she managed to outdo her opponents.  However, we found her to be extremely open throughout our interaction with her, answering nearly every question. In an undiplomatic manner, she poured her heart out and touched upon a gamut of subjects starting from working in south Indian movies, issue of casting couch, nepotism, working in big boss and future projects. Likewise, as she looks. Makeover and level of fitness routine continue to impress us, we sought that information out. The following is a talk with her that is exclusive and first-of-its-kind.
Q. How was your experience shooting for high on Persona magazine?
It was a fantastic experience, and it was my first time shooting for your magazine, and the looks created were something I hadn't done before. So I look forward to shooting again. Everyone was very humble. I can't wait for the looks to come out. I tried something new, and all the credit goes to you for figuring out what style and outfits would work for me. Excited and waiting for the issue to come out soon!
 Q. Apart from the reality show-' Khatron Ke Khiladi' and music albums, what else keeps you busy these days? 
I am working on my fitness level and grooming myself. Apart from the self-care, I have signed a Bollywood movie opposite Namashi- being my debut movie. Everything is lined up and hardly getting any time, be it from music videos to my scheduling. 
Q . Your performances have received an inevitable backlash from the viewers in the reality show – ' Khatron Ke Khiladi'. What is your take on it, how would you like to define it?
 I'd define myself as a fearless girl even though I might not be able to perform. I have already done one reality show- Big Boss, and now people are trolling me for 'Khatron Ke Khiladi'. Those people are spineless since the same set of people supported me in one place and are now trolling me for the other. They should understand where they stand in life- either troll me or support me. Seeing me in Big Boss, they know how limitless I am. I experienced some hindrances in my personal life that may be affecting my mental state and performance in Khatron Ke Khiladi. Nevertheless, I don't feel the need to explain it again and again. I know my journey and what I went through. I know there is going to be a lot of growth in my journey. It's all part of the journey. Accept that people will criticize you no matter how good you are. It is a rollercoaster ride helping you gain experience. I am ready to accept whatever comes my way.
View this post on Instagram

Q. While shooting for 'Khatron Ke Khiladi', who tried to discourage or encourage you among your colleagues or friends? 
Everyone played an essential role in my life, be it my family, friends or fans. They were loving and encouraging. I feel blessed to have them with me. The contestants also were favorable. I don't remember someone discouraging me or looking down on me. Even when I couldn't perform, they still cheered for me. Everyone has been very motivating. I'd blame myself since I was weak during that phase which led to me not performing, but it's okay. 
Q. If allowed to join in the next season, Would you prefer to go to Khatron Ke Khiladi again?
Life's short, and I don't want to have repeated experiences. I prefer something more significant, different, which challenges me. I don't want to go through the same things again but find better and more challenging opportunities. Life's short; you never know what happens next – so take new opportunities and have a diverse portfolio. 
Q. How has your career expanded after Big Boss, how has it helped to grow your portfolio? 
I have always been a massive fan of Big Boss since childhood. So when I got the opportunity, I didn't think twice and just said yes! My parents advised me to take a step back and think about it, but I know it. Some people are conscious about their image, but no one knows me, and I speak whatever is in my heart, so I don't care about my image. It was the real me. I just went because I was a huge fan, and because of that, I am getting recognition and so many offers. I feel blessed.
Q. At the beginning of the show, it was anticipated by the critics that you might not make it to the finale, but you silenced everyone as you did make it to the end. So, what, according to you, worked in your favor? 
I'll say being myself, being honest, loyal. Sometimes you have to think outside the box to shine, come out of your comfort zone to break out and shine bright. In reality, I am a loving and caring person, but I had to go out there, and people accepted it, and I made it to the top three. Many people don't know themselves till they join the show and I was one of them. I am happy people accepted me for it. 
Q. You and Rubina Dilaik share a great bond, and we see you appreciate her. How does your friendship still stand firm so far, and what do you spend time together? 
I honestly look up to Rubina- she's like a sister, friend. I can rely on her for everything, and she's a support system for me. She knows me, and I don't know anyone who is so caring and protective, giving a warm and motherly feeling. I thank her for being in my life. We often meet, have fun, and I know I can call her anytime. 
Q. How do you rate the current season for Big Boss? Who do you think is playing honestly and genuinely?
Honestly, I don't have any favorites right now. Everyone feels they are doing right despite being told they're doing wrong. The weekend episode tells you where you go wrong, and it is for your benefit. I know when given a hint, take it since you're informed about your weaknesses. It's an honest opinion to work on yourself. I feel Prateek and Shamita are doing good and Nishant is amazing. However, it is too early to comment on who's not performing up to the mark. They're doing great. They're doing it their way.
Q. You've been part of South Indian Movies, reality shows and music videos. Among everything you've done, what remains the most cherishable or among them which is your favorite? 
I love doing reality shows, honestly, since it allows you to show the real you giving the audience an idea of your authentic self.
View this post on Instagram
Q. How has your experience been while working opposite Namashi for your upcoming Bollywood debut? 
Shooting hasn't started yet; however, I have met him and we've rehearsed together. He is a fun-loving and funny person. His style of doing things is similar to his father- Mithun Sir. I am looking forward to starting shooting soon.  
Q. Any song of Mithun Chakrabortythat you remember from any of his movies?
Everything is so cherishable about him; pointing anything particular won't do justice with his decorated career. I had seen all his movies, songs and when he used to judge DID. Even his son, Namashi, is remarkable and up to the mark. 
Q. High street fashion or Designer wear- what do you prefer
a
nd how brand conscious are you? 
I am not at all brand conscious- it depends upon my mood what to wear. I used to wear a night suit and heels in Big Boss. If possible, I would make this my airport look. It is just how you carry yourself.
Q. Any must-have beauty products that you can't do without? 
A moisturizer and lip balm, maybe. To be honest. I can't live without any of my products, lipstick, perfume, mascara, lashes. Everything is important to me. Having a big bag and inside it is all my cosmetics.  I need to have everything be it my medical kit, makeup. Everything is organized, and I use just my stuff. I do minimal makeup, sharpening my features. 
Q. Any particular makeup brands or skincare brands that you swear to live by? 
Honestly, I have used all brands according to my skin. I don't endorse any; I'd prefer people to use what suits their skin the best.
Q. What are your must-haves in the handbag?
It has everything! Lipstick, lip balm, water bottle, hand cream, candle, sanitizer, some massaging equipment. It contains almost everything.
View this post on Instagram
Q. How do you ensure your makeup is on point when you are on the run for something significant?
I use my moisturizer, sunscreen- my basic regime. My perfume and I are ready to hit the road.
 Q. How do you avoid beauty blunders? Any tips you'd like to share? 
I am a pro at makeup and hair, so I barely make any mistakes while doing my makeup. 
Q. How fond are you of travelling? What are your favorite travel destinations?
I love to travel. I love Dubai- it is my favorite destination. I love the Maldives. In India, I love Hyderabad, Delhi and Mumbai.  
Q. Are you a light packer or a heavy one? 
A heavy packer. I almost take everything with me. I always have excess baggage.

Q. Would you like to share your diet or fitness regime with us? 
I work out heavily for at least five days a week. I love to meditate for hours. I believe in healthy living, not diet. I eat a lot of fruits nit juices since fiber is essential, a few carbs, and proteins. No junk food, and I avoid sweets. 
Q. Have you ever faced any problems relating to nepotism or me, too, while being cast or looking for an opportunity?
By God's grace, I haven't faced anything like this. I was an outsider in Big Boss, and the amount of love I received from everyone was overwhelming. I feel I have a spark that people can't avoid. I got that love and importance. I never thought I was ignored or avoided.
View this post on Instagram

Q. Any messages for your fans or aspiring actors? 
There is a lot more to achieve and a lot more to come. But, people who have faith in me, I'll say to have faith, patience and work hard. Success needs time and patience. You don't receive it in one day. Keep moving forward, and you'll get there. Thank you to all my friends for loving and supporting me, and I love you all.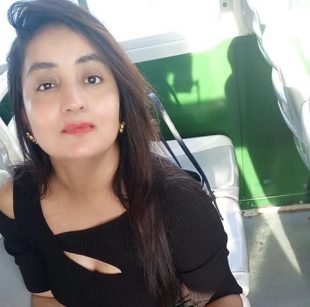 She has been there and done that. After graduating from Delhi University, she completed her diploma in Journalism from Bhartiya Vidya Bhawan, Delhi. Down the line, she completed her internship with National Herald Newspaper successfully,, and went on to Join Mainline Business daily, Business Standard. She also dabbled in image management and brand consultancy. She is a prolific writer on lifestyle entertainment, branding, lifestyle, travel, and politics.
Contact her at [email protected]