On the eve of Christmas, record-holding pianist Abhay Goyal remembers his grandfather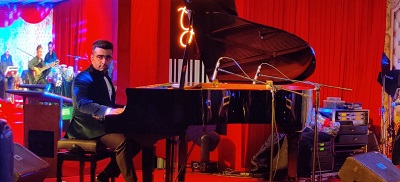 As far as the songs of the 70s and 80s are concerned, we still reminisce about them. The hit numbers of Rajesh Khanna, Dharmendra, Vaheeda Rehmaan or Shashi Kapoor as well as the hit numbers of the legendary singers Lata Mangeshkar and Kishor Kumar remain our all-time favorites. In spite of the fact that these songs were written decades ago, they remain relevant for young and old generations alike.
The selection of such 18 songs, however, was certainly a pleasant experience for us, especially on the eve of Christmas when this was something unexpected but pleasant to listen to. The guests who were present at the event had a wonderful experience, and it was a pleasure for them to be there too.
This past holiday season, pianist Abhay Goyal, who has been ranked among the youngest pianists in the Guinness Book of World Records, performed a show in memory of his grandfather. The show was held to honor his memory during the holiday season. There are many melodious songs that he played on the piano, among them were Satyam Shivam Sundaram, Lag Jaa Galey, Yaad kiya dil ney, O Sajna Barkha Bahaar Aaaee, Kaanto sey kheench key and around 18 others.