"There is no such thing as a good project that just falls into your lap" – Jyoti Saxena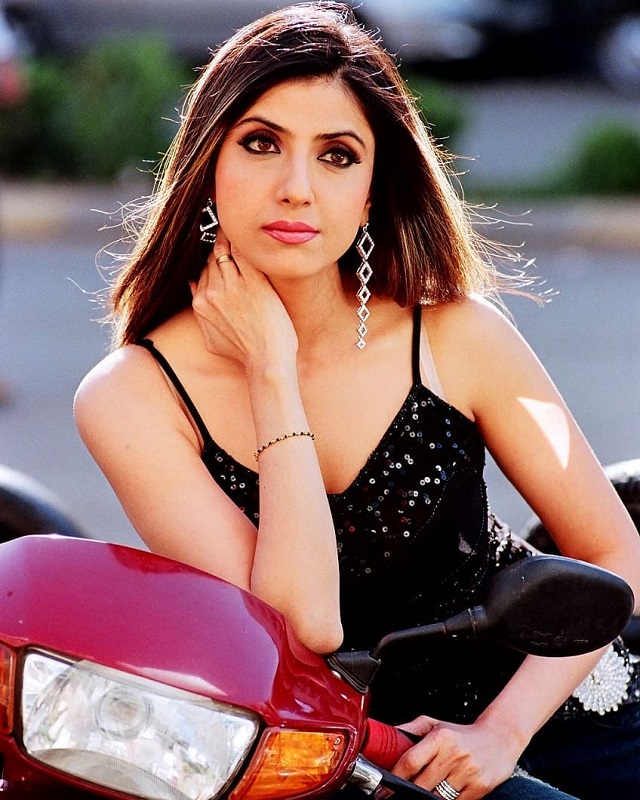 The Girl Who Lights up the room with Her Smile!
An epitome of grace and elegance, Jyoti Saxena has aced the glamour and entertainment industry with her acting acumen and charming finesse. However, that is not just what defines Jyoti. She is also a beloved actor and a flourishing entrepreneur who is winning hearts with each passing day.
In an exclusive interview with Jyoti, she spills the beans about her trailblazing journey as an actor and model, the key hardships that she had to face for all this while, her work life balance mantra, and a lot more.
She also sheds light on her process of dealing with criticism, her take on the emerging trend of boycotting movies, and a lot of pressing topics that will keep you intrigued enough to read till the end of this exclusive tête-à-tête. Happy reading!
HOP: Are you looking forward to doing a specific kind of work in the future?
There are many projects I would love to be a part of that inspire me and at the same time develop me as a person As an actor, I think it would be great to start out with a modern-day drama or comedy. In fact, even  As for OTT, I would like to dabble in that as well. Let's see what happens, fingers crossed, hoping that I am able to surprise you all My fans will be treated to something pretty exciting pretty soon, so stay tuned.
View this post on Instagram
HOP: Could you tell me about your journey as an actor and a model?
There was no doubt that it was hard. I have had some really good days and some not-so-good ones. but in the end, you really need to keep working and believing in yourself. And I am still growing and learning my way into the industry. As an actor, I think it requires a lot of dedication and hard work and patience.
There is no such thing as a good project that just falls into your lap. You really have to work hard for it. Plus being a model and an actor the constant pressure to looking a certain way did take a toll on me. So overall I would say my journey has been nothing but a constant struggle to make my dreams come true.
HOP: In the early stages of your career, what were the challenges you had to overcome?
When I started out, I was very novice to everything. I had no connections in the industry. I really didn't know my way around or even the right people. So, it was a task to first just soak everything in and understand what is expected of me as an actor. Giving back-to-back auditions and being updated on what's going on. It was definitely very overwhelming. Upon that, to maintain a good figure and to fit into certain beauty standards were quite difficult. But as you settle down, you just learn to make your way through it by winging it.
HOP: Which genre of films do you personally like to work in?
I definitely want to film action sequences since they are like combining dance and physics. It requires accuracy, and I think I meet the criteria. The audience must see you astounded and amazed, and this is exactly what an actor has to do. I am hoping to play that role soon since I am continuously trying to push myself and prove myself.
HOP: In order to maintain a work-life balance when you have a busy schedule of working and traveling, what are your tips? 
I make sure to take some time for myself every now and then. I think it took me some time to create that balance but now I know the importance of taking that much-needed time out for myself. In my opinion, me time is very important for me to ground myself and to reflect, just as it is for you. I love taking some time out to binge-watch shows, meet friends for dinner, or even just be home with family. Consequently, it is necessary for me to set and clear my schedule periodically and spend some time with my loved ones.
HOP: Presented with the opportunity to work alongside a co-star of your choice, who would you choose?
Vijay is one of my favorite actors. Unlike any other, he exudes a complete vibe Celebrities have. His charm, determination, and positive attitude are evident in everything he does.
Having the opportunity to work with him would be wonderful as I am sure we would have a great time together. As we share many common interests, I am certain that our conversation would be very engaging. There is a lot of laughter and high-octane fun to be had. He is one of Those actors I feel in the town who enjoys massive popularity Because of his looks, and I feel which actress in the tinsel town wouldn't like romancing him on screen.
HOP: Taking a look at some lifestyle and beauty questions, we would like to know how you recuperate from the aftereffects of heavy makeup and using heat for different hairstyles?
"It is very significant for me to make my skin breath because I feel when your skin is healthy and supple, it helps the makeup blend well and looks natural on-screen. Post shoots with heavy makeup and lots of products used, I make sure that I remove my makeup no matter how late it is and use proper skin care and hair care products which are recommend to me by my Dermatologist and even do my morning routine to tighten my skin which usually starts from to soaking my face in ice water. Following that, cleanse, massage your face with moisturizer, serum, and eye cream, and, most importantly, applying a generous amount of SPF to your face. For healthy, bright skin, the actress emphasizes the Importance of wearing sunscreen.
HOP: Of all the places you have travelled to till now, which ones are your favorite and why?
I do love traveling. Each city has its own charm and beauty. But I must say, I love Traveling through Europe. London and Paris would be my favorites. I go there every Opportunity I get. It's just the weather and the food. I mean, the French do know how to make some really delicious patisseries and wine. Plus, the architecture and history, and well lets not forget all the luxury brand houses to shop from.
View this post on Instagram
HOP: What does your diet consist of that keeps you fit, healthy and energized all the time?
Honestly, I am a foodie, so my diet is all about including delicious healthy home-cooked Food with little treats every now and then. I am a vegetarian, so I do make sure to Include enough protein-rich food in my diet. Lots of fruits and veggies do help me feel more energized. I also make sure to eat lots of probiotics and antioxidant-rich foods like greens and yogurt in all my meals. So for example, my breakfast would include a sprouts salad with veggies and a smoothie.
HOP: What is your process of dealing with criticism?
I don't take criticism too seriously. Like obviously it does affect me, but I like to then spend time with friends and family. That grounds me as well as lifts me up to face the world.
HOP: When it comes to fashion, how do you set yourself apart from the other actresses in the industry?
I like to dress comfortably most of the time. I make sure that all my outfits bring out my mood and you know, dress for yourself. I love to experiment with florals and prints and that's it. Let the outfit do the talking.
HOP: With the emerging trend of boycotting movies these days, is Bollywood moving ahead in the right or wrong direction?
We all have freedom of speech, so I don't think expressing or raising concerns can ever be wrong. Movies mirror society and unse bohat impact hota hai audience peh". But, when we make films, "usmein bohat logoki mehnat hoti hai" Everyone works very hard to make and present a film. So, I don't support the boycott trend. Watch the films, nahi acchi lagi toh bolo but don't just boycott without even seeing it in the first place.
HOP: Do you feel that OTT is the future of Entertainment Industry and that more and more people will choose the OTT platforms over theatres?
Yes, I think just like we are evolving, so is the entertainment industry. Especially since the pandemic, OTT has become a huge platform for Indian cinema. It provides comfort and movies/series anytime, anywhere so I do understand why people might pick that over the traditional theatres. But for me, theatres hold that special place in my heart as there are so many memories of going to theatres with family, friends. And I feel that many people would agree with me. I think OTT and theatres will co- exist but I don't think we would want to miss on the theatre experience as Indian films are at their glory on the big screens.
HOP: What are the makeup and personal care essentials that could never do without?
Sunscreen! It is very important to apply sunscreen. And of course, my lipsticks. I love a good pouty lip whenever I am stepping out. And I am very particular about skincare, so I always carry my serums and creams wherever I go.
HOP: What is Your go to comfort food?
My go-to to comfort food would be any homemade meal. Something simple and light like dal rice, soup, salad.
https://www.highonpersona.com/check-out-how-tv-celebrities-will-celebrate-diwali-in-2022/