Tara Sutaria's summer bare face tutorial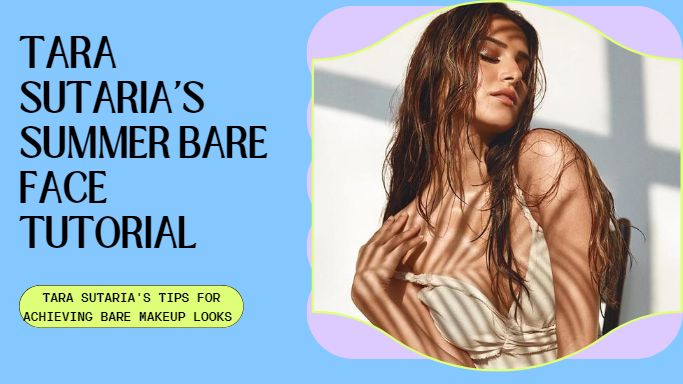 Tara Sutaria's tips for achieving bare makeup look
To stay in tune with the changing season, it's important to adjust your beauty and makeup routine accordingly. Sun protection is the most significant step in summer skincare and the importance of hydrating skin should not be overlooked either. Makeup should be light and breathable with minimal coverage. The increased heat and humidity can cause makeup to smudge and crease, so a heavy coverage makeup base isn't ideal either. Sun protection is essential to keep your skin healthy and prevent sunburn. Lightweight formulas and products with SPF are ideal for summer.
View this post on Instagram
Tara Sutaria is known for applying subtle nude and bare makeup looks and she remains a shining example of how to apply the bare look and nude makeup look with perfection. She often uses natural tones and subtle shades to bring out her features and her look is easy to recreate. She also shows how versatile the look can be, from a casual hangout to a beach day or a party-ready occasion.
View this post on Instagram
Recently the actress shared a video in which she can be seen sharing her tips on applying a bare makeup look and a list of the essential products for the same. In the video itself, her natural beauty truly shines, with the light makeup enhancing her features in an elegant way. This look gives a very effortless yet glamorous impression, and is perfect for a casual evening occasion.
View this post on Instagram
She illustrates that a few well-chosen items can help you achieve a polished and professional look without the need for an extensive product collection.She has also been encouraging her fans to embrace the natural beauty with her no makeup looks and nude makeup styles, inspiring many to do the same. In the vedio she shares the secret that how she uses Vitamin E enriched cream after taking her makeup off or before she applies her makeup. To perfect her bare makeup look she uses a basic balmy and creamy hydrating lip gloss which she keeps popping in the day, face concealer which she applies to perfect her makeup base, and highlighter powder is another of her favourite products she likes to puts on collar bone, cheeks and neck, and this look she does with smocky or non smockey eye look too. She believes that by using Vitamin E enriched products her skin stays nourished and moisturized. In addition, the balmy and creamy hydrating lip gloss helps to add a natural shine to her lips. She also finds that the face concealer helps her create a flawless base for her makeup. In addition, the highlighter powder serves to emphasize her natural features and adds a subtle glow. Finally, she completes the look with a smokey or non-smocky eye look of her choice to give her eyes the desired effect.
By using these products, she is able to create her desired look with ease, while also ensuring her skin stays nourished and moisturized. To tie the whole look together, she is often seen adding a swipe of her favorite lipstick for a final touch of glamour.
Tara Sutaria is known for her minimalistic approach to makeup, which consists of subtle, earthy tones and a dewy finish.
View this post on Instagram
She is a great inspiration for those who want to look natural and still put together, while also allowing their skin to breathe. Her makeup looks are usually natural and minimal, and she relies heavily on highlighting her features. She also typically opts for warm, neutral colors, which allows her innate beauty to truly shine. Her makeup also appears effortless and still polished here, making it the right look for vivid occasions.
View this post on Instagram
Through the look it becomes evident that the pretty actress is a proponent of the "less is more" approach to makeup. Tara believes that makeup should be used to enhance one's natural features, not to hide them. She has opted for a minimalistic makeup look that accentuates her features without looking too over-the-top. Tara believes that makeup should be used to enhance one's features, not to mask them.
View this post on Instagram
The subtle smoky eyes and nude lips give the look an added touch of sophistication. Overall, the look is timeless and timelessly glamorous. She chooses to use makeup to accentuate her features, rather than mask them, creating a more natural and effortless look.
View this post on Instagram
 http://There is no limit to what kids can wear this winter