Taking forward Rajasthan's opulent fashion legacy: Bhupendra Singh Shekhavat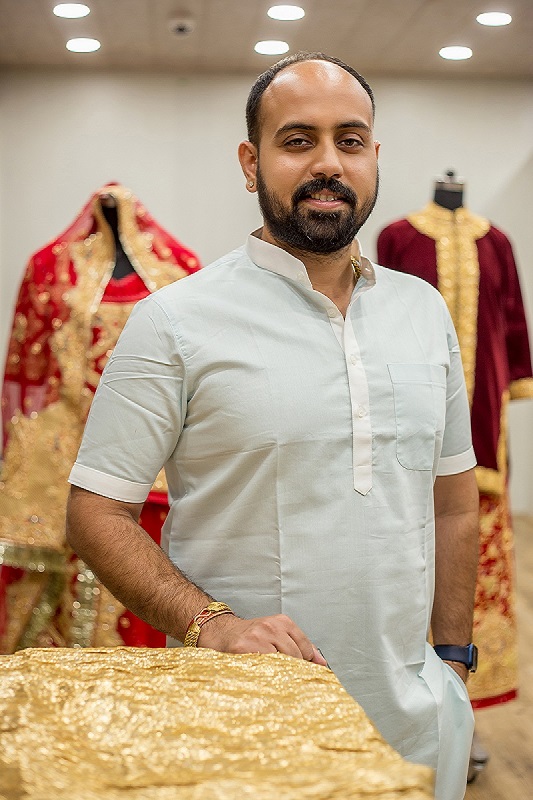 'Yuvti', A brand synonymous with grandeur and excellence in handcrafting exquisite Rajasthani attire has carved its identity for gracefully carrying forward the opulent legacy of the Rajput culture. Ever since times immemorial, the Rajput culture and heritage is renowned for its deep-rooted values, regal culture, and a refined taste in luxury and royal fashion. Their elegant and luxurious ensemble, famously called as 'Poshak' is a symbol of pride and belongingness for Rajput families, and the supreme collection of Jaipur-based brand, Yuvti stands testament to the same.
The B-town has never shied away from celebrating the quintessential importance and splendour of Rajputi Poshak and various movies like Padmavat or very recently Samrat Prithviraj, underlined how this attire is handcrafted with the utmost precision, charm, and elegance. Keeping in view talented, Jaipur-based designer, Bhupendra Singh Shekhavat forayed his humble beginnings in this industry in 2012 with the genuine intent to carry the baton of Rajput culture and fashion and take it to newer heights with each passing day.
It has been one decade down the lane and Bhupendra's brainchild has set new milestones in this Industry. He has unleashed inventiveness while resurrecting extinct forms of these traditional Rajput outfits, while keeping the Rajput culture and heritage intact. He recently also made history by making a 24-carat gold safa – a traditional turban that was wore by Rajput men years ago. In an exclusive interview with Barkha Arora, Editor, High on Persona Magazine, Bhupendra Singh spills the beans about his journey to success, while celebrating Rajput culture and fashion in the finest way possible. Read on to know more about the rich legacy of Poshak that is sacrosanct to Rajput Women and what makes it distinct from any other traditional attire in the country. Happy reading!
Your label "Yuvti" is well known for the exquisite designs of Poshak and Rajputi ensembles. We'd like to know how this all started. Could you tell us about it?
On a very small scale, I began my business with Rajputi Poshaks, worn by Rajputs. We began our venture in 2012. I am a Rajput myself, so I have a strong understanding and appreciation of Rajput culture and fashion. I was inclined to bring inventiveness and newness to this age-old fashion. My father is in the transportation business and It is common to see Rajputs working in the transportation or property industries. Similarly, I studied in Pune and then in Mumbai. One of my brothers is in Australia, and now I am here in Jaipur.
View this post on Instagram
Since it wasn't my motto, I didn't like working in my family's business. One day it so happened that while driving with my family to shop for clothes for a family wedding, I observed that people wanted some newness in attire but shopkeepers didn't have much to show. I saw the untapped work and potential of this business. I did R&D for a few months and it got clicked for me. Since I always had clarity, I started on a small scale with vision for five years. My decision was stubborn, and no one supported it. It took me some time to grasp practical knowledge, because in colleges and schools you get theoretical knowledge only.
However, I went into the core and sat with Karigars every day for at least 18 hours. Within five years, I aimed to be on the same level as labels that have been operating for forty to fifty years and built brand identity. The first few times I sold, I received comments about how I should reduce the price. Having studied and worked on craftsmanship for the first few years, I knew what kind of materials I could offer.
You could come daily to work, sit at your table, and start selling clothes, but that wasn't the concept I believed in. And on the other side there is a concept by which you don't want to sell something which is repeated and copied but something that is unique and created by yourself. You know what you want to sell and how to market it. I am able to accomplish even more than my annual targets using my 3x model. Once you are interested in something, you will go the extra mile to make it happen.
Fashion changes every five to seven years, and now people are more inclined to wear things rooted in customs and traditions, especially for special occasions and weddings. In many cases, people know their work well and show their abilities, but they do not try to do something very unique and different. In order to stand out from the crowd, I had set myself a five-year goal. My goal is to break the mold when it comes to embellishing my designs with inventiveness and aesthetics. I want to do a lot of work with real silver and gold.
Would you be able to tell us something about Poshak's evolution?
Honestly speaking with you, Rajputi fashion has remained the same when it comes to cuts and stitching, the styles of kurti and Kanchali are the same. There is less room for experimentation. But since I started my work I have slowly and gradually delved deeper into the R&D side of Rajputi fashion. In the beginning, I noticed Rajputi fashion was sold through small and large shops. Customers wanted something novel but ended up buying the same kind of designs and clothing because shops had nothing new to offer.
View this post on Instagram
While keeping the traditional values and silhouettes intact, I have been experimenting with fabrics, cuts, prints, and motifs in order to reinvent something completely different. In the olden days, Rajput women wore limited colours, namely red, yellow, orange and rani pink. On Diwali, they would wear red. You will never see a black or white Poshak. But, these days young girls want dusty colours, pastel colours, Lilacs and muted shades. They want to customize their Poshaks with different colours.
And keeping their fashion preferences in mind we are using today's trendy colors with our classic designs. We combine something completely novel and unique to make ethnic clothing more accessible to the younger generation. This was Untapped business and I wanted to add newness to this by retaining its fashion sensibilities and traditional values intact. For instance, I created Saafa with 24 carat gold, which no one had previously created.
Google now offers information about our 24-carat gold Saafa that was created by my label, its a first in 100 years. At least 100 such unique and extraordinary things I want to make. And for Rajputi Fashion I want to revive the old fashion which is extinct, I want to resurrect the fashion of the bygone era and historical era. I am doing deep study into nuances and intricacies of Rajputi Fashion.
In current fashion of Rajput clothing, are there any particular styles of embroidery that are popular?
There is a diverse clientele for Rajput fashion. Some want traditional patterns in old styles of zardozi, gotta work to go with embroidery work, mogra and champa flower work on the fabric and very traditional work of embroidery. However, some want to incorporate very different patterns on fabric. The work done in silver and gold, bareek zardozi, old style gota, dabka to fusion, nakshi, lifelong bareek work which does not wear or tear is favoured by younger generations.
The Rajputs do not want Atakna in anything, so embroidery work should not wear and tear, hence the focus is on baareek embroidery. Poshak in chandi work is something most of them want, and replicas are opted by those who cannot afford the work of chandi. All our products are all made in-house. In Rajput culture, gota, zardozi, and danka are all used 90% of the time on the fabric. By cutting off sarees and using real silver, we make new clothes. The process is also known as transfer work. In essence, it is a remake of old articles of clothing that is in style at the moment. As far as I know, these embroideries are lifelong and last for a long time if you care for the cloth. Our service is similar to that of a Maruti, you can come to us for customizations at any time. We have a whole team of professionals here who are waiting to help you. Customers come to me for customization work, since it's my forte.
View this post on Instagram
Taking a closer look at Rajput clothing's fabric. Are there any particular fabrics that look good on Rajputi Poshaks?
The fabric used in Rajput clothes is either satin or pure georgette 99% of the time.The look of posahaks changes with certain factors, such as the fall, and it looks good on satin. There's no doubt that satin enhances the look. You must use satin, crepe, or silk if you want heavy embroidery. The older generation likes Georgette. There is 10% crepe, 85% satin, and 5% other fabrics.
When you started your business, how difficult was it to convince older generations who were used to buying from old stores and younger generations who were driven by contemporary fashion?
At the beginning, I did not have any clients. It was a little tough, but I was determined to make it, and now my graph of growth continues to grow every year. Now from film stars to celebs and royal families are also wearing my outfits. The market is only challenging if you consider it a competitor. If I say I am talking practically with you, I am not making an overhead statement. At that time, I didn't see what others were doing, I didn't see what was happening, and it was my goal to make this happen.
My knowledge of what goes into making these kinds of apparents made pitching the product to the masses very easy. My product speaks for itself, so I did not have to convince anyone. Seeing this beautiful piece, I can tell you everything about it, including the kind of stitching, the tiniest details, how this cloth came into existence, and its history. Our specialty is customisation, and we make outfits according to the taste and preference of the client.
Originally, I had about 50 pieces of clothing, but now I have enough to show you that going through the entire inventory will take more than four days. Creating these kinds of clothing takes thousands of hours of work, and giving a random figure is veryeasy, but unless you know how long each process takes, you won't be able to customize them properly. Today we have built such a brand that girls now dream of wearing Yuvti apparel as much as they dream of wearing Sabyasachi lehengas.
View this post on Instagram
Whenever you are churning out a new collection, how do you come up with creative ideas?
I specialize in ethnic wedding design and related work, inspired by old clothes made with silver and gold, nature, birds, and flowers, which I incorporate into contemporary trends. People rely on me for Rajputi Poshak's because they know that they are getting the best quality work with inventiveness. Being attached to my roots and traditions, and being aware of my clients' fashion sensibilities, I have been able to create a perfect blend. We offer something that reflects our traditions and is integrated with modern preferences.
It is similar to Sabyasachi's status as a trendsetter in the wedding apparel industry. For the last five to six years, my clothing has set the trend for Rajputi clothing. In many cases, designers know their work well and show their abilities, but they do not try to do something very unique and different. In order to stand out from the crowd, initially I had set myself a five-year goal which was to break the mold when it comes to embellishing my designs with inventiveness and aesthetics. I want to do a lot of work with real silver and gold.
Is it safe to assume that you want to cater to the elite segment of society?
Incorporating gold and silver into clothing automatically makes them associated with the elite class, since only the wealthy can afford such clothing. While the financial situation of many royal Rajput families is not as good as it once was, they still have the finest taste. Instead of 10 Poshak's, they want just one that matches their level, nothing less will do. The blood of a royal runs deep in their veins. Weddings in Rajasthan are larger than life and quite elaborate,
So, do you cater exclusively to the Rajput segment of society or have you expanded beyond that?
As Sabyasachi makes bridal attire, Manish Malhotra does a wide range of other things in addition to bridal clothing. My passion remains ethnic job work, revival of old traditional trends in Rajputi Ensembles and Lehengas as well as craftsmanship. All this is my specialty. Revival of old work, be it Rajputi Poshak's, lehengas, or gowns, is my forte. I specialize in Rajputi clothing and chiffon sarees. I use intricate embroidery, motifs, and colors in my clothing. I have received a lot of customers from Sabyasachi who went to him, but since it was Rajputi Clothes, they came back to me and asked me to create a specific design for them.
View this post on Instagram
In fashion, people tend to copy and follow a lot, your take on that?
Yes, this is being seen that people get tempted to copy and follow instead of creating their own work. What I make is unique and draws inspiration from a completely different approach, so I doubt anyone on Instagram could show me similar pieces to what I make.
What is the relevance of Poshak to the younger generation who are driven towards wearing contemporary fashion for weddings?
For wedding ceremonies, you assume that there is a 90% chance the focus will be on ethnic, lehenga, or suit attire. However, rajputs prefer to wear Poshak, as Poshak is a part of a rajput's trousseau. There is a specific belt of non-Rajputis in the Jodhpur belt, and they also want Rajputi dresses. It's a trend to wear Rajputi Poshak's, and younger generations want to wear them as well. People tend to adhere to their cultures and traditions, and these Poshak's have a historical charm attached to them, which is why people are attracted to them.
In recent years, I've also noticed a growing interest in one's own culture. Comparing what I saw in 2013 and 2014 with what I see now, I see people much more accepting of their culture and traditional attire. Consequently, historical topics are receiving more attention these days in movies. Further, I have observed that the younger generation prefers traditional clothing because they are used to having things they don't normally have.
The Poshak is fast dominating current fashion trends during special occasions and weddings. Due to the popularity of movies based on historical and Rajputi culture, the recent one being Prithviraj Chouhan, youth are more inclined to wear something similar for special occasions. Fashion changes every five to seven years, and now people are more inclined to wear things rooted in customs and traditions, especially for special occasions and weddings.
In order to purchase chiffon sarees, Poshak's, and ethnic wear, how can people from other parts reach you?
One can pick from here in Jaipur; besides, A wide audience can be reached through e-commerce and social media. There is also another store in Udaipur that supplies to Indore and Gujarat belts. Further, Jaipur is the capital of Rajasthan, so anyone visiting Rajasthan has to visit Jaipur, and that's why we chose this particular location. This location is also located near areas dominated by the Rajputi community, within a radius of 4-5 kilometres, Hanuman Nagar, Kalwar road, Vaishali, where 70% to 80%of the Rajput population lives.
View this post on Instagram
All these areas are Rajput dominated. Also, when we started the process, this property was an old property, which wasn't being rented. Therefore, I had some advantage in terms of starting from here, so I started the business and it slowly worked for me. We have taken a while to reach this point, but we now own the majority of this mall. At first, there was only one shop in this mall that we had but today I have taken over the majority of the shops here.
Are you planning to expand into metropolitan cities?
We plan to enter the metropolitan city market in a different way and will share our plans soon on that.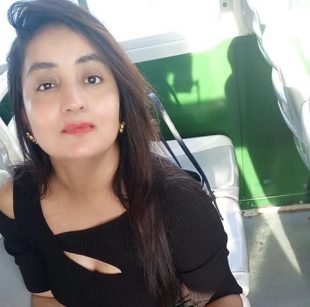 She has been there and done that. After graduating from Delhi University, she completed her diploma in Journalism from Bhartiya Vidya Bhawan, Delhi. Down the line, she completed her internship with National Herald Newspaper successfully,, and went on to Join Mainline Business daily, Business Standard. She also dabbled in image management and brand consultancy. She is a prolific writer on lifestyle entertainment, branding, lifestyle, travel, and politics.
Contact her at [email protected]