Rocky Aur Rani Ki Prem Kahani: Delhi Gets a Dose of Bollywood Fever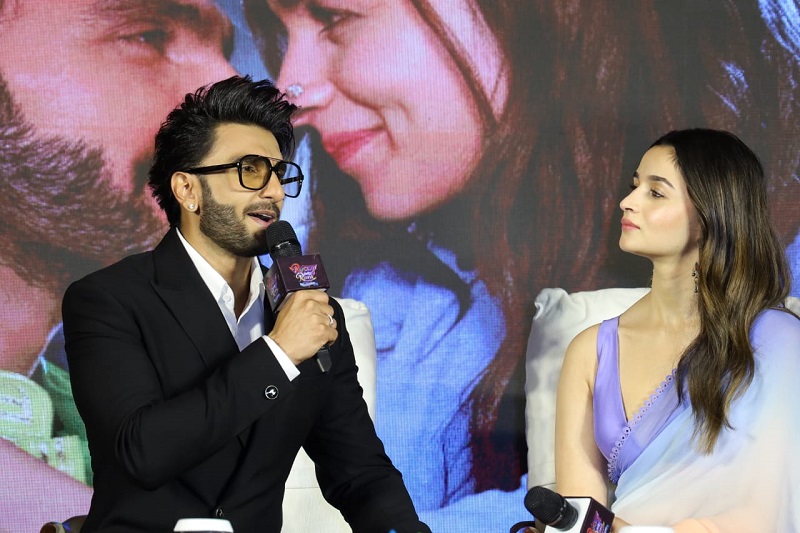 Rocky Aur Rani Ki Prem Kahani: The Delhi Promotional Event Was a Visual Treat
Promotional events for the highly anticipated movie Rocky Aur Rani ki Prem Kahani recently took place in the National Capital, Delhi. The event, held at The Imperial Hotel, was a grand affair, attracting attention of fans and good presence of media personnel. Rocky Aur Rani ki Prem Kahani, produced and directed by the renowned filmmaker Karan Johar, is scheduled to hit theaters on 28th July 2023. With Karan's expertise and reputation for delivering captivating love stories in the past, this movie is expected to be a major success. Although the teasers of the movie got mixed reactions on social media.
View this post on Instagram
Ranveer Singh, Alia Bhatt, Jaya Bachchan, Shabana Azmi and Dharmendra star in the movie. In the movie, Flamboyant Punjabi Rocky and intellectual Bengali journalist Rani fall in love despite their differences. Before getting married, they decide to live with each other's families for three months. With this kind of plot we can surely expect the story line unfolding hilarious tale of misunderstandings and uproarious events that bring out the differences between the two cultures and how they view marriage. And as we can assume In the end, both sides learn to accept one another and Rocky and Rani are able to get married.
Despite having vastly different backgrounds, Rocky and Rani's love story looks like an inspiring example of how two individuals can come together in the face of adversity.
The event was an ideal platform for Ranveer Singh and Alia Bhatt to interact with media and share insights about their characters in the movie. They graciously addressed the media, answering questions about their experiences and challenges while filming.
Veteran actor Dharmendra has been an inspiration to many aspiring actors and Ranveer was no exception. For him as he shared on the occasion, it was a unique opportunity to learn from a veteran actor like Dharmendra Sir and gain valuable insights from his craft.
Alia Said while addressing media that she was inspired by the grace and finesse that the two legendary actresses Shabana and Jaya displayed on screen, and she wanted to learn from them and take their example to heart in order to emulate their performance.
View this post on Instagram
The anticipation for Rocky Aur Rani ki Prem Kahani has been building up for quite some time, and the promotional event in Delhi only added to the excitement. Fans eagerly await the release of this movie, hoping to witness a captivating love story unfold on the silver screen.
Overall, the promotional event for Rocky Aur Rani ki Prem Kahani in Delhi was a resounding success. It showcased the star power of Ranveer Singh and Alia Bhatt, generating even more hype for the movie. With Karan Johar at the helm, this movie promises to be a memorable cinematic experience for audiences nationwide.
https://www.highonpersona.com/palak-purswani-on-her-future-plans-her-stint-in-big-boss/