Pooja Hegde: The Nation's 'Jaan'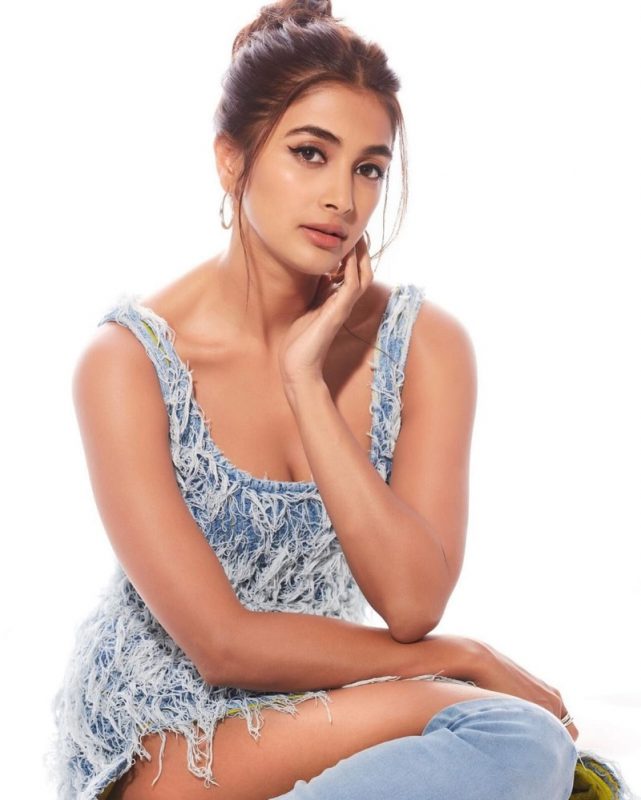 Pooja Hegde with her magnetic charm is coined as the 'Jaan' by her fans, endearing her to many hearts
From charming audiences with her grace and charisma, Pooja Hegde has become a nation's beloved with her exemplary work in her recent release. Moreover, Pooja Hegde post release of her latest film, 'Kisi Ka Bhai Kisi Ki Jaan', has already been garnering rave reviews from different corners. Many are praising her performance for its naturalness and genuine emotion and many praising her for her looks and charm. She has been lauded for her ability to bring out a range of emotions, from joy to sorrow, in her portrayal of the character.
Her performance in the movie has been widely praised for its naturalness, her ability to rise to the occasion in her role, and her chemistry with Salman Khan. She has successfully managed to build a fan following of her own, which is a testament to her performance.
She has managed to capture the essence of the character perfectly. And her charisma and energy on the screen has won her many hearts. Known for her graceful dance performances blending South Indian traditions, she has become a star in her own right.
Having captured audiences across India with her talent and charisma, it's no wonder she has also been referred to as "Jaan" of the nation. Her immense popularity and charm have made her a household name, with her admirers showering her with immense love and respect.
Pooja's impeccable comic timing, charming doe-like features, and confident performance have earned her high praise from critics. Her performance earned her numerous accolades from both the audience and the critics alike, cementing her position as one of the most talented stars in the industry.
According to one critic, Pooja stood out among the rest of the cast in the film. In a Salman Khan film, it isn't easy to hold your own, but Pooja does it effortlessly.
According to another prominent publication, Pooja portrays Bhagya with the perfect blend of quirks, entertainment, humor, charm, and emotions. In addition to praising Pooja's performance, her fans have taken to Twitter and praised her immensly.
It will make you laugh, get you emotional but most importantly be ready with your whistles- for this is a quintessential Bhaijaan Movie- Action Packed Family Drama…. #KKBKKJ @BeingSalmanKhan show all the way!! @VenkyMama in the climax is 🔥🔥 @hegdepooja 👌🏽👌🏽 comic timing …🤯🍿 pic.twitter.com/q1rrVOpYlN

— Bolly_Updates🍿🎬 (@Ankitt77778512) April 21, 2023
It's A Treat Boss A Dhamaka 🔥 @BeingSalmanKhan is on FIRE 🔥🔥🔥 Songs r one of biggest highlight. @IamJagguBhai ❤️ @hegdepooja luked absolutely beautiful 😍 Climax wil give u goosebumps.#KisiKaBhaiKisiJaan is a BLOCKBUSTER. Watch it wid ur family. #KisiKaBhaiKisiKiJaanReview

— Rajdeep Sarkar 🇮🇳🇮🇱 (@rajdeep_sarkar) April 21, 2023
https://twitter.com/aniketyadav1010/status/1649344899391815684?s=20
Showtime 2 : #KisiKaBhaiKisiKiJaan

As usual @hegdepooja Nailed her Performance as Bhagyalaxmi 🙏❤️ and now Watching 2nd time to see Her flawless Performance and Dance Moves 🥺❤️#PoojaHegde #HeartBeatOfTheNation https://t.co/B4InKDPQ5v pic.twitter.com/MIGADqHaeh

— Pooja Hegde Fan (@PoojaFanForever) April 21, 2023
After Kisi Ka Bhai Kisi Ki Jaan, Pooja Hegde will begin shooting for SSMB 28 opposite Mahesh Babu, along with other exciting projects.