INDIAN MONSOON RECIPES WITH RENU DALAL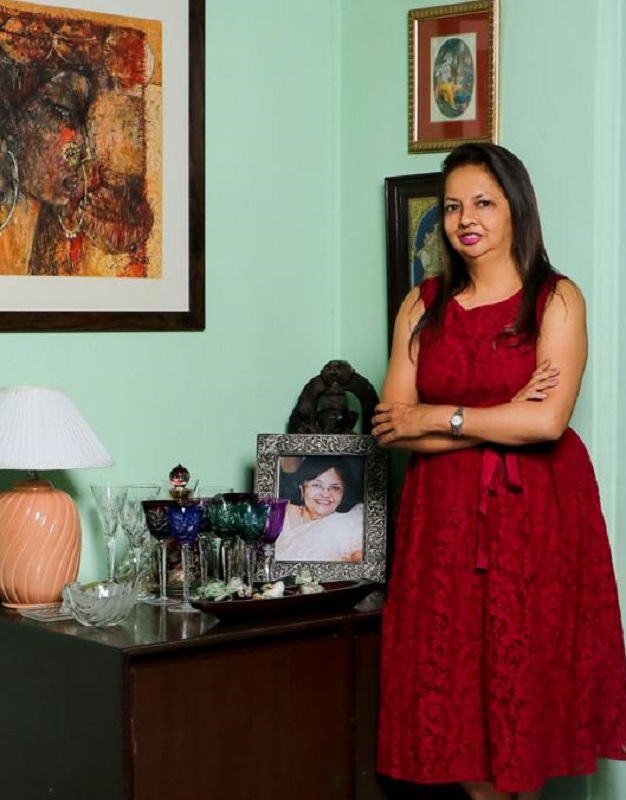 There is a much-needed respite from the summer heat when the monsoon season begins. On a rainy day, delicious food is always a source of merry making and uplifting the mood. This weather is perfect for bhajias, chaats, pakodas, and street food. Due to numerous factors like water contamination, lack of hygiene at local joints, etc., we do hesitate to go out and cater to our cravings.
To fulfil our yearning, we reached out to Renu Dalal, daughter of the late legendary chef, Indian food writer, and cookbook author Tarla Dalal, who shared some of her easy-to-make vegetarian delicacies.
Some of the Monsoon recipes are here for you to try.
NEEM AND GINGER TEA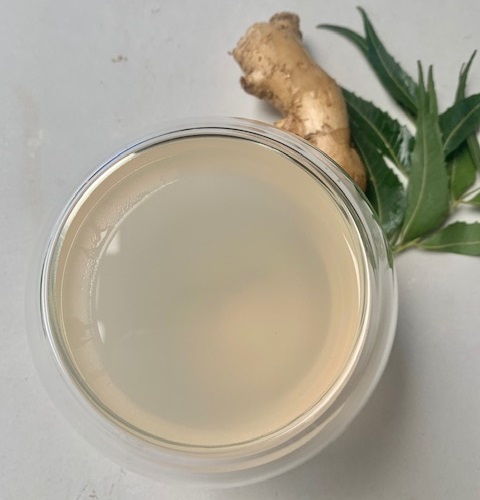 Boosting your immunity is one of the benefits of neem. In addition to being soothing, the tea is therapeutic as well.
Time spent on preparation: 5 minutes
Cooking time: 5 minutes
Serves: 2
INGREDIENTS
1 cup water
3 to 4 neem leaves
½ tsp lemon juice
I tbsp chopped ginger
Honey to taste
METHOD
Neem leaves and ginger should be boiled in water for two to three minutes.
Add honey and lemon juice after removing from the gas. Be sure to stir well.
Have the tea right away after straining it.
DAHI BHALLA CHAAT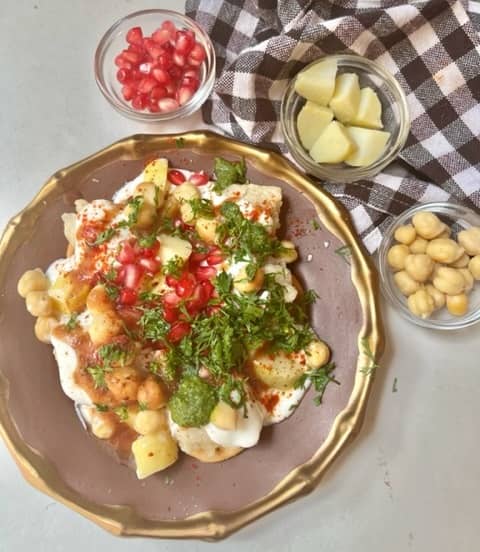 There is nothing better than eating this north Indian chaat on a rainy day. The taste of the dish is enhanced by the pomegranate.
Preparation time: 30 minutes
Cooking time: 10 minutes
Makes: 10 pieces
INGREDIENTS
10 papdi puris
10 small dhai vadas
1 cup beaten cold yoghurt
¼ cup tamarind chutney
¼ cup coriander chutney
Salt and chilli powder to taste
½ tsp jeera powder
OTHER INGREDIENTS
½ cup boiled chickpeas
½ cup pomegranate
½ cup boiled potatoes
2 tbsp chopped coriander leaves
METHOD
Place the puris on a serving plate. Place the vadas on top of the puris.
Cover with the yoghurt.
Add the potatoes, pomegranates and chick peas on top.
Flavour it with coriander chutney and tamarind chutney.
Sprinkle salt, chilli powder and jeera powder on top.
Top with coriander leaves. Serve immediately.
SINDHI ALOO TUK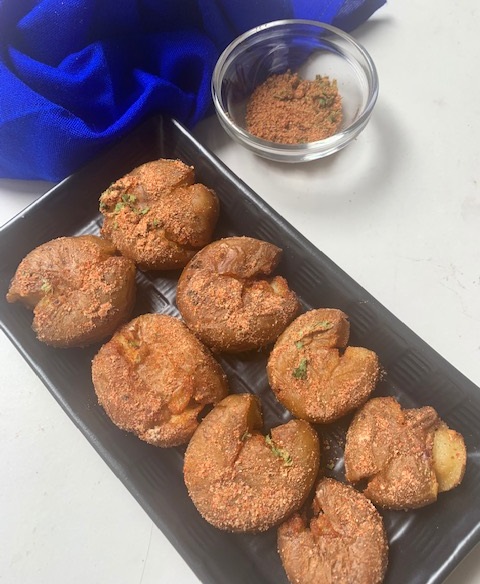 Sindhi households love these double fried baby potatoes. The masala mix can be adjusted depending on your spice tolerance.
Preparation time: 15 minutes
Cooking time: 15 minutes
Makes: 15 tuks
INGREDIENTS
15 baby potatoes
For the masala mixture
½ tbsp amchur powder
½ tbsp chaat masala
1 tbsp chilli powder
½ tbsp chopped coriander
Salt to taste
Oil for frying
METHOD
For 15 minutes, boil the potatoes in hot water.
Allow them to cool for two minutes before peeling off.
HOW TO PROCEED
For two minutes, deep fry the tuks in oil.
With a vegetable masher, flatten the tuks after removing them from the oil.
Once again, deep fry in oil until well done.
Drain the oil from the tuks on absorbent paper after removing from the frying pan.
The tuks should be rolled in the masala mixture and served hot.
METHI KA BHAJIYA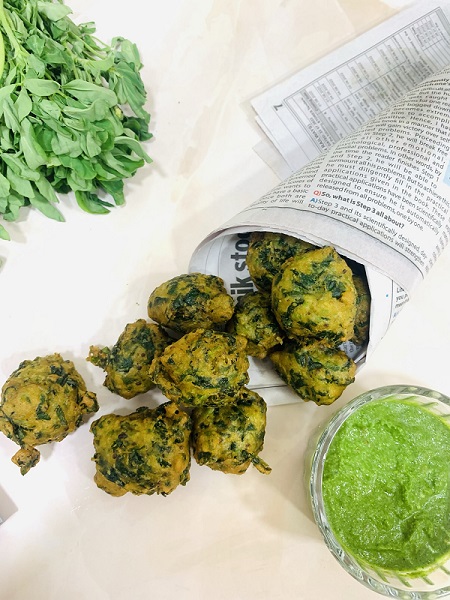 Served with a cup of hot chai, this snack is a super munch. They taste great with or without the banana.
Preparation time: 10 minutes
Cooking time: 10 minutes
Makes: 8 to 10 small bhajiyas
INGREDIENTS
1/2 cup besan (gram flour)
1/2 cup chopped methi
A pinch of asafoetida
A pinch of sambhar powder
¼ tsp turmeric powder
A pinch of baking soda
1/4 cup water
Salt to taste
Oil for deep frying
METHOD
Mix all the ingredients together to form a batter.
Heat the oil in a frying pan.
Make small pakoras with your hand and deep fry till well done.
Serve hot with green chutney.
Options: you can add 2 tsp of chopped banana to the mixture to add that little sweet taste.
STUFFED OATS CHILLA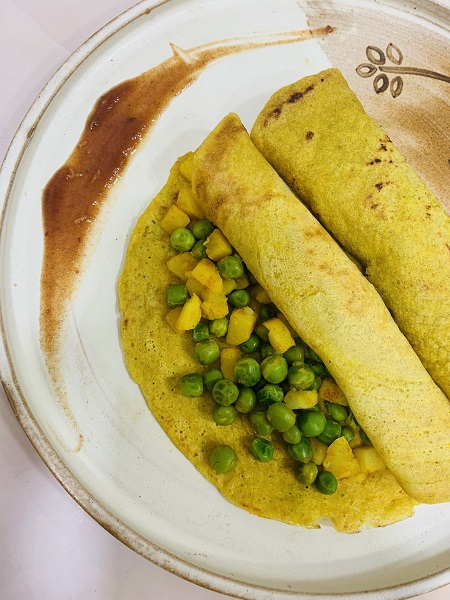 For the health-conscious foodies, this chilla made out of oat flour with vegetable stuffing is the best thing to have. These chillas can be relished for breakfasts, as a wholesome snack or as a main course.
INGREDIENTS
1 cup of oats (powered in a mixture)
2tbsp gram flour (besan)
1 tsp oil
½ tsp chopped green chillies
1 cup water
½ tbsp turmeric powder (haldi)
½ tbsp asafetida (Hing)
1 tbsp chopped coriander leaves
Salt to taste
3 tbsp oil for making the chilla
FOR THE VEGETABLE STUFFING
½ cup boiled green peas
½ cup boiled potatoes (peeled & chopped)
½ tbsp. oil
1 tbsp chopped onions
1 tbsp chopped tomatoes
½ tbsp turmeric powder (haldi)
½ tbsp garam masala
A pinch of asafetida (hing)
Salt and chilli powder to taste
1 cup of tamaring chutney for serving
METHOD
FOR THE STUFFING:
Heat the oil in a vessel, add the turmeric powder, garam masala, asafetida, onions, tomato and sauté
for ½ minutes.
Add the green peas, potatoes, salt and chilli powder to taste. Cook for 2 minutes.
FOR THE CHILLA MIXTURE:
Mix gram flour, green chillies, hing coriander, turmeric powder, powdered oats, oil, water, and salt to taste together in a bowl. In a nonstick frying pan, heat the oil.
Put the chilli mixture in the pan and form it into a round.
Keep flipping until both sides are done.
Place some stuffing inside the chilla and fold it. Remove it from the pan. Serve hot with tamarind chutney.