A new era is being set for destination Weddings: Naveen Vaishnav, GM, Bhairavgarh Resort, Udaipur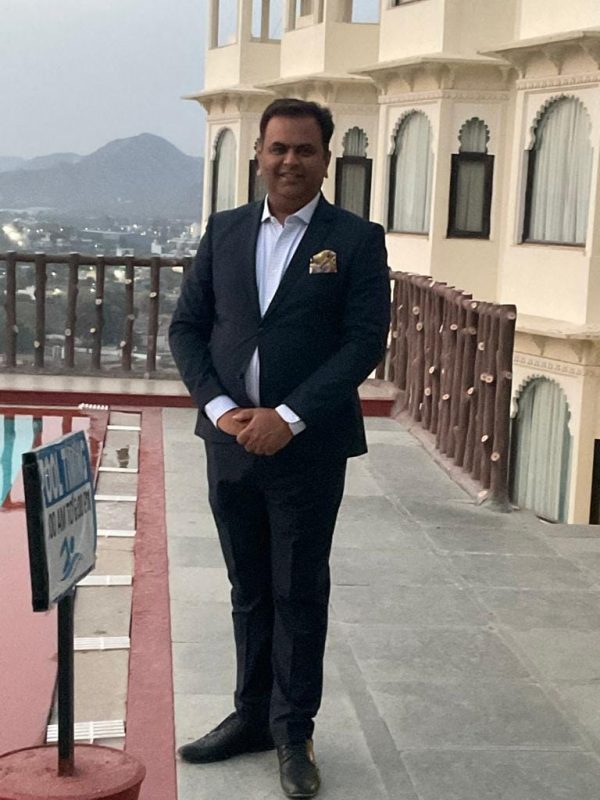 The Dynamics and ecosystem of wedding business were transforming at a rapid pace and tourism expenditure, in particular, had grown rapidly in the destination wedding sector. Due to the aftermath of the pandemic, the entire scenario in the last few years changed which proved to be a stumbling block for the wedding industry and weddings became much more low-key. Now that the situation is gradually returning to normal, we attempted to see how the scenario might play out. When you think of larger than life extravagant weddings set in  picturesque backdrops, opulent settings and lavish venues, Udaipur, the city of lakes immediately springs to mind as the picture perfect wedding destination. Weddings in Udaipur have a reputation for their grandiosity, lavish scale and great deal of splendor. In this City of Weddings, hotels and heritage properties are known for hosting an array of weddings each year, ranging from celebrity weddings to huge extravagant celebrations, such as the Ambani wedding that was held in Udaipur recently. We got an opportunity to speak to

Naveen

Vaishnav, GM, Bhairavgarh Resort, Udaipur and ask him how the hotel sector managed the challenges and how prepared the city is to host the lavish weddings now that the situation is improving. During the interview, he acknowledged the competition they face with heritage properties and how they are handling it.
Q. Would you mind sharing with us a bit about your background?
I have been in the hotel industry for the last twenty years and I currently have the responsibility of managing Bhairavgarh Resort in Udaipur.

Q. Since the place was being restarted by the owners, at a time when everyone was closing their businesses, how did you decide to run Bhairav Garh resort ?

One of the best parts of this venture is basically its location and the view along with compactness, which allures every customer to come here. Talking about the elevation of this wonderful resort, it is the tallest amongst all giving a 180 glimpse of the entire city. In the evening, as the city gets lit up it brings out a fantastic view of it from inside. With taking up the COVID issue, it can be found that a lot of hoteliers turned resilient in terms of how to go about applying lots of permutation and combinations. When working with a brand, their SOPs are found still strict and not so flexible requiring much more approvals. And working here in a standalone property having an enthusiastic bunch of staff and especially Ishwar Kumawat, the 19- year old young owner of this place who has the dynamic potential, and his vivid ideas that came out from a lot of permutation and combination provided an opportunity to seek different methods that worked well. Sometimes weekends or also weddings bring in a lot of customers and boosts in building up the business. With smaller wedding ventures having a lot more detailed attention and they gain in more profits than bigger weddings. This way we are creating new opportunities for Bhairavgarh which is being a standalone property, competing with well-established hotel brands in Udaipur.

Q. With a lot of well-established hotel brands in Udaipur capitalizing their venture on beautiful locations like Lake Pichola, Fateh Sagar Lake and others, how challenging is it for you to compete with them and in what ways do you accomplish this?   
These days bringing the business is not much of a challenge. With efforts on social media, digital marketing, sharing blueprint of designs etc. a lot of guests could be brought in. The most important thing is retaining the mark of business. So we are working on providing a lot of skills to our staff, like training them on behavioral skills, product quality enhancement skills and a lot more. We basically train them to be more affectionate to our guests, the most important factor where we want to stand out from the rest. There are almost 10 places in Udaipur known for their delicious cuisines as we do, but the way we serve and interact with our guests creates a difference. We grab every opportunity to take care of our guests coming in, making them feel like a special person.

Q.  As Udaipur is largely known as "City of Weddings" and hosts a number of weddings every year from celebrity's weddings to extravagant big weddings like of the Ambani's wedding that took place here, so how prepared the city of Udaipur is in terms of infrastructure to host these kind of weddings and also how your venture holds it?
When it comes to weddings, Udaipur is one of the most preferred locations for destination weddings. Being situated close to Gujarat it is accessible to all other cities through flights and now trains also have started. The road infrastructure is also very good, having a six-lane highway coming from Ahmedabad to Jaipur and Delhi. So this way the driving time and distance have reduced, enhancing the potential of Udaipur being the preferred location. Every property in Udaipur has its own unique charisma such as Bhairavgarh Resort. We are located right upon the hill in a calm and peaceful compact surrounding giving a breathtaking view of the entire city. During the wedding the most important thing is that every guest needs to participate in every activity. When you stay at a bigger resort spread over a large area, going back to your room and coming to the venue again becomes tedious. But the compactness and accessibility within rooms at our resort is a charming factor that gives a cosy feeling to our guests. The functions and events take place quickly and participation increases. That is what the destination weddings are popular for, that people choose a location where they go back to their room and come for lunch, dinner etc. together on time. Our banquets, restaurant and terrace are easily accessible to the guests staying out here. This gives a wonderful bonding.

Q. Since Udaipur is known for organizing many beautiful exquisite heritage weddings, but with passage of time the sensibility, tastes and preferences of the modern generation are changing towards the theme and menu of the wedding. How are you catering to those demands and expectations?
I would say COVID-19 has also been a blessing as well for us. As the number of guests invited for weddings have reduced, personalized catering has tempted in. Going into modern Indian cuisines, we have introduced a lot of variety like Teppanyaki, Pastas of different flavors, Rajasthani Dhaba style food, Punjabi Dhaba style and a lot more. We are venturing into the introduction of live counters where chefs stand right behind the counter preparing and serving hygienic cuisines as per the tastes and flavor of our guests rather than the orthodox method where the meal is prepared and put in a container and guests lined up for eating. The reasons are that whatever weddings we are taking recently we maintain all hygienic protocols, not allowing any outsider who is not checked or medically unfit to cook since it takes a risk factor in hosting catering from outside.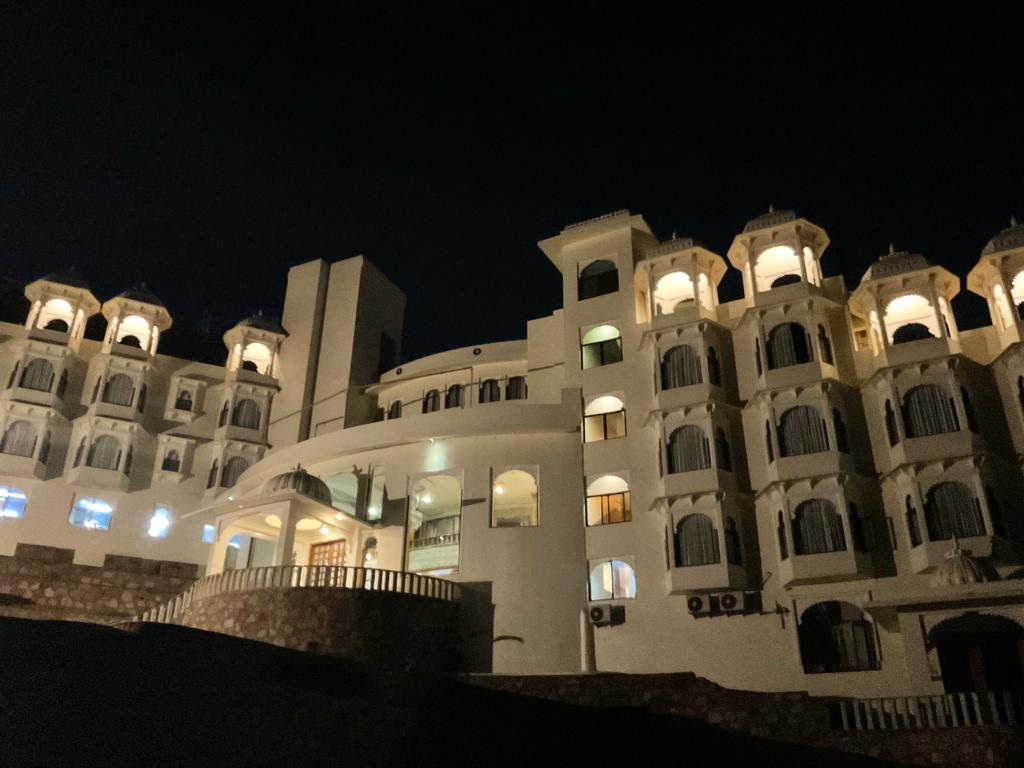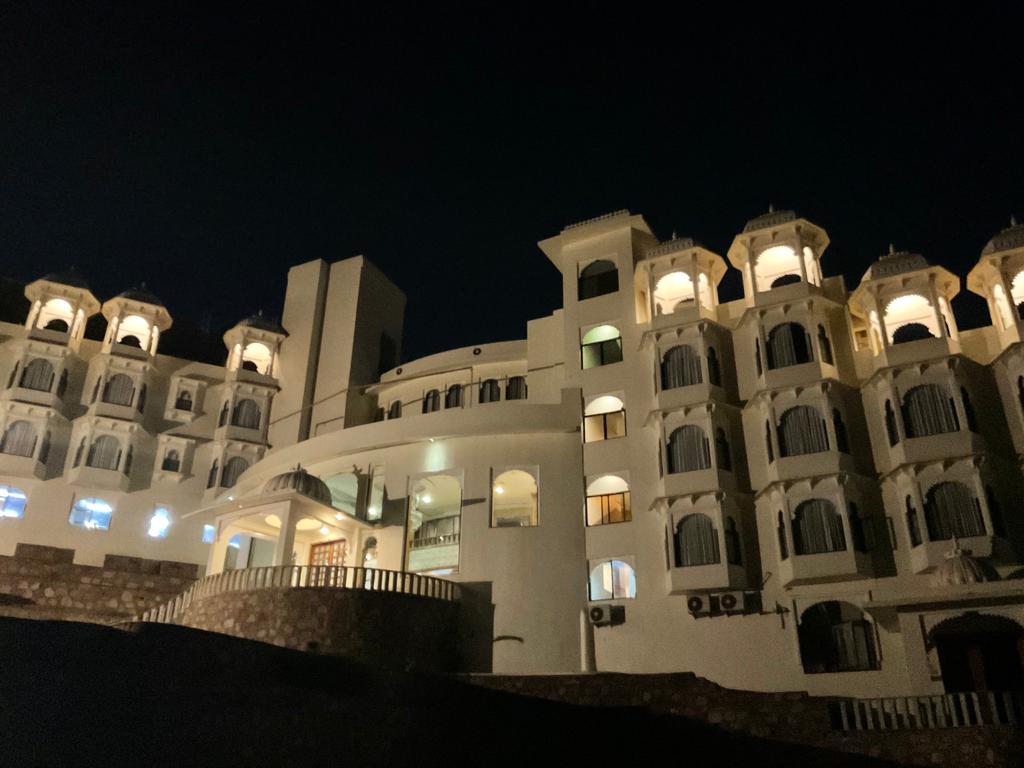 Q. When Bhairavgarh Resort is not hosting weddings, what else keeps it occupied?
As slowly and gradually the corporate sector has started moving post the second wave of COVID , weekends mainly remain occupied with people who are in the vicinity of 200-250 km. This is a new culture which has come up that people like to drive some distance to nice resorts to spend their weekends beautifully. Secondly, localities from Udaipur have started venturing here to celebrate birthday parties and anniversaries in a picturesque location away from their home and staying with us.We are planning pool packages wherein guests can pool out during daytime, have brunch by the evening and dinner at the end. Also for the IPL session, we had live screening out here for our guests. So we are venturing into different opportunities for retrieving our guests.
Q. In a word or a single line, give any 10 reasons why people should visit Bhairavgarh Resort from across any city or even the localities in Udaipur.
For the delicious cuisines as we serve out luscious food to our guests. Along with it one can get a nice 180 fantastic view of the entire city. Our beverages are being enhanced and not over-priced. We are available at many portals offering wonderful discounts to our guests. We take special rentals for birthday parties, kitty parties and others as well. Our banquet can offer late evening parties with wonderful experiences to hold multiple guests. All activities are welcomed here.
Q. Tell us more about the interior architecture of the resort.
Our resort holds a restaurant having capacity of holding 60 couples at a time. We are expanding this restaurant making it to hold 80-100 couples wherein breakfast, buffet, lunch would be served. The room's size is 300 sq. ft  which can accommodate. We currently have 44 rooms but would be expanding it to 75-80 rooms after sometime. Coming to the banquet, the hall is at a height of 20 ft on top of a hill. It is a beautiful venue overlooking the entire city. Then we have private dining venues with capacity of almost 100 people in the garden area with a restaurant having a live kitchen with serving cuisines like sushi, pastas, teppanyaki and many more to dine out. Also we are working on expanding the landscape of the resort. So anyone who has visited Bhairavgarh Resort now and would be seeing it in a couple of months will get a newer look and experience. We are everyday competing with ourselves rather than with others and want to be a better version of ourselves.
Q. You are surrounded by many heritage hotels and properties being owned and run by Thakurs and other royal lineage. How do you face this competition imposed by these royal hotel ventures? How do you beat the tag of royalty that comes attached with their property and not with yours?
Our resort has been designed in terms of rich heritage architecture which is quite popular in Udaipur or the whole of Rajasthan. Competing with heritage property is not for us as they have built their own legacy over a span of almost 100 years. We cannot compete with them legacy wise as they have their own stories and history attached with them. But the only way we can differentiate ourselves from others is by winning over our guests serving through heart and soul. We have a strong HR and training team who provide excellent behavioral skills to our staff and we also have a good write up of menu items. They have their own stories but we are also building up our own legacy over years and will prove that we are no less than anyone. We are creating experiences that our guests would remember for a lifetime.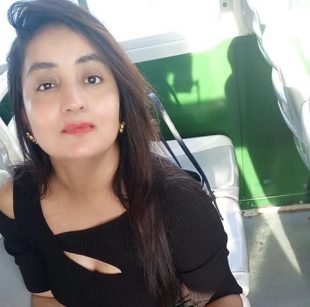 She has been there and done that. After graduating from Delhi University, she completed her diploma in Journalism from Bhartiya Vidya Bhawan, Delhi. Down the line, she completed her internship with National Herald Newspaper successfully,, and went on to Join Mainline Business daily, Business Standard. She also dabbled in image management and brand consultancy. She is a prolific writer on lifestyle entertainment, branding, lifestyle, travel, and politics.
Contact her at [email protected]