Growing throughout your life, not going through it, is the idea I believe in and follow: Lakshyaraj Singh Mewar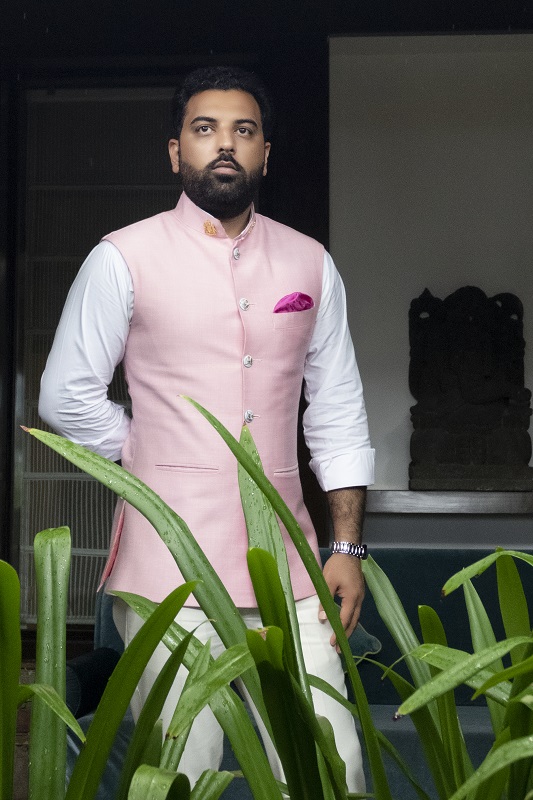 30 questions to get to know the Prince of Mewar – A Royalty Dedicated To Humility And Altruism 
I hadn't interviewed Prince Lakshayraj Singh Mewar of Udaipur for the first time, but meeting him in person for the interview in his fiefdom was a completely different experience. This allowed me to gain a deeper understanding, a broader perspective about the life of a prince, his personality and the way he worked. 
Unlike the preconception that a descendant from a royal family would look pompous, appear swollen-headed and possess an air of pride, the reality was the opposite. During our conversation, I learned that the future king of Udaipur, as well as the entrepreneur, embodied humility and generosity. This interview discusses the ethos and nuances of Mewar culture and tradition, the evolution of that tradition, and the way the prince of Udaipur chooses to live his life. The conversation lasted over an hour and covered everything from his vision for preserving the heritage of Udaipur and City Palace, combating covid-driven challenges, working altruistically, and his passions that drive him to keep going. The following is the entire conversation:
Q1. Having come from a family of fame and wealth, one would think you have accomplished everything and have everything in abundance, but do you think there is anything lacking or missing or is there anything you still feel you need?
First and foremost people are carrying around a lot of baggage, attached to preconceived notions and ideas. I don't think there is anyone on this planet who thinks their life is complete or that they have achieved everything. If there is someone like that, then I want to meet him. Almost everyone has segments or pockets that they feel are incomplete or need to be completed. Almost everyone wants something more or pushes themselves beyond their boundaries. I certainly believe and follow that the idea is to grow throughout your life, not go through it. Be sure to keep growing and do the things you enjoy. Work towards a cause you're passionate about. There's no point in doing so if you're not motivated.
Q2. How have certain traditions and cultures evolved since the establishment of the Mewar family, with Rana Sanga and Maharana Pratap?
Times have certainly changed since almost 500-600 years ago. Everything in the world is evolving, every day is different, nothing stays the same forever. Travel and communication have become easier than ever before. The times have changed dramatically. Having learned from our past year's lessons, we now value our lives more. Our land, family, neighbors, culture, and traditions, which were once forgotten, are now being taken care of.
Q3.After the Pandemic, our outlook on life has changed a great deal. Did your perspective on life change as a result of your experience during the covid pandemic?
In my case, I was fortunate to have been able to accomplish the things I had envisioned before. The plans were always in my mind, but due to the ever-so-fast pace of life, execution was a little elusive. In terms of ideology and mindset, we were pretty much on the same page, but this helped me to execute the gap between what you thought and what you wanted. I certainly feel that I was able to put across the ideas in reality, in factual, and do the things I enjoy doing most, do the things that I was not able to do before.
Q4. In what ways did you maximize your time during that phase? What was your creative approach during that time?
I didn't certainly feel creative but rather focused on things I always wanted to do, spending time with family. I love gardening. I was able to do gardening and spend more time in nature. My focus was also on cooking, since I got little time to do it and I love it so much. Discover more about cooking and the science behind it. Also, I enjoyed poetry and music more than ever before.
View this post on Instagram
Q5. What makes Mewar distinctive among the royals and royal families of Rajasthan?
Each individual has his or her own identity, culture. Our pride certainly lies in never allowing any external forces to subordinate us, in not compromising our dignity, integrity, or self-respect, even in the most difficult circumstances.
Q6. As someone who manages a luxury hotel chain and the City Palace, what are the challenges you face? With international tourism at a halt, what challenges are you facing post-covid? What steps will you take to get back to normal?
Since our business work totally upon people, when people vanish it is difficult for the business to bounce back. I think since it is a global phenomenon, it'll take time however, our population is such that it helps us in a positive way. Since many people like to travel, the rates of domestic travel increase is helping us to come back on track. We hope and aim that everything becomes normal soon, and everything is back on track, international tourism is open so we can serve the people. At the end of the day, one needs to be more optimistic. It is the hard work and willingness to work that makes people feel safe and belong in a particular place.
Q7. The city of Udaipur has become known for having extravagant weddings where people from around the world come to plan their weddings. Does the City of Udaipur have the infrastructure to handle the wedding season and overcrowding again in the near future?
Let us just say we are more prepared than we were five years ago. Since we are hosting huge celebrity or extravagant weddings, the infrastructure of Udaipur does have the foundation to support such events, because you can't have more than the availability. We do tend to seek and receive help from international personnel in terms of organising such events. So it is an amalgamation of all efforts that helps us to out up an experience that they want. Apart from that, now Udaipur is being compared to the top 20 wedding destinations in the world which is something everyone needs to be proud of since we are now not just being recognized in Rajasthan or India alone, being great for the economy and increasing the standard of living for people. We are among the top best hotels in the world which have the best infrastructure, that is something to be proud of for a small city like Udaipur. We make sure to put up space where people feel spacious and comfortable.
Q8. How satisfied are you with the role that government has played in enhancing the beauty and condition of roads, lakes, and infrastructure as a whole?
At the end of the day, it is the responsibility of every individual. Pointing fingers won't bring any good. Yes, the government is doing their work, however, people are the stakeholders in this and have to do a lot more. Sometimes the people have to push the government and sometimes it is vice versa. The more responsibility we take, the more we create and make good out of it. The infrastructure is now in progress and it is improving a lot. The work is on.
Q9. Your forefathers had a reputation for being selfless and for giving back to the masses. Having been involved in philanthropy as well, how have your philanthropic ways changed since covid? What are your plans for such activities now?
I am very happy to share my recent achievements with you in the area of philanthropy. I have four Guinness world records in the same area. I recently was given my latest Guinness world record recently which was specifically for hygiene and sanitization of people around our area. This was something in which the whole city participated. We were able to donate thousands of sanitization products to rural areas. I believe philanthropy is something that you do in daily life not something just out of the blue, as and when we can do it.
View this post on Instagram

Q10. How do you cope with the attention and popularity among the masses since you're a celebrity?
I don't believe in hiding in any perspective. You don't work hard to be recognised rather you make a change. Doing something to make the right difference and if you do why hide from it. It is for a greater cause. You concentrate on your work and other things are the ones that come along with it.
Q11. As someone who has been involved in social work and social upliftment, how do you see women's empowerment? Does your wife accompany you on these endeavors? How do you explain the concept of women's empowerment at home?
I believe women have always worked subtly. They are the powerhouse of everything around them. It is now time to bring everything out in the forefront. There are different dynamics and versions of women working which certainly makes everything more powerful. While working alongside a woman, there is certain softness added to it making it more reliable. Also to subside certain notions, were we among the first few families in the country to open a girl's school in the pre-independent era in 1864. As a family, this has always been around the concept of women being educated and treated equally among men. We are very happy and proud to carry on that legacy today.
Q12. Among all your roles be it an established hotelier, a crown prince or a philanthropist. Which role do you play with perfection and passion?
I don't know about perfection but from with passion, yes everything. I think perfection is what you strive to achieve, passion is something you put yourself into. Perfection is something you keep striving for, being passionate is putting yourself out there and being your true self. 
View this post on Instagram
Q13. If you were not a hotelier, what other path would you have chosen as a career path for yourself?
Some flipside things could only be answered if you were doing something you weren't given a choice of. This is something I have chosen, something that I wanted to do. It wasn't a forced choice, it was something I thought and chose and went for it. I had a clear vision and clarity of thought was there as to which path I wanted to choose and go ahead with. I wanted to be involved with education, and I am – we have 2 schools with almost 400 students. Whatever I had thought and wanted to do I am doing it. There isn't really anything that isn't accomplished. I had the clarity and flexibility of choice and I am happy with every choice I have made.
Q14. As the people of Udaipur see you as their future king, how do you visit or talk to the masses and how do they communicate with you?
We don't have a formal government office however, we do love and respect our people. How much they love us, we respect and love them back equally so there is mutual respect and care among each other. I am very happy to share and have that bond with the people.
View this post on Instagram
Q15. At this point, the spirit of the city has been a little down? How do you plan to bring it up or do something about it?
It isn't just Udaipur but also the whole world that has its spirits down due to such a calamity we all are and have been experiencing. People are trying to keep their hope up. Yes, these are challenging times but we hope everything comes back to normal. People are confused and scared but they are trying to do their best. We hope to conquer this.
Q16. How often do you travel? And what are your favorite destinations in the world or in India?
I love travelling. Travelling to places I haven't been before or to explore new places that have been visited before. Anything that hasn't been visited by me or something I don't know about that place would definitely be on my list to cover.
Q17. Are you a solo traveller or do you like to travel with your family?
So I am both. For work, I do travel solo and for family vacations, we all go together.
Q18. How do you deal with trolling and how do you contain negative messages about your hotels posted by someone staying at your hotels?
First, it is not to do something that is turning off or putting down the impression. We try not to let that situation come. Even if we encounter such an issue, we try to get to the core of the problem rather than controlling it artificially. Try to get into the root cause and address it accordingly.
Q19. How are your relations with other royal families?
We share great relations and come together to celebrate festivals, weddings, birthdays and other events. So yes it is a great association.
Q20. How much do you believe in the Law of Attraction and Manifestation?
I think it is very much a form of nature that exists.
Q21. Have you ever had a crush or fallen in love? What according to you is your ideal definition of dating?
I don't believe in other superficial arenas but however, when it comes to love it is an area where you are never being judged. My first crush would be Sufi music and Nusrat Fateh Ali Khan. It was the purest and honest close love I had.

Q22. What does fashion mean to you? Are you a perfume person?
I believe in something that is simple and comfortable, that you can feel easy in. My wardrobe has very simple, comfortable clothes. Yes, I am a perfume person. I have a lot of itars and perfumes. I prefer handmade and handcrafted perfumes.
View this post on Instagram
Q23. What can we find inside your bag? What kind of footwear do you prefer the most?
I don't have a bag and I prefer all kinds of shoes. I even wear the jooties made by local craftsmen.
Q24. Anything in fashion you think you can't go without?
I think simplicity. I have an imaginary bag that has all my simplicity.
Q25. How social media savvy are you? Any gadgets that you rely on?
I am quite evolved in social media so yes, I am very social media savvy. I use my phone predominantly and my tab. I use a lot of health apps that help me keep an advantage over myself.
Q26. What is the best form of exercise according to you to be fit? Are you a fitness freak?
I like to keep it natural. Take account of what I am eating and not exactly a freak but yes, keep everything in moderation. I love going for walks, playing sports and that is something I do regularly. I eat healthily and eat on time. Junk food only once in a while.
Q27. How big of a foodie are you?
Local food is something that I enjoy a lot. I don't eat it regularly. I eat home-cooked food and local food. 
Q28. Five places that you would advise someone visiting your city for the first time in terms of food and tourism?
I'd really say to go and explore it themselves since it is a personal choice and experience. If you like hotel food or local food, it's totally your personal choice. But as a local person I will say go around the lakes have a stroll, eat the local food there. Certain areas have great panoramic views of the city with great food.
Q29. Are you a frequent shopper with your family?
We do sometimes and it depends upon what you like and want. There are some great shops in the old city, some good cafes and ice cream shops which are all walk-ins.
Q30. People often compliment you on your understanding of Shayaris. Do you wish to share any Shayaris with us?
Niyat jiski achi hai, kismat uski daasi hai. Karam jiske ache hai, karam uske khud atarshit hai.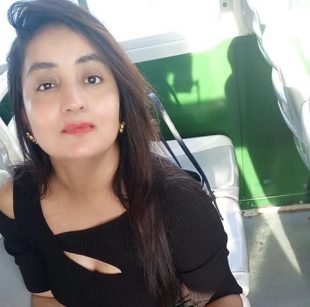 She has been there and done that. After graduating from Delhi University, she completed her diploma in Journalism from Bhartiya Vidya Bhawan, Delhi. Down the line, she completed her internship with National Herald Newspaper successfully,, and went on to Join Mainline Business daily, Business Standard. She also dabbled in image management and brand consultancy. She is a prolific writer on lifestyle entertainment, branding, lifestyle, travel, and politics.
Contact her at [email protected]