HEALTHY MUSHROOM STARTERS THAT TASTE AMAZING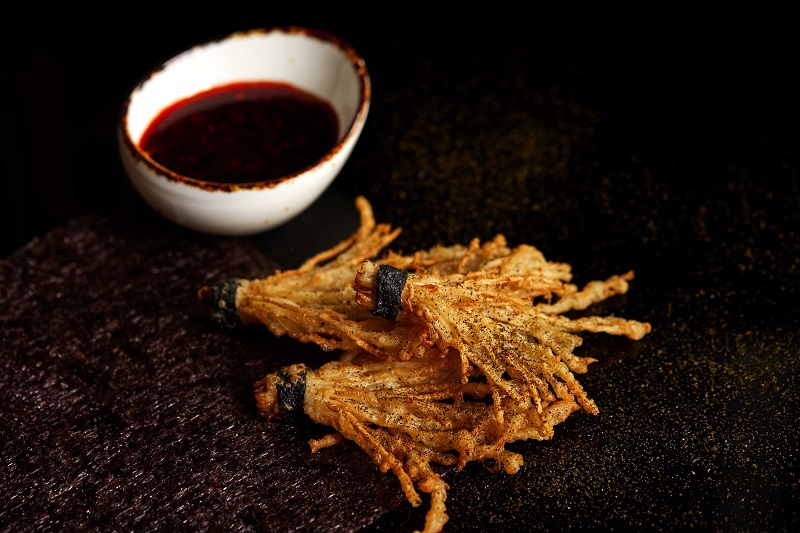 Mushrooms have a wide range of health benefits. Aside from their fiber and enzymes to lower cholesterol levels, they are also a good source of iron and excellent for diabetics due to their ability to break down sugar and starch. Vitamin D is the main benefit of mushrooms. Considering all these benefits, there is no reason not to include mushrooms in your diet.
To give you a bit of variety, we have added some delicious mushroom recipes for you to cook at home so that you can try them out for yourself.
Mushroom Starter Recipes from Chef Honey Mishra, Green Mantis, Khan Market.
1.  Crisp Lamb
Wild mushrooms, soy chilli sauce, Thai basil
Ingredients
Shiitake Mushrooms
King Oyster Mushrooms
Thai Basil
Garlic
Chopped Onions
Spring Onion
Chili Paste
Vegan Oyster Sauce
Dark Soy sauce
Light Soy sauce
Japanese cooking wine
Vegetable broth powder
Corn flour
Cooking oil
Method:
Boil shiitake mushrooms until soft, cut into julienne.
Wash King oyster properly for any dust particles and slice thinly
Dust the mushrooms with corn flour
Add garlic, chopped onions, chili paste, soy sauce, and vegan oyster sauce on a hot wok.
Heat oil and fry mushrooms until golden brown and crispy in a pan.
Add the mushrooms to the wok and add Thai basil and spring onions to the wok.
Finish the dish using cooking wine and add garnish with fried basil.
2. Enoki Bunch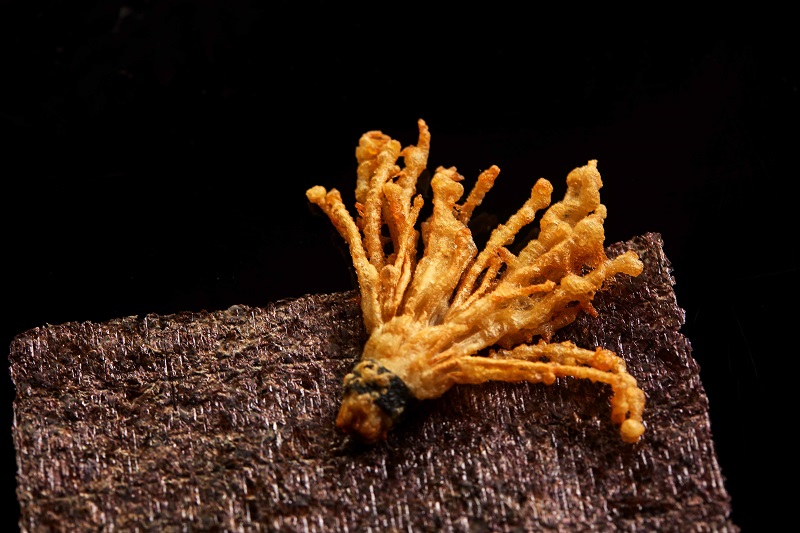 Furikake dusted crisp fried enoki mushrooms with red crystal sauce
Ingredients
Enoki mushroom
Tempura flour
Furikake powder
Nori sheet
Scallion sauce
Method:
Take enoki mushrooms and wash them properly.
Pick 2-3 bunches of enoki mushrooms and join them like a flower.
Tie the bottom of all mushrooms with a nori sheet
Mix tempura flour and chilled water to form a tempura batter
Heat oil in a pan
Dip the bunch in tempura batter, then put it in hot oil for frying.
Fry the mushrooms until they turn golden brown and crispy.
Dust the enoki bunch with furikake powder and serve hot.
3. Oyster Motoyaki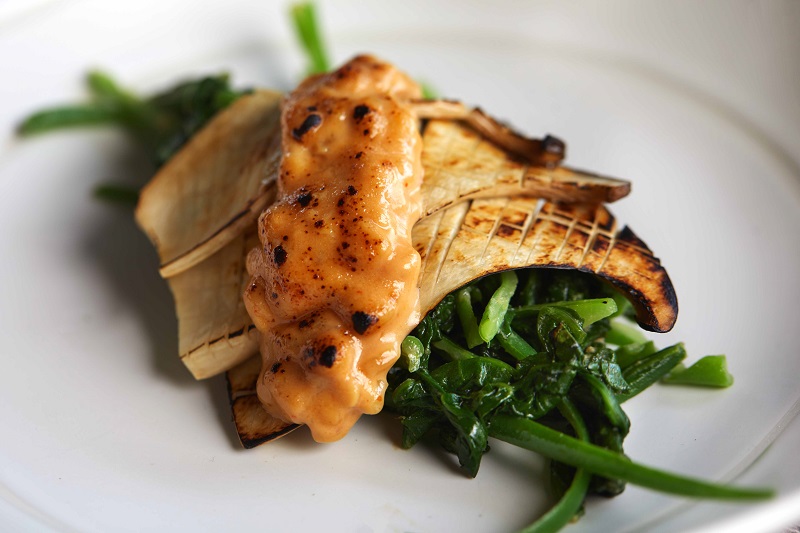 King oyster mushrooms, spinach and beans in sesame sauce, kombu mayo
Ingredients
(Oyster Motoyaki)
Spinach
French Beans
Wakame
Sesame sauce
King Oyster
Micro greens
Motoyaki sauce
(Motoyaki Sauce)
Eggless mayonnaise
Mozzarella Cheese
Miso paste
Butter
Sriracha sauce
Togarashi powder
Lemon
(Sesame sauce)
Onion
Ginger
Garlic
Oil
Vinegar
Mirin
Light soy sauce
White sesame seed
Breakfast sugar
Method:
To make the salad for motoyaki, cut beans into thin halves and process the spinach for any roots.
Blanch both of them and cool them by putting them in ice water
Take blanched spinach and beans, and toss them with sesame sauce to coat them thoroughly.
Cut the king oyster mushrooms into thin steaks and sear them until golden brown and cooked.
On a plate, pour the salad on the base, seared king oyster mushrooms, and motoyaki sauce on top.
Heat the motoyaki sauce before serving to get the flavor of cheese and kombu.
4. Mushroom Bao
Chili, cheese and garlic assorted mushroom bao
Ingredients
Button mushroom
Enoki mushroom
Black fungus
White fungus
Garlic
Chili paste
Sriracha sauce
Vegan oyster sauce
Light soy sauce
Processed cheese
Broth powder
(Bao Dough)
Refined flour
Red lotus flour
Milk Powder
Yeast
Breakfast sugar
Salt
Water
Method:
(Bar Dough)
Combine all dry ingredients in a bowl.
Add water and knead until soft
Rest the dough for at least one hour before steaming
(Filling)
Take all mushrooms and chop them into equal sizes.
Add oil, garlic, and mushrooms, and cook until completely dried in a hot wok.
Add chili paste, sriracha sauce, soy sauce, vegan oyster sauce, and broth powder.
Cool the mix and add processed cheese to the mixture.
Once the mushrooms are ready, take the dough and fill it with the mixture.
Steam the bao for 12 mins before serving.
5.Mushroom Salad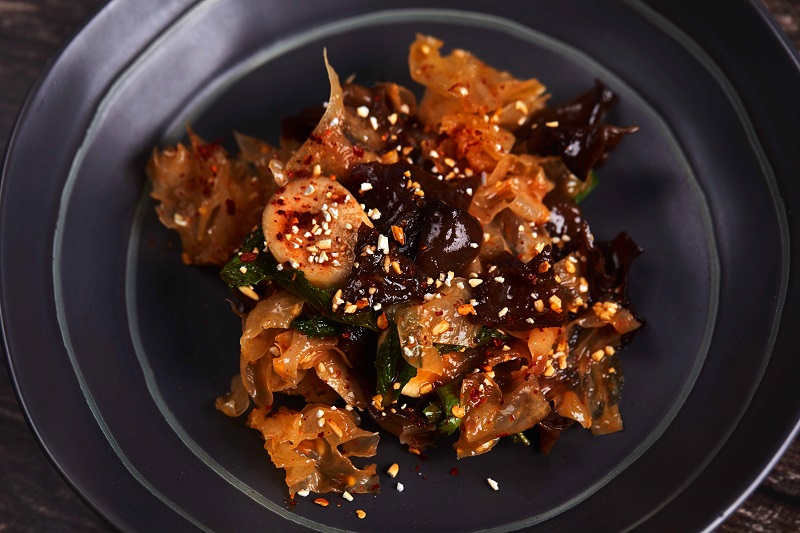 Oyster, shimiji, black and white fungus, toasted rice, mint and chives.
Ingredients
(Mushroom Salad)
Black fungus
White fingus
King oyster
Bird eye chili
Salad dressing
Sticky rice
(Salad Dressing)
Chili paste
Vegan oyster sauce
Sweet chili sauce
Light Soy sauce
Broth powder
Method:
To prepare salad dressing, combine all ingredients and mix it well.
Cook the fungus and king oyster before tossing them
In a mixing bowl, add mushrooms and bird eye chili
Add salad dressing and some toasted sticky rice
Garnish the salad with some micro greens and serve.
Chef Honey Mishra, Green Mantis, Khan Market.