Central Town : A Treasure Trove of Flavors in Jaipur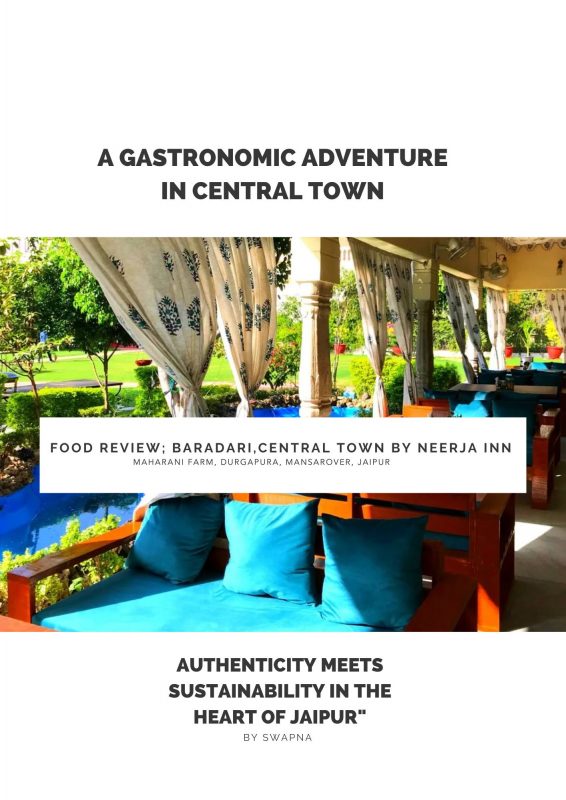 FOOD REVIEW
Central Town: Where Passion for Food Transcends Expectations in Mansarovar, Jaipur
Nestled amidst the vibrant and lively ambiance of Maharani Farms, Durgapura lies Central Town by Neerja Inn. This is a hidden gem that promises a royal dining experience. With luxurious interiors and an impressive array of dishes, Central Town by Neerja Inn offers a luxurious dining experience for those looking for a unique, upscale experience.
As we stepped into this two-year-old property, we were immediately captivated by the grandeur and opulence of the space. The opulent interiors, the elaborate chandeliers, and the elaborate artwork all contribute to the luxurious atmosphere.
Welcomeing us with warmth and grace was the young and talented Piyush Mishra, a professional lawyer turned hotelier. He passionately shared the story behind the creation of this exceptional dining establishment. He spoke about the inspiration behind the restaurant, the journey it took to get to this point, and the vision that he has for the future. His enthusiasm and passion for the project was apparent and it was clear that he truly believes in the potential of this restaurant.
View this post on Instagram
This property is owned by Piyush and Rajan Mishra. One aspect that stood out from the beginning was Mishra's unwavering commitment to health and hygiene. It was evident that he had invested considerable thought into designing a menu that not only tantalizes the taste buds but also nourishes the body.
The menu at the place revolves around non-synthetic, natural elements, ensuring that every dish is an excellent blend of richness and healthfulness. Mishra also emphasized the importance of sustainable and eco-friendly practices, such as recycled materials and energy-efficient appliances. He is committed to ensuring that the place is a healthy and sustainable environment for both people and the planet.
View this post on Instagram
Heading the culinary team of the place is senior chef Ram Dagur. His skill as a chef was apparent in the meticulous preparation and combination of flavors in each of his dishes. He carefully chose ingredients that highlighted the unique tastes of each dish. This includes the papad paneer roll's combination of crispy papad, creamy paneer, and tangy chutney to the roasted tomato soup's blend of savory tomatoes and fresh basil.
These stand out dishes that we savoured in addition to Spicy Mango Toast were simply delightful. Spicy mango toast was the perfect combination of spiced mango, crunchy toast, and creamy ricotta. It was the most delightful balance of sweet and spicy and left a lingering spiciness that was intriguing and delightful.
Head Chef Dagur also impressed us with the Grilled Keema with Sriracha, an innovative creation where soya bean mangodi was boiled, marinated, and roasted in a tandoor, while paneer was prepared with a mix marinade and served as a sandwich. The result was a delightful contrast of flavors that left us craving for more.
View this post on Instagram
For those seeking lighter options, the Steamed Dimsum and Nepali Thukpa were absolute winners. The Nepali Thukpa, a protein-packed noodle soup infused with fragrant spices and rich flavors, was a soul-warming delight on a cool evening. The steamed dimsums were light, airy, and full of flavor. Each piece was filled with a savory surprise, and the dumpling skins were thin and delicate, allowing for a filling that was light yet flavorful. The Nepali Thukpa was the perfect combination of spices and vegetable, making it a well-rounded meal that satisfied even the most ravenous appetite.
As we were enjoying these delightful delicacies, we spoke to the promoter of the place, Piyush Mishra, he talked about his plans for the future, he shared his vision for introducing seasonal fruits into the restaurant's menu as part of his overall vision. The spicy mango toast we tasted was just a glimpse of the exciting culinary experiments to come.
View this post on Instagram
Furthermore, we were intrigued by the prospect of a kitchen garden during the winter months and the addition of tents and open spaces in the charming Char Bagh area. This extension would undoubtedly elevate the dining experience to new heights, offering an enchanting blend of nature and gastronomy.
Apart from Baradari, this place has two other places named Lagan Fine Dine Restaurant and open area Char Bagh. Baradari at Maharani Farms is a regal haven for those seeking a fine dining experience that nourishes both body and soul.
Piyush Mishra's commitment to health, Chef Ram Dagur's culinary artistry, and the future plans of an enchanting kitchen garden and open dining in Char Bagh left us eagerly awaiting our next visit to embark on another delightful culinary journey.
As we continued our culinary exploration at Baradari, we were pleased to savor yet another delightful creation by Head Chef Ram Dagur – the Panco Fried Momos. These crispy and crunchy dimsum balls were a true revelation, adding a delightful twist to the traditional momo experience.
Encased within the golden-brown, perfectly fried exterior was a delectable filling of fresh vegetables and creamy cottage cheese. The combination of textures, with the crispy outer shell giving way to the succulent and flavorful interior, was simply divine.
Every bite was a delightful burst of flavors, and the meticulous attention to detail in crafting these Panco Fried Momos was evident. The lightness of the dish made it an ideal appetizer, and it left us eagerly anticipating the next course.
With each dish we tried at Baradari, Head Chef Ram Dagur showcased his expertise in blending traditional flavors with innovative culinary techniques. The Panco Fried Momos were no exception. They were an absolute highlight of our dining experience and a must-try for anyone visiting this splendid establishment.
In the company of Maharani Farms' charming ambiance, attentive service, and the passion-driven approach of Piyush Mishra and his team, the Panco Fried Momos add yet another dimension of culinary delight to the already impressive menu. Baradari is truly a treasure trove for food enthusiasts seeking unique, flavorful, and health-conscious dishes, and we can't wait to return for more gastronomic adventures.
It is therefore obvious that if you are looking for a fine dining restaurant then Baradari is a very good option for you.
View this post on Instagram
https://www.highonpersona.com/monsoon-magic-in-maharashtra-7-hotels-for-a-memorable-break/