Bake Live Studio Delights Diverse Clientele in Mumbai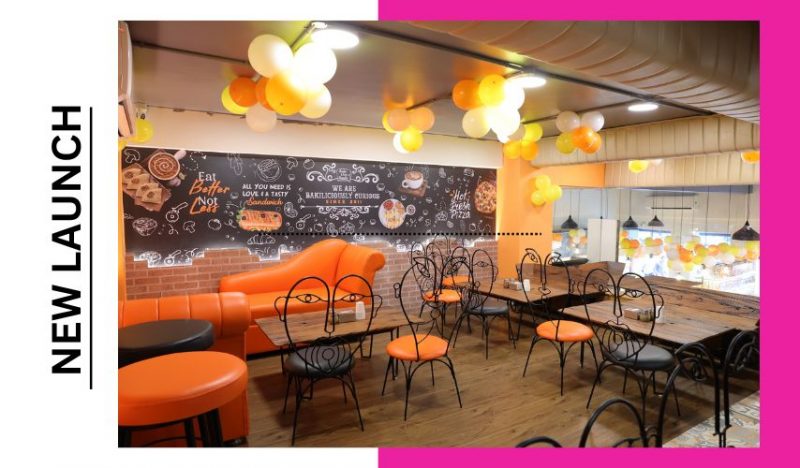 Bake Live Studio's Live Baking Experience is a Must-Try
From freshly baked bread and pastries to aromatic coffees and flavorful sandwiches, Bake Live Studio promises to satisfy its diverse clientele. known for its delectable baked goods and aromatic coffee, the bakery is all set to delight the food connoisseurs in South Mumbai with the launch of its third bakery in the South Mumbai neighborhood.
The Latest Addition to South Mumbai's Culinary Scene
With the opening of the third bakery, Bake Live Studio is sure to become the go-to destination for those seeking the perfect slice of bread or cup of coffee. The newly opened bakery promises to be not only a haven of delicious treats, but also a social hub for its local community. This momentous occasion follows the successful launch of their second outlet in Colaba on June 19th. Bake Live Studio, along with the popular brand Baker Street, is an exciting venture under Sarjena Foods Pvt Ltd (SFPL).
View this post on Instagram
A Break from the City Hustle and Bustle
This café and live artisanal bakery in Girgaon Chowpatty offers a vibrant space that captures the brand essence. The café and live artisanal bakery in Girgaon Chowpatty offers delicious, freshly baked treats, but also a warm and welcoming atmosphere. The bright colors and eclectic décor create an environment that is both inviting and comforting. This is perfect place for a break from the city hustle and bustle.
A Welcoming and inviting Space
Everything from the aroma of freshly baked goods to the vibrant atmosphere of the live kitchen offers a true culinary experience. The place also offers a perfect setting for occasions and celebrations.
Live Baking Experience is a Unique and Interactive Way to Enjoy Baked Goods
As soon as you step through the doors of Bake Live Studio, you are greeted by the tantalizing aroma of freshly baked goods. The open kitchen concept allows guests to witness the magic unfold right before their eyes. From kneading the dough to decorating the final product, every step of the baking process is showcased live, providing an interactive and engaging experience.
Bake Live Studio Eyes Pan-India Presence with Innovative Cafe and Bakery Concept
Vishaal Vira and Nirmal Gogri, Founders and Directors of Sarjena Food Pvt In their commitment to enhance the experience of relishing bakery goods stated, "Our goal is to change the face of baking and distinguish ourselves." It is our goal to reach 25 outlets in the city by the end of the year . In the future, we hope to bring this innovative concept to other cities as well. We envision a pan-Indian presence, bringing the delights of our café and live artisanal bakery concept to people far and wide. We are confident that, with our passion and dedication, we will fulfill our mission and make a lasting impact in the industry. We are confident that our brand will be an absolute success and become a leader in the baking industry," they concluded.
View this post on Instagram
The place offers a range of mouthwatering dishes that satisfy even the most discerning palate. One must-try item on the menu is the Veg Frittata. This savory dish combines an assortment of fresh vegetables with eggs, creating a flavorful and satisfying meal. It is a perfect choice for those who prefer a vegetarian option without compromising on taste.
Pizza enthusiasts should order the House Special Pizza which is loaded with toppings, including savory and fresh vegetables, and gooey cheese. The combination of flavors and textures will please any pizza lover. If you're in the mood for a burger, the Cheese Burst Burger is a definite winner. This indulgent creation features a juicy patty topped with melted cheese that oozes out with every bite. It is a true delight for cheese lovers and burger aficionados alike. For those with a sweet tooth, the Pure Veg Cheesecakes are a heavenly treat. These velvety smooth and creamy cheesecakes come in a variety of flavors, each one more delectable than the last. From classic New York-style to fruity variations, there is something to satisfy every dessert lover's craving. If you prefer to customize your own sandwich, DIY sandwiches are the way to go. With a selection of fresh bread, cheeses, and toppings, you can create a sandwich tailored to your preferences. The possibilities are endless, ensuring every bite is delicious.
Bake Live Studio's Delectable Signature Specials Will Leave You Craving for More
 Whether you choose the Veg Frittata, House Special Pizza, Cheese Burst Burger, Pure Veg Cheesecakes, or DIY Sandwiches, you are in for a culinary treat that will leave you craving for more. Whether you're a baking enthusiast, a food lover, or simply looking for an intriguing and charming café to visit, Bake Live Studio at Girgaon Chowpatty is the hottest destination. Come and experience the magic of live baking, indulge in sumptuous offerings, and embrace the philosophy that "Life is what we bake it."