Discover the Ethical Beauty this Festive Season
A Review of Organic and Cruelty-Free Makeup: Color Chemistry, You Care Lifestyle
Cruelty-free and organic eye makeup products have gained immense popularity in recent years, and for good reason. These products not only allow us to express our creativity but also align with our values by ensuring no harm is caused to animals during the manufacturing process. It's a win-win situation for both our personal style and our ethical choices. With the festive season just around the corner, it's the perfect time to dive into creating beautiful looks and experiment with versatile looks for both day and night. One of the most exciting aspects of eye makeup is the ability to recreate looks inspired by our favorite celebrities. From glamorous red-carpet appearances to effortlessly chic everyday styles, celebrities often serve as a source of inspiration for our own beauty journeys. By studying their makeup techniques and incorporating them into our own routines, we can elevate our eye makeup game and feel like a star ourselves.
So, we reviewed the cruelty-free and organic products from Color Chemistry by You Care Lifestyle, we found these exquisite quad eyeshadow palettes can be a must-try for anyone looking to enhance their eye makeup game. Let's delve into the details of these eyeshadow squads and discover the versatility of eye makeup they offer alongside we also reviewed its luxurious Color Chemistry lip Gloss Bubblegum.
View this post on Instagram
Get Ready to Shine: Festive Eye Shadow Looks for Every Occasion
The first eye shadow quad comes in hues of gray, soft grey, darker tone and black. The combination is perfect for soft sultry or a smokey eye makeup look or creating a daytime soft look. The shades provide a subtle and ethereal touch to any eye makeup and add depth and dimension to the eyes. For a bolder look, layers of blue shade can be used to create a striking pop of color. And finally, the Black shade adds intensity and drama, perfect for a sultry smoky eye look. What sets this eyeshadow palette apart is its versatility. Whether you prefer a subtle, creative, or dramatic look, this palette has got you covered. The shades can be layered for a more intense effect or applied with a soft, single layer for a more natural look. The possibilities are endless, allowing you to experiment and create your own unique style.
Another convenient feature of this palette is the inclusion of a mini mirror. This makes it easy to apply the Eye Shadow on the go, whether you're traveling or simply need a quick touch-up. The mirror is small enough to fit in your purse or makeup bag, making it a handy tool for any makeup lover.
Another Eye Shadow quad we tried included Chocolate, soft brown, beige, and black shades. Additionally, the palette allowed us to create a festive look suitable for both daytime and evening occasions. With this palette, you can create a versatile look that would flatter any skin tone and any occasion, from day to night.
View this post on Instagram
The silky and smooth texture of the shadows enhanced ease of application, allowing for seamless blending and buildable coverage. The organic formulation of this eyeshadow is a standout feature. This ensures that the product is gentle on the delicate skin around the eyes, minimizing irritation risk. This is especially important for those with sensitive skin or those who prefer organic makeup products. We found the shades to add perfect warmth and depth to the eyes without being overpowering. One of the standout features of this eyeshadow palette is how effortlessly the shades glide onto the eyelids. The smooth application makes it easy to achieve a professional-looking result, even for those with limited makeup experience. In conclusion, this eyeshadow palette in Chocolate, soft brown, beige, and black color offers a range of lovely shades suitable for creating both daytime and evening festive looks. The silky smooth texture, organic formulation, and ease of application make it a must-have for makeup enthusiasts.
Steps you can follow to create a festive look:
To create a festive look for the daytime, start by applying the soft brown shade across the entire eyelid as a base. This shade will add warmth and depth to the eyes without being too overpowering. Next, take the beige shade and apply it to the inner corner of the eye and the brow bone. This will provide a subtle highlight and brighten the eyes. Finally, use the dark brown shade to define the crease and outer corner of the eye, creating dimension and a touch of drama.
For an evening look, intensify the daytime look by adding the black shade to the outer corner of the eye, blending it gently into the dark brown shade. This will create a smoky effect that is perfect for a glamorous evening affair.
Color Chemistry Lip Gloss – Bubblegum
The Color Chemistry Lip Gloss Bubblegum is a nourishing and shimmering lip gloss that offers a delicate infusion of color. Whether you want to achieve a glamorous or understated look, this lip gloss can be applied over your favorite lipstick or used alone.
What sets this lip gloss apart is its unique formula. It is infused with the goodness of rosehip, which is known for its nourishing properties. This ingredient helps to keep your lips moisturized and prevents them from becoming dry or chapped. Additionally, the lip gloss contains the soothing qualities of green tea, which helps to calm and rejuvenate your lips.
When applied, this lip gloss imparts a beautiful shimmering radiance, adding a touch of glamour to your overall look. The color is subtle yet vibrant, enhancing your natural lip color and giving your lips a youthful and luscious appearance.
So, let's embrace the festive season, the art of eye makeup, and the world of cruelty-free and organic products. Get ready to unleash your creativity, experiment with different looks, and shine bright like your favorite celebrities. All these products can be shopped from Website of You Care Lifestyle.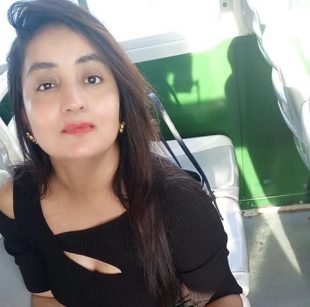 She has been there and done that. After graduating from Delhi University, she completed her diploma in Journalism from Bhartiya Vidya Bhawan, Delhi. Down the line, she completed her internship with National Herald Newspaper successfully,, and went on to Join Mainline Business daily, Business Standard. She also dabbled in image management and brand consultancy. She is a prolific writer on lifestyle entertainment, branding, lifestyle, travel, and politics.
Contact her at [email protected]