A Rendezvous with a distinguished chef who Is Creating Incredible Gastronomic Experiences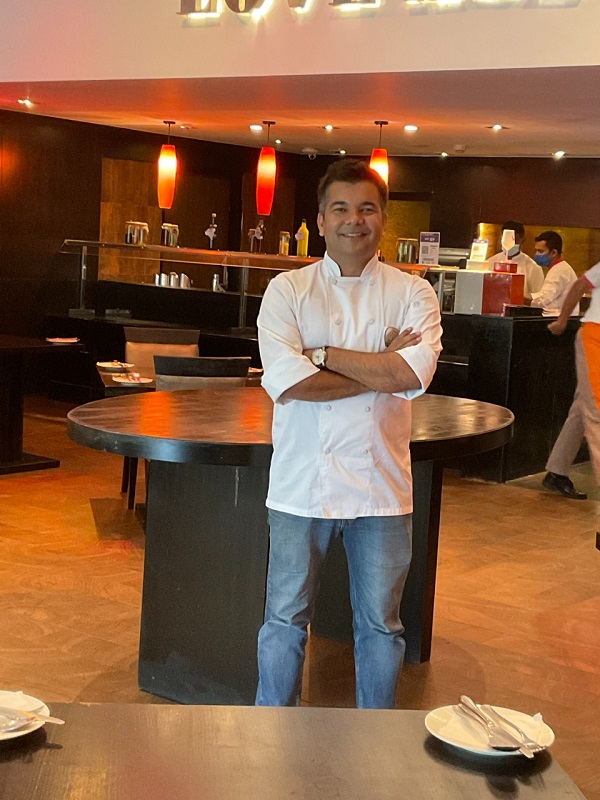 An eminent food connoisseur living in the heart of India's Pearl of the Orient – Goa, Chef Arun Vats is gracefully creating iconic gastronomic experiences at Hard Rock Hotel which is reckoned to be one of the most sought-after hotels in Calangute, Goa for being immersed in a world of music, iconic memorabilia, and of course – delicious food!  Arun got into the realm of food after pursuing a hotel management degree from IHM and eventually discovered global food experiences at Carnival Cruise Lines, Holiday American Cruise Lines, spent three years in Oman with a Brazilian restaurant and a modern European restaurant in Muscat, before moving back to his homeland, India.
Fast forward to the present-day scenario, Arun has garnered about two decades of culinary expertise from the global cuisine, and he is successfully redefining the taste palette of travelers in Goa. A firm believer of promoting good quality food over a long list of food items on the menu, Arun takes a dig on the fallacy of promoting multi-cuisine restaurants in the country and does not believe in the concept of multi-cuisine restaurants. He agrees, however, that Goa's whole food culture has become more multi-cultural.
Vats has worked with some of the industry's most recognizable brands
 like On the Rocks- Restaurant and lounge in Muscat, Oman, Espeto Gaucho, the Taj Mahal Hot in New Delhi, Holland America a upper-tier cruise line, and the Oberoi group to name a few.
As a versatile chef, he recognizes that curiosity, sacrifice, and self-motivation have contributed to his development. After having a successful start from ITC Sonar Bangla, Oberoi's, and the Amarvilas in his career, Vats developed expertise in European cuisine as well. 
He played a key role in the opening of seven properties, which include the ITC Hotel. The Sonar Bangla, the Taj Umaid Bhawan Palace, the Carnival Valor, the Westin, Vivanta By Taj, On The Rocks, and Hard Rock Hotel Goa. 
Known to his colleagues as the jovial chef with an enduring personality, Chef Vats specializes in Italian, Spanish, French and Mediterranean cuisine. His culinary repertoire includes a wide range of original recipes and food concepts for beverages, as well as a modern approach to cooking. In this exclusive interview with him, we explored more about his trailblazing journey, his secret sauce for adapting as per the ever-evolving taste palates, some must-try Goan dishes, some tips and tricks for aspiring chefs who want to prosper in Goa while exploring the culinary landscape and a lot more. Cheers !!
Q.Tell us about yourself, so that the readers can know you better?

My name is Arun Vats, I belong to Delhi. I moved to IHm Gurdaspur for my course in Hotel Management. I started my career as a Pre-opening team member in ITC Sonar Bangla in 2002. Since then the journey has been amazing, I have moved to different cities, brands and places. My second job was with Oberois Amarvilla, then I moved to Taj and did multi pre-openings with them. I even worked with Carnival Cruise Lines, Holiday American cruise lines; spent three years in Oman with a Brazilian restaurant and a modern European restaurant in Muscat.
Q. How long has it been since you joined Hard Rock Goa?
It's been 6 years, a beautiful journey. Life is peaceful and happy here. Goa's beautiful and I don't feel like leaving this place.
View this post on Instagram
Q. How difficult has it been for you to adapt to the changing taste of customers especially during pandemic or even today? How challenging is it for you to cater to the different demands and tastes?
Even before, 60% of the food used to be European items in the menu. So we had to pull out those and put in more Indian centric dishes. Change is always good for people to cope up with surroundings. Our breakfast offerings focus more on the Indian side. Going forward, for Christmas and New Year – the brunch isn't entirely European but yes those dishes would be there. It's 60% of Indian food and 40% of European food items.
Q. What is the response of people, the taste preferences have changed since they're now all domestic travellers?
Majority are coming from the northern part of India, then Gujarat and Maharashtra so yes, it's become a little challenging.
The menu composition has to be such that everyone is looked upon. It was challenging for a few months but we managed to pull it off.
Q. Hard Rock can be a good place to party, how do you find catering to the people who just want to party and not stay? How challenging had that become after the pandemic?
So the idea of taking care of locals and their needs is very prominent. When they order something, we prepare it happily. Everything they order is a part of our menu, so we're not saying no to anyone. Some dishes require extra time so we ask for that and serve them.
View this post on Instagram

Q. How do people from other states respond to the local delicacies of Goa?
When it comes to local food, Goa is quite famous for that. There are different joints giving them different food experiences. Due to the internet, people know what to eat, causing the demand to be a little less in hotels. But outside for those businesses, it's thriving.
Q. Could you tell us about some traditional delicacies of Goa and delicacies that are obsolete that you'd like to revive?
Like in Delhi and Mumbai market there's this one particular delicacy that stands out is Banoffee Pie is coming back to the scene. Banana cakes are coming back , earlier people used to say they're rich and spongy. But we've been experimenting with the recipes. For example, people used to add oil in banana cake but when you don't it is dry, so how do you manage it. So people added a little butter so that it remains moist , not that unhealthy.
Another is Serradura, which is kind of obsolete or on the verge of getting obsolete but coming back again. Some restaurants are trying to recreate it again. We even curated different versions of the dist- like using local mango and jaggery.
Apart from that, people are trying different recipes and the best part of some national and international exposure has come to Goa, so they're using local ingredients to curate better food.
Q. Can you tell us about three more desserts that you plan to revive?
We can have egg tarts, bibingka and dodol. But it's a very lengthy and tedious process. There are old shops where you can find these old delicacies , they come in all those small aluminium shops. Dodol is more tedious where they caramelise the entire stuff, by adding jaggery and slowly cooking it.
Q. What are the current trends that you like and what are the trends you don't like about food?
Things which I don't like are that these restaurants come up with the tagline as multi-cuisine. Not every restaurant can serve two hundred items which come in the menu , which means you're just pushing your business to make money in eight months, delaying someone's diligent efforts of making that food. But now the demand of an Indian customer is more challenging. A friend of mine had a multi-cuisine restaurant and they had to change the entire ball game. Some customers need to understand that if you're at an Italian Restaurant or a Chinese restaurant – ask for that specific food, you can't ask them to serve you Indian food there. For hospitality per say, that is wrong.
Now for the trendsetters, those who have come to Goa, there are many places and chef's that are creating a mark.
Q. Places that you personally like to go to?
For cocktails and bar, there's a restaurant called Blue Thyme.
There's another one called See, then there's Gunpowder and then we have Masala House. The fifth one would be Walk and Roll for their South Asian cuisine. Then there's Antaris. We have a food joint which is Escobar where I go and chill with my friends. Then we have SmokeHouse, the only one we have is BQ Bar.
For clubbing we have Toy, Bombay Adda, Antaris Clubbing and Dining, Titli( only for clubbing) , Talasa. Luna's Cafe is good for breakfast. There's Baka being instagram aesthetic.
Q. What would you recommend to try at Seychelles when they come here among the global items you've curated?
There are a couple of items I would like to suggest to people to try at Hard Rock for breakfast brunch before monsoon. We have the largest and were the first to start a Saturday brunch. It's the best and most popular taking care of almost 280 people on every Saturday brunch. You could try our pizza, sandwiches, and legendary burgers. Apart from that we have lamb chops, dim sums and pork belly. Chocolate lava, brownies and mango Serradura are quite a game.
Q. What makes your burgers different from the others out there, how do you keep it fresh and tasty by bringing something new keeping in mind the festive season approaching?
We produce everything in house , our bread is produced here. Our burgers are different because of certain ingredients put into the recipe. So it's part of the Hard Rock audit structure that the Hard Rock Legendary Burger has to be there but a little recipe is given by the Hard Rock International, I've added a few of my ingredients for Indian customers. So our burger is quite famous.
Q. Do you think people have been liberated from Portuguese Culture?
Yes, there's been a change. What used to be in the 90's and 80's it's changed now, and that plays well for Indian customers.
Q. How open is Goa to welcome new chef's and curators to start their own businesses? What challenges do they face?
The best part of coming to Goa is that the policies are much liberal here, the price point of view- what they're spending in other states is comparatively less in Goa when it comes to rental, staffing issues. When it comes to setting up the restaurant properly, that's a different game. There are many layers to it, carpenters, plumbers and civil workers which aren't available much here. So it's difficult to find them here. You have to keep juggling with them. Second challenge would be to keep good relations with the locals. Goa is a place for everyone, give respect and get respect. Maintain that friendly cordial relationship with the locals.
Q. What are the five rules or qualities you for being a good chef? Any message for aspiring chefs?
One is your knowledge. You should be thorough with your knowledge.
Second, if you come to the kitchen your knife skills should be better, if you don't have good knife skills you shouldn't be part of the kitchen.
Third would be please don't follow those Instagram pages that are doing those tiny dishes. They're doing it after 20-25 years of experience. First learn the basics.
Fourth would be to be ready for long working hours. There is no Holi, Diwali, New year or Christmas for you..
Fifth, our job is to cook food and do it with a smile despite the long hours.
Q. Do you cook at home?
Yes I do, my parents are around here. I cook home food like dal palak.
Q. Can you name some chef's that you admire?
Chef Shuroy Kharbani, Chef Gaurav Navania. These people groomed me. Obviously everyone knows Chef Oberoi, Chef Soloman, I look up to them.
Chef Gordon Ramsay is one of them. And Chef Adam Kocher and Chef Vinit Bhatia for Indian food.
For Indian chefs, I think we should thank Chef Sanjeev Kapoor who changed the entire ballgame for food and created himself as a brand. It was good learning from him.
People should look upto Chef Riggo, especially the Aspiring Chef's. He's sacrificed a lot personally.
Q. Can you tell us more about Hard Rock?
There are many things about Hard Rock as a restaurant. But enjoy every dish. Cherish whatever is coming on your table.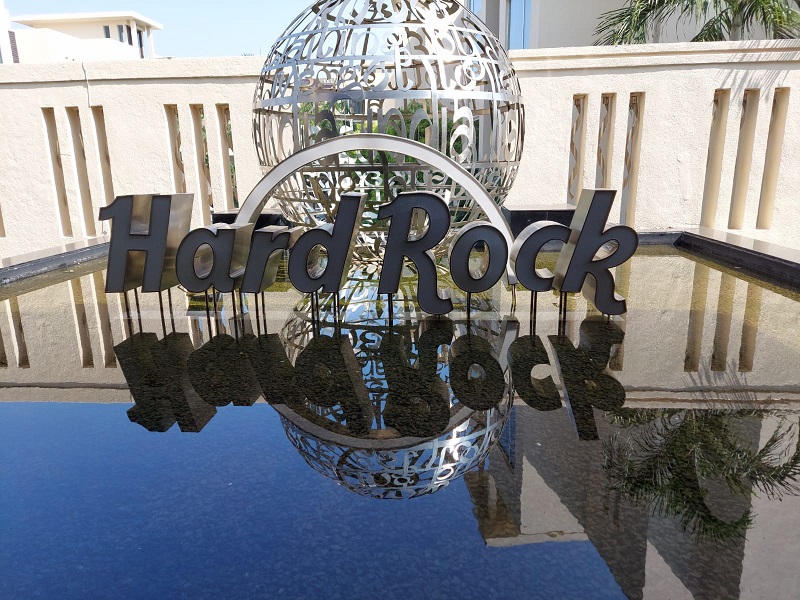 Q. How do you handle criticism and reviews, especially in terms of social media?
People have opinions and they always have opinions.You can't stop them. Your focus should be about perfecting your food. Learn from your mistake and the review if it's valid.
Q. What is your take on chef's who make their YouTube videos or Instagram reels? Do you plan on that?
I never disclose my plan. Launching not launching I have no idea.
Q. How is the flow of tourists coming here?
The flow is good. Tourists are coming to Goa. People are coming to enjoy it. Sometimes it's overwhelming but it's good.
Q. Any places in North Goa for local cuisines?
Some loc joints include Norona Joint in Anjuna, Vinayak Restaurant for their thalis. I would recommend Vinayak more. Nayak is good. Bombil is the place, a sweet and nice dinner. Making a good mark.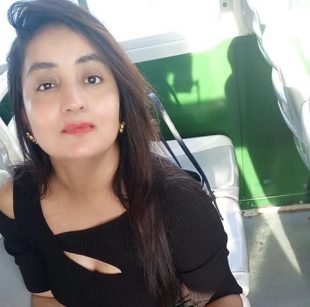 She has been there and done that. After graduating from Delhi University, she completed her diploma in Journalism from Bhartiya Vidya Bhawan, Delhi. Down the line, she completed her internship with National Herald Newspaper successfully,, and went on to Join Mainline Business daily, Business Standard. She also dabbled in image management and brand consultancy. She is a prolific writer on lifestyle entertainment, branding, lifestyle, travel, and politics.
Contact her at [email protected]