From Babita Kapoor to Alia Bhatt, here's how Kapoor brides have taken bridal fashion to the next level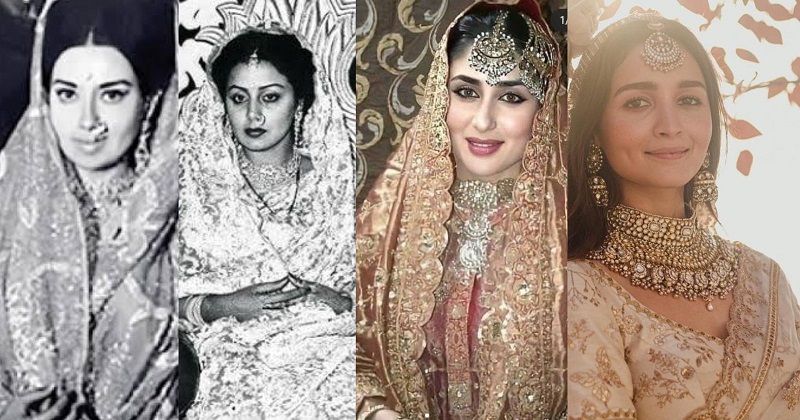 No matter what color they choose for their weddings – be it the royal red and gold, the burgundy, or the silver pink, or Ivory, the Kapoor brides have had some major transformations when it comes to their bridal look, which has definitely shifted from a heavy to a lighter one. According to the reports, Neetu Kapoor fainted while wearing a red and gold bridal lehenga on the D Day due to its heavyweight. While Karisma Kapoor opted for a pink bridal lehenga with subtle makeup and her younger sister Kareena, too opted for lighter hues but exaggerated the overall look with jewelry and now for her Bridal look, Alia Bhatt opted for an Ivory bridal gown in organza with exquisite heritage jewelry. These wedding transitions, however, have been carefully and impeccably crafted and perfected. It does not matter whether the avtaar was elaborate and grandiose or subtle and subdued. Shortly put, Alia Bhatt has brought in some fresh changes with her bridal look.
 Whether Alia Bhatt wore an ivory-colored saree and minimal makeup or Ridhima Kapoor perfected her look looking all royal yet elegant in Red and Gold, all of these bridal transitions were divinely executed and these brides looked the epitome of beauty and elegance. Taking a look back at some of the Kapoor brides' past bridal looks and what has changed since.
Babita Kapoor: A Traditional & Royal Bride
It was an extremely traditional and royal Punjabi wedding where bride and groom donned a complete traditional and royal makeover. The bride and groom looked regal. As a matter of fact, Babita Kapoor's marriage to Randhir Kapoor was quite a grand affair that was attended by the Who's who of Bollywood and the social circles, all dressed in the finest fashion of the time. This marriage happened in a Punjabi way, with great pomp and show.
Babita Kapoor opted for a vibrant red wedding attire that had intricate embroidery and zari work. She paired her lehenga with gold accessories. She proudly wore the ornaments gifted to her by the Kapoor family.
Neetu Singh: A Radiant and Charismatic Bride
View this post on Instagram
Neetu Singh has always been charming in whatever she wears. She added her own charm from Delhi to the Wedding attire. She is seen sporting a traditional red lehenga with an embroidered chunari and a beautiful nose ring to accentuate her wedding look. During the extravagant and dazzling wedding, Neetu wore a heavy Lehenga that only a few could pull off. However, the lehenga was even more appealing as it was laced with detailed embroidery, elaborate Mehndi tone work, and intricate sequin work. It was accentuated by a headgear with elaborate design, off-white and red bangles, and Punjabi Juttis that featured intricate sequin work. Delhi's most popular designers and jewelers created the ensemble.
Karima wore a pink Manish Malhotra lehenga which was non-traditional and completely unexpected of her. She wore no heavy jewelry and kept her make up simple. Karisma, being a fashionista herself, chose a maang tika that complemented her attire perfectly and made her look classy at the same time. She wore a Dupatta which had intricate embroidery work and had work of beads and lace which covered her forehead.

Riddhima Kapoor: A Vibrant & Classy Bride
View this post on Instagram
The next bride that caught our attention is Riddhima Kapoor who carried her fashion sense effortlessly with her wedding outfit. Riddhima looked stunning as she wore a bright red lehenga,
accessorized with a maang teeka, which further enhanced her beauty. Nevertheless, what made her even more beautiful was the smile on her face that was evident throughout the wedding
proceedings. Abu Jani designed Riddhima's trousseau classic bright-red lehenga with a modern twist.
Kareena Kapoor: The Perfect Pataudi Bride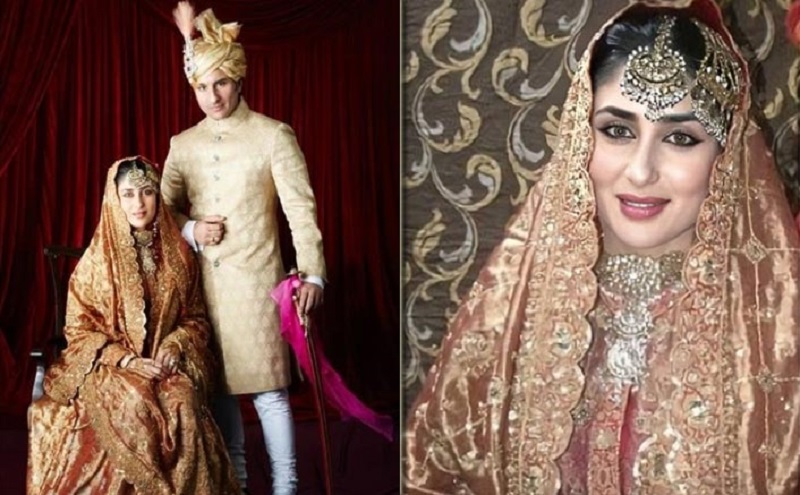 Kareena is often referred to as the Diva of Bollywood. Her choice of attire was in keeping with the traditions of the Pataudis. With the golden attire complementing her complexion, she looked the epitome of grace and beauty. Kareena wore an age-old family heirloom, as per the Pataudi family tradition, for her portrait with Saif Ali Khan. She wore a beautiful chunari with broad gold lace that was a gift from Sharmila Tagore. The couple posed for a portrait after their wedding in their royal garb. The sharara she wore was originally owned by Sharmila Tagore's mother-in-law, the Begum of Bhopal. Celebrity designer Ritu Kumar gave this royal ensemble a modern touch by restoring it and reinventing it for the New bride.

Alia Bhatt: An Effortless, Chic Bride of Ranbir Kapoor
View this post on Instagram
Reports were rife that just like the new age brides of Bollywood, Alia is also going to wear a Lehenga from Sabyasachi Mukherji. But she surprised everyone by donning a beautiful Saree. Alia looked all elegant and classy donning beautiful Ivory-coloured Sabyasachi Saree in Organza, with simple and minimalistic makeup which made her look angelic. She took a complete turn from the bridal looks that the Kapoor brides donned before her and opted for an ensemble that was sophisticated yet classy. It was evident that Alia preferred to
stay cool and comfortable on her D Day and it would surely serve as an inspiration. She however striked the perfect balance with royal and heavy heritage jewelry that came from the
House of Sabyasachi. Her Ivory organza saree was embroidered with the finest and most intricate tilla work.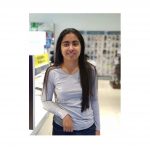 Divya Khanna is the youngest member of the team, with a background in political science. She has joined High on persona print magazine in order to gain hands-on experience in various aspects of editorial coordination as associate editor of the magazine and news site. She has a penchant for writing and enjoys meeting new people and interviewing celebrities. She has a passion for writing, she has an eye for details, loves traveling, and a quick learner. She comes from the Mecca of Indian Journalism, Delhi.
Email: [email protected]