Traditional and royal fashion of Punjab will be characterized by experimentation, Aman Sandhu, ace designer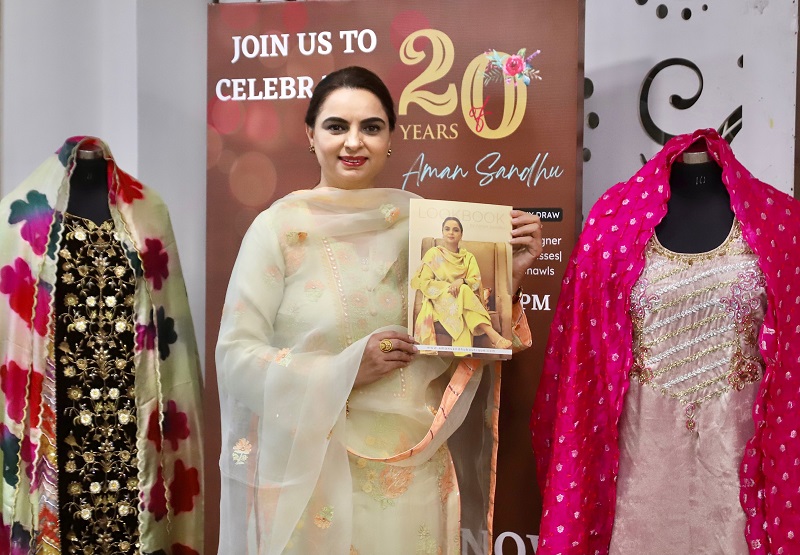 Aman Sandhu, one of the most sought-after fashion designers of Mohali and Amritsar is coming up with a fashion exhibition that will take place at The Hyatt, Chandigarh. This exhibition aims to showcase recent trends in fashion of Punjab as well as celebrate the achievements she has made over the last 20 years in the world of fashion. Furthermore, the designer is planning to run a giveaway contest and has launched a campaign on her social media accounts to invite people to be a part of this contest. In honor of the occasion, the designer has unveiled a look book that contains a glimpse into her exquisite collection and work of art as part of the celebrations to mark the occasion.
View this post on Instagram
According to High on Persona, she stated, "With the launch of the book, in addition to showcasing my collection, I also hope to bring to the forefront the rich and royal culture and heritage of Punjab. There are many different aspects of fashion, from workmanship to art to handcrafted pieces, motifs to embellishments., patterns, mirror work which has been in fashion since ages and has evolved with time. The book shall also give a glimpse of evolution of fashion in Punjab and its progression in all pivotal years.
She added that one of the major highlights of the upcoming fashion showcase would be the fact that the collection will be showcased by three generations, namely, "Peedhis", one dais will be shared by models of three generations in reflection of their tastes in fashion and sensibilities.
As part of the show, models will be walking the ramp from a range of different age groups, starting with kids, models, and women of different age groups. A variety of suits and ensembles will be presented in this collection.
Aman also spoke with us about the latest trends in fashion and bridal designs for this winter season. She stated that experimentation is the key, and that bright, vibrant colors in hues of pink, blue, yellow, and orange colors will remain in fashion throughout the winter months. Throughout the past few months, purple has been one of the hottest colors on the market, and this will continue to be the case. In addition, we will also see jacket style suits making a comeback. Tie and dye dupattas are fantastic for giving a boho traditional touch to your look and amplifying your appearance for different occasions by giving you a boho look.
The fact that Aman is a true blooded Punjabi and being a modern-day woman understands the pulse of today's women in terms of fashion is testament to her connection with Punjab and her understanding of the fashion preferences of women in general. As she told us in her interview, she said, "You can clearly see that my taste and influence of Punjabi culture is evident through my work. I am excited to present a wide collection of salwar kameez, ghararas, lehangas and other designs.
We look forward to seeing this exhibition that claims to remain at the forefront of fashion and style.
https://www.highonpersona.com/taking-forward-rajasthans-opulent-fashion-legacy-bhupendra-singh-shekhavat/