YRF's Tiger 3: Non-stop 24×7 Action in Theatres!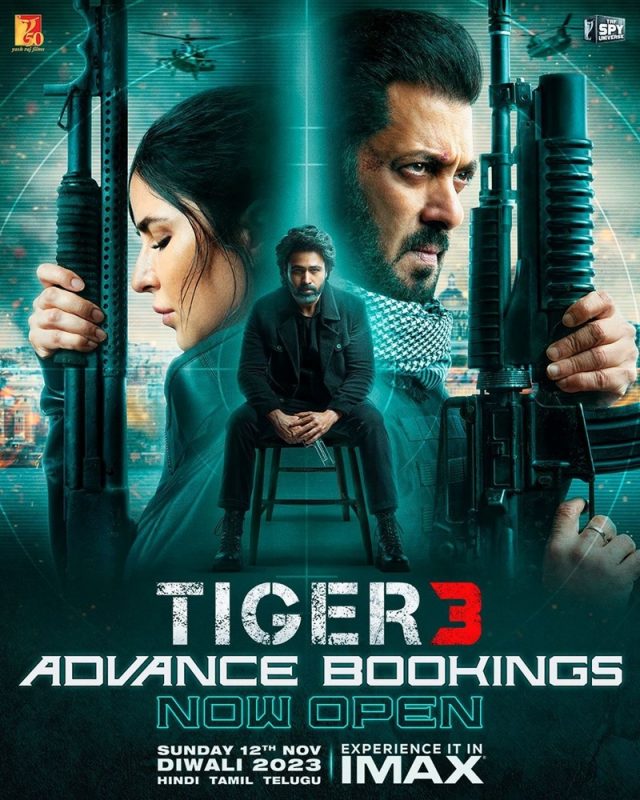 YRF's Tiger 3: Non-stop Action in Theatres!
YRF's highly anticipated film, Tiger 3, is all set to create a new cinematic experience by running 24×7 in theatres. This thrilling addition to the YRF Spy Universe has generated an overwhelming demand among fans, prompting cinemas in New Delhi and the Middle East to be the first to showcase the movie round the clock.
View this post on Instagram
Cinestars Miniplex: Breaking New Ground
The Cinestars Miniplex, Ahmedabad, has made a groundbreaking decision. Starting from 2 am on the exciting New Year day, following the Laxmi Puja, they will begin screening the Salman Khan and Katrina Kaif starrer, Tiger 3. This move aims to cater to the enthusiastic crowd seeking an extraordinary cinematic experience.
Vox Cinemas: Midnight Premiere in Dubai
In the Middle East, Vox Cinemas in Mirdif, Dubai is set to captivate audiences with a midnight premiere of Tiger 3. At the stroke of 12:05 am, fans will be able to immerse themselves in the action-packed world of YRF's latest creation. This exceptional timing ensures that moviegoers in Dubai can be the first to witness the thrilling adventure unfold.
Nakheel Mall: Riyadh's Late-Night Extravaganza
Meanwhile, Nakheel Mall in Riyadh, Saudi Arabia, will also join the 24×7 screening trend. Starting from 2 am, the mall will bring Tiger 3 to the silver screen for the delight of Saudi Arabian fans. With no Diwali festivities affecting the schedule, movie enthusiasts in Riyadh can anticipate an adrenaline-pumping experience.
A Global Phenomenon: Tiger 3 all set to Take the World by Storm
YRF's Tiger 3 has already become a global phenomenon, with its non-stop screenings in New Delhi and the Middle East setting the stage for an unforgettable cinema experience. As the film gains momentum, fans around the world eagerly await their turn to witness the action-packed saga of Tiger and Zoya. Stay tuned as YRF's Spy Universe unfolds like never before!
According to information shared by us, Delhi, the capital city of India, has become the pioneer in showcasing the highly-anticipated film, Tiger 3, round the clock. Moreover, theaters in the Middle East have also begun the same practice since Sunday, which coincides with their holiday season. It is worth mentioning that the release strategy of the film is not influenced by the festival of Diwali. The production house, YRF, is expecting a significant surge in demand for Tiger 3 from audiences across the nation in the coming days. This development is not only beneficial for the business aspect but also for the entire film industry, as it reflects the audience's desire to experience exceptional cinema. Undoubtedly, Tiger 3 stands as one of the major releases of the year, garnering immense anticipation and excitement.