Changing the face of frozen Food Business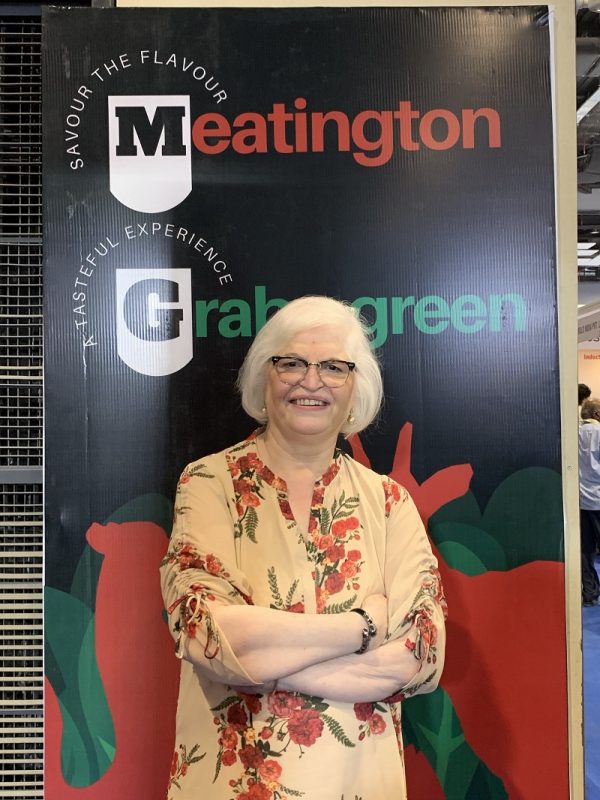 Bhavya Gaind interviews Neeta Malik, an entrepreneur with multiple talents for High on Persona
It is often said that you must build your business around something that you love – something that is inherently and endlessly intriguing to you, and once you follow your passion, success is inevitable!
Similar is the story of celebrated woman entrepreneur, Neeta Malik who has carved her niche in array of industries including food, fashion, and travel – all that are dear to her passion and interests.
While Neeta made her humble beginnings by laying the foundation stone of Destinations Unlimited, a luxury travel business and Heirlooms, a soft furnishings and fashion accessories brand, she eventually decided to diversify her business skills by venturing into the food and beverages industry.
A true foodie and a fitness enthusiast at heart, Neeta recently took the plunge and introduced
Meatington, a first-of-its-kind nutritious and sumptuous frozen food endeavor that is sure to set new benchmarks in this industry.
While talking about her transition into a varied professional milieu, Neeta modestly shared, "It was definitely a very natural transition for us. In inbound travel, you bring experiences of local food for your clients in your itineraries.
So, creating exquisite culinary experiences was already a part of our business.Taking it to the frozen food sector was just bringing out another feature for a larger market.""Meatington is a holistic experience, where you can order online or shop offline and store several delicious options in your freezer and create a luxurious dining experience on your table for every meal.
It was therefore a natural transition for us to incorporate Meatington into our already existing portfolio of luxury goods and experiences," she further added while providing a sneak-peek into the illustrious operations of Meatington that has already created a mark in Delhi NCR and is all set to make it big in the global arena.
A true woman of substance and an inspiring entrepreneur, Neeta is definitely a master of all trades who has exhibited magnificent success in all her endeavors across myriad industries. Read further to know more about her entrepreneurial trail, Meatington's USP, her visionary approach for the years to come, some nuggets of wisdom for all the aspiring entrepreneurs, and a lot more. Happy reading!
Q From running Heirlooms, a soft furnishings and fashion accessories brand, and Destinations Unlimited, a luxury travel business, why did you venture into Meatington? And how difficult was this to start a new venture?
Food has always brought excitement to all. Being in an Indian home, we have always discussed what we would eat for the next meal. We found that during the lockdown, people were cooking more – food was an important focus since families were spending more time together. People were looking for easy options that were delicious and nutritious.
Meatington was created keeping in mind the difficulties of sourcing good food on a day to day basis during that phase. Heirlooms was established in 1992 and was one of the first and leading soft furnishings brands to bring high-end luxury silk products to the international market from India.
Similarly, in 2009 we started Destinations Unlimited, an inbound luxury travel company where our definition of luxury was giving unmatchable personalized experiences to our clients who saw India with admiration and amazement. But the pandemic brought a complete halt to people traveling to India so it got us thinking about doing something which would bring everyone going through the lockdown something to look forward to each day.
Meatington is an experience, where you can order online or shop offline and store several delicious options in your freezer and create a luxurious experience on your table for every meal. It was therefore a natural transition for us to incorporate Meatington into our already existing portfolio of luxury goods and experiences.
Q Was it a conscious decision to travel on less-traveled paths or did it happen inadvertently in your case?
It definitely was a natural transition for us – in inbound travel, you bring experiences of local food for your clients in your itineraries. Creating good culinary experiences was therefore already a part of our business. Taking it to the frozen food sector was just bringing out another feature for a larger market.
Q Could you elaborate on the USP of Meatington and its retail and marketing strategy?
The USP of Meatington is that we focus on bringing easy to cook snacks that are tasty, nutritious and for every age group. The children love it, the young devour it and the elderly relish it. It is easy to cook and serve; our heat and eat range makes it simple for people living independently to have tasty and healthy meals all day. We have one of the largest ranges of SKUs for every palette.
Different products can be served for each meal, starting with chicken sausages for breakfast, Dal Makhani for lunch and Dahi ke kebab for tea, Chicken / Mutton Seekh or Broccoli corn Kebab for a snack and Chicken Tikka for dinner.
The packaging enhances the product with its Zip Locked reusable pouch where you can store our products for up to twelve months. We are placing our product in multiple retail stores like Modern Bazaar, Needs, Sodhi's to name a few chains, and General trading stores in North, East, West & South Delhi, Noida,and Faridabad. Our aim is to make it available to consumers as far as possible, starting with Delhi NCR.
View this post on Instagram
Q What are your plans for direct-to-consumer segment?
We are working towards expanding our database through various channels. We are using Digital Marketing with social media, influencers, google ads and ads on Facebook & Instagram. We plan to reach out to the industry and make our mark through LinkedIn too. We are also holding tasting sessions at corporate offices and participating in events in the Residential societies in Delhi NCR to bring brand awareness and showcase our products to individuals and families.
Q Vision for the brand, and where do you want to see this 5 years from now?
We intend to bring Meatington to every kitchen around the world. We are already making our mark in Delhi NCR by placing our product in retail stores and then moving on to other parts of India. We see ourselves spreading our roots in Pan India very soon and then we will be exploring the export market as well. We are already starting to get enquiries from all over the world which makes this entire journey even more exciting.
Q With the popularity of green, healthy, or eco-friendly practices, frozen or ready-to-eat foods are less trusted than they used to be. How would you debunk the belief that packaged and ready-to-eat foods aren't fresh enough to consume?
Freezing food is like freezing time. We are already talking about it regularly on our social media handles and are being noticed for it. We use technology that has been proven by international labs, to preserve the nutritious value of the product when it is brought down to extreme freezing temperatures. The bacteria growth stops and if stored at -18 degrees it retains its taste and nutrition. When heated and served it tastes fresh and delicious.
View this post on Instagram

Q You are the three partners in Meatington, what are the advantages or disadvantages of being a partnership-driven firm?
We are a great team and work very well together. We encourage a happy and productive atmosphere with our staff and through our separate roles, we bring balanced professionalism to the organization. Sachin Sahgal is the product expert with his expertise in food science and innovative recipes, Ashutosh Malik is the finance and operations expert, being a computer science engineer he brings systems into production and logistics, and I look after marketing and strategy with my 40+ years of experience in running successful businesses.
With the same goal to bring Meatington to every household, I believe our goals remain more aligned and we are able to work in harmony and give out the best results.
Q If there is any discord, how do you reach an agreement and avoid it, and how do you strike the perfect balance in your relationship with your partners?
We meet regularly, talk, discuss and always end a conversation with mutual agreements. There is never a discord since we enjoy each other's company and our individual ideas when put together, add value to the growth of the company. We are on a very exciting platform and we are continuously evolving together.
Q What are the advantages and disadvantages of venturing into a new thing and new business idea completely ?
As a businessperson, if you are innovative, any new idea brings new challenges; but that's the best part. You learn new things as you go along and conquer the obstacles with a positive attitude. I find it very exciting to work with new challenges and turn them into a success.
Q What are the challenges you currently face and how do you plan to overcome them?
Our first challenge is to demystify frozen food and debunk the common myths. Almost everything we eat has undergone some form of processing. Freezing food is probably one of the safest methods. You get a long shelf life without the use of harmful preservatives, and when you use technologies like ours, it makes all the difference. To overcome this, we are already raising awareness through social media and educating people wherever we go.
Our second challenge is that we are a group in a hurry – we are confident of a great product and we would like it to reach the end consumer as soon as possible. Most people who taste our products become its fans on the spot. However, the real challenge here is to reach the untapped customers. Being just 5 months old, we are already beginning to walk by tying up with distributors and multiple retail stores, but we can't wait to be up and running!
View this post on Instagram
Q Lessons you have learnt in your entrepreneurial journey that you would like to share
with budding entrepreneurs?
I was once told in my younger days – "You never learn from another's experience, you learn from your own mistakes." So go ahead and take the risks and make the mistakes. You will be wiser for it.
Q What is your greatest professional achievement? To whom do you attribute your success?
My greatest professional achievements are my values and my goodwill. I would attribute my success to God first to have brought me to the right place at the right time, the friends I have made in the business world and most importantly the support I have always had from my family and all the people who have worked with me.