A rendezvous with Shefali Jariwala on romance of wedding & fashion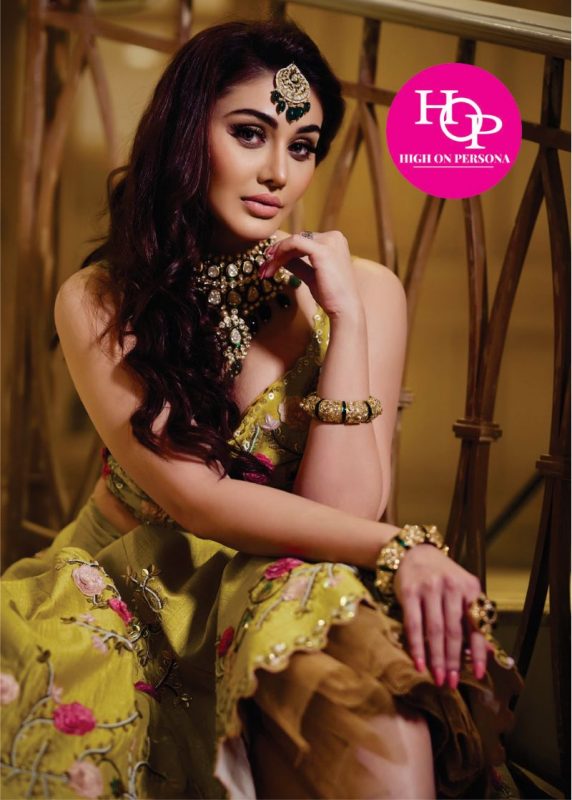 The Kaanta Laga Girl: Shefali Jariwala: Once A Trendsetter, Always a Trendsetter!
It has been almost two decades since Shefali Jariwala received unprecedented international acclaim for featuring in the iconic music track, Kaanta Laga which made her receive the much-coveted title of The Kaanta Laga girl or The Thong Girl. Through the song, Shefali not only hailed a fashion revolution during the early 2000s but she also emerged as a fashion trendsetter for women across the globe. Ever since then, Shefali has been taking this charge with crusader's zeal by becoming one of the most sought-after Indian actresses and model, who has persistently carved her identity as a fashion icon. Her aesthetic sartorial choice combined with her charismatic personality has been duly appreciated in all her endeavors, be it her movies and songs or her avid participation in reality shows like Bigg Boss 13, Shefali has left a mark in all her professional trails.
In her recent adventures, Shefali is all set to take the OTT industry by storm through her acting finesse and out-of-the-box content, which is keeping her on the toes these days! "I am very very excited because it is a lot of good work on OTT and I see myself doing a lot of good work, with different kinds of characters on OTT in the future," she affirms.
In an exclusive interview with Shefali, we explore more about her journey from being the Kaanta Laga girl to the fashion pioneer of the B-Town who is setting new fashion trends with each passing day. As you flip the pages further, you will find her to be the perfect muse for our bridesmaid wedding special edition as she strikes the pose in an ethereal charm and elixir – one that is sure to give you some major bridesmaid fashion goals for this wedding season. "I am not always sticking to fashion. For me, fashion is what comes naturally. Whereas, when it comes to makeup, I am blessed with good skin, so I personally do not prefer a lot of makeup on my skin but yeah, I do my eyes very well, add a little color on the lip and I am always ready to go!" Shefali modestly shares.
Shefali also spills the beans about some funny and embarrassing moments from her shoots days from Baby Come Naa, her skincare regimen, her favourite cuisines and restaurants, her go-to wedding trousseau, her take on destination weddings, and a lot more. Wishing you all a happy wedding season. Cheers !
Q- What are you working on now and what are your plans for the future?
A- What am I working on now? I am working on a lot of OTT projects at the moment. As we speak, I have just finished shooting for my promotional material for one of my series which is releasing at the end of the month. The promotions will start soon. There are a lot of good works on OTT, and I see myself doing a lot of good work, different kinds of characters on OTT in the future. There've been a lot of funny and embarrassing moments since I have started, done 4-5 web shows by now. However, I think the first one was really really funny since it was a funny show.
View this post on Instagram
Q- How did 'Baby Come Naa' happen ?
How 'Baby Come Naa' happened to me is a very interesting story. I thought as an artist I was not growthought that as was only dancing, doing reality shows and performing all over the world and that kind of brought some kind of monotony in my life and naturally the next step for me was acting and just when I thought that I wanna start acting and I was preparing myself mentally for it I got a call from the producers of Baby Come Naa and they offered me this series. And when I read the script it was really interesting, it was fun but it was a very difficult genre which is comedy, which I understood and my co actors were people like Shreyas Talpade and Chunky Pandey who are the kings of comedy, who've done a lot of comedy and it was a very difficult decision for me to say yes and be confident about being able to hold my ground with them, share screen space with them and be good because comedy is all about timing, a lot of give and take but I thought this was the perfect opportunity to also prove to myself that yes, I can do this and that's how I said yes to Baby Come Naa. It was a laughter ride and doing my first comedy series as my first acting job, I mean I think I got a lot of confidence that I could act and I could contribute.
Q- How was your experience of working in ALT Balaji's Baby Come Naa?
The experience of working with ALT Balaji's Baby Come Naa was nothing short of fun, fun and fun. Since it was an out and out comedy, I mean the atmosphere and set was really light and the people that I was working with, may it be our director Farhad Saamji sir or Shreyas or Kiku or Chunky, all these people are such fun people to work with, such supportive co actors to work with, so it was a lovely experience in terms of having a lot of fun and getting to learn a lot too. Since it was my first acting job everybody was very patient with me, the director did a lot of readings with me, did a lot of rehearsals but once we were on set, I mean there was no looking back, there was tick tock table tennis and its just a lot of fun, lot of improvisation and I couldn't believe I could do it and it turned out to be a very fun experience. When I was shooting for Baby Come Naa, there was a particular scene where I had to run, you know, give my reaction and run away and me as an actor I will keep running till the director says cut and Farhad Samji sir also plays a lot of pranks on everybody.
Everybody was playing pranks on each other. So, in that particular scene he did not say cut and I just kept running running running and running away and then after I ran a huge distance I had to look behind and see am I still supposed to keeping running and I could see everybody on the set laughing at me. So, that was a very funny funny experience. That was a funny moment and many such pranks were being played. Everybody was playing pranks on each other. But yeah, this was very funny because I mean I don't think next time I'm gonna ask the director till where am I suppose to run you know, that is a lesson learnt.
Q- How was working with Shreyas Talpade? Were there any funny moments on set?
Any actor who works with Shreyas Talpade is in for a treat, especially someone who is just starting out in the acting world. Shreyas knows he has had his own struggles, and he comes from a strong theatrical background. It was very very helpful to have him as my co-star. He really helped me out a lot and made my job very easy for me. Plus, he is such a fun person to be with and his temperament and mine are pretty much the same so we clicked immediately. So, there was absolutely no discomfort there and once we started shooting, it was just getting better by the minute. The chemistry was getting better by the day and we were all having a lot of fun. So, I think he is a wonderful person, a wonderful human being and a fantastic actor to work with.
Q- You were a contestant in Bigg Boss and this show comes with many controversies. Sometimes it turns out to be good for someone's career but there are also times when it does the opposite. What is your opinion on reality shows ?
And in my opinion I mean I was offered the very first season of Bigg boss, which I refused and many season after that and I refused because I had this fear but I don't know something in me told me I must do it and when they offered me Season 13 and I went for it and it turned out to be their best performing season over all the seasons. So, I think my intuition worked well and I think you have to go to Bigg Boss when you are ready for it because it is a tough show. You know, you are tested at many many levels you know, including your physical endurance to your mental capacities and your game play skills or your fitness or you know everything altogether. So, you have to be really really prepared to do it and I think I was prepared which is why I took it up and it was a wonderful experience.
I have become a different person after Bigg Boss, It brings a lot of confidence, you know you've become a lot braver in life, you have so much more courage and you know anything that life throws at you, you can deal with it once you've done Bigg Boss. For me it was a blessing in disguise because just after Bigg Boss the whole Covid Scenario hit and had I not done Bigg Boss maybe I would have not taken those 2 years of lockdown very well but because I was already locked into the Bigg Boss house for 3 months I kind of was prepared, so I think everything happens for a reason and Bigg Boss 13 for me happened for a reason.
Bigg Boss, yes, comes across as a controversial show sometimes but I don't think it can be good or bad for somebody's career. A show like Bigg Boss you are not really putting out your talent there, it's a personality contest and the person with the strongest personality wins but yes, you know the platform is so large and the show is so big, that people who are newer in the industry is fantastic for them, they get a huge mileage and then after Bigg Boss is when your real struggle begins, that's if you are a newcomer. People who are already established largely, for them Bigg Boss also is difficult because it's also important for you to manage your reputation. So, it's very tricky for people who are already known to do Bigg Boss. But most of the people who are known are paid very very handsomely and get an opportunity to be a part of one of the biggest shows of this country. So, it's not a bad thing. Bigg Boss is never bad for your career. It's only you putting yourself out there and it's the choices that you make after Bigg Boss that makes or breaks your career, it's not the show.
Q- Since you've appeared in popular music videos early in your career, do you still come across people recognizing you as a 'Kanta Laga girl' when you're out in public? How does it feel ?
I have appeared in one of the country's most popular music video Kaanta Laga and it has given me a very strong identity of being a Kaanta Laga girl and that is something I am very proud of because people work so hard for so long all their lives to be able to create an identity for themselves and I know one thing for a fact that there can be no other Kaanta Laga girl in the whole wide world, its just me and I am very very proud. Even today I'm always known as a Kaanta Laga girl and I know that people will know me as a Kaanta Laga girl till the day I die and I love it and people still love the song, I am still performing all over the world on this song and the response that I get even today after all these years is just amazing. So, I'm very very happy that I was given this opportunity.
Q- What are your tips for getting ready for a best friend's wedding from fashion to makeup ?
If I had to get ready for my best friend's wedding, I would, my first and foremost rule being not to look dressier than the bride of course but when it comes to fashion and makeup, I'm not really always sticking to fashion for me. Fashion is what comes naturally. I mean, if it's a beach wedding I would dress accordingly, if it's a mountain wedding I would dress accordingly but yeah I like flowy silhouettes, comfortable wear, especially for weddings because I like to have a lot of fun, I dance a lot so I want to be comfortable. When it comes to makeup, I'm blessed with good skin so I personally do not prefer a lot of makeup on my skin but yeah I do my eyes very well and a little color on the lip and I'm always ready to go. Most of best friends are married and I always help them choose their look and everything because I'm good at it but when it came to choosing what I had to wear it was always last minute, I never had the time and we just put together something and it's just confidence, you just walk out and you look wow.
Q- How do you maintain work life balance, tips for women in the entertainment industry ?
It's not difficult really to maintain a work and a personal life balance but what is important is your family, how supportive they are? I mean there are days that I am working and I don't get to see them. Our hours of working are very odd. You know, early mornings, we come back late nights. You know you are not able to talk to them, have a meal with them but because my husband is an actor too, he gets it and I think that's what keeps us going. It's always about managing your time right and for us since we're both actors now we have decided, you know you got to make your own rules for yourself, for your family, so we've made such rules that we have to take a holiday whether in India or out of the country, at least 2 times in a year or so and that much time we have to make sure that you know together we have to schedule so we are not working so that we can you know spend some time together, things like that.
We try to talk to each other before we go to bed even if we are not together at least open the phone and technology has really helped you know, I mean Facetime, video calls, whatsapp, so wherever that you are in the world, whichever corner that you are its not like you are not in touch with your loved ones, so its not really that difficult but yes, you need a supportive family for you to be able to successfully manage your personal and professional life.
Q- What is the fashion rule you always follow, and what are the rules you would like to break?
The one fashion rule that I always follow is if the top is short the bottom has to be long, if the bottom is short, the top has to be long. So, I just balance it out, I don't like wearing very revealing clothes. You know even when I'm at my fittest, I always like to leave something to the other person's imagination except when I'm on a beach I'm in a bikini but yeah there are rules that fashion rules have to be broken, there are no set rules in fashion you've got to play with colour, I love colour blocking, I love mixing and matching my outfits, I love to jazz up my outfits with accessories, basic white shirt is my favourite because I can style it in so many ways, I just throw on some jeans or maybe just wear the shirt as a dress you know with sneakers and put a smart belt around it.
You can just wear a white shirt in so many different ways. So, fashion rules there are no rules for me there are my moods. I have more fashion moods than rules, so whatever the mood is, if the mood is to be absolutely comfortable, it has to be an athleisure for me which you'll mostly find me in, I'm in love with athleisure and if the mood is Indian then you'd probably see me wearing a fusion sort of an outfit or a long flowy dress or sometimes a shorter dress you know with sneakers, a little playful look. So, I'm always in the mood.
Q- As the wedding season approaches, what are your thoughts on the latest fashion trends, styling tips, and wardrobe must-haves?
As the latest wedding season approaches, my thoughts are that everything over the past 2 years, people are moving towards more minimal and I really like that. I see a lot of brides now doing minimum makeup and wearing colors other than red and that's something that I really like that brides are now experimenting with different colors for their bridal outfits and that is something that I really like and I see that happening this season as well. Brides want to be comfortable now, I have seen brides wearing fancy Indianized sneakers under their lehengas and that is a trend I'm personally really crushing on. So, I do see a lot of that and I do see a lot of brides that want to have fun and their clothes, their accessories and their look reflects that. They want to have fun, they want to keep it minimal so that they can have fun, they can dance and they can enjoy their wedding a lot more, so I see that happening and that has my 2 thumbs up.
Q-What are the essentials for your makeup vanity?
Essentials in my makeup vanity would definitely be a hand sanitizer. I love wearing the same color on my cheeks and the lip and that's usually just a tint because I'm naturally, I have a rosy complexion, I'm pretty pink on the cheeks and the lips so I don't want to enhance it too much. Kajal, for sure because for days that my eyes are looking tired, kajal does the trick. And a hairbrush and yes, my perfume. I think that is the essentials that I usually have. I do not need anything more than this.
Q- Do you like to wear jewelry for weddings or do you prefer to leave the jewellery off and keep your outfit embellished?
I am a jewellery person. I personally love jewellery. I'd rather have a simple outfit but statement jewellery pieces. I have been over the years been able to collect a lot of beautiful pieces of jewellery, I have inherited some beautiful pieces of jewellery from my grandmother as well and I'm not a modern jewellery person, I'm a very traditional jewellery person, so my clothes are normally not very embellished but I like to wear my statement jhumkas or my statement neckpiece or my statement kada and that just does it for me. I don't need anything else.
Q In what ways do you believe in the institution of marriage and what advice would you give to those who do not wish to get married and believe in live-in relationships?
The institution of marriage yes, it is a certificate that the society requires you to have if you're married but I don't think there is anything wrong with living in as well. The way I look at it is everybody has the right to choose how they want to live their life and who they want to live with? If they want to live with that person being married that is perfectly alright and they do not want to get married and just live in that is alright too. You have to let the person decide what's best for him or her. I do not advocate anybody, I am married myself I do not advocate the institution of marriage.
If you are ready for it, go for it, if you're not, do not but that is the one thing I always tell people if you're not ready for marriage, do not get married because with marriage comes a lot of responsibilities. It's not about you or your partner alone, there are families involved, the society involved, a lot of things that you have to think about and you don't want that added extra pressure if you're already working on your relationship. So, get to the point where you are that comfortable and confident in a relationship that you can take on that additional responsibility of being married and then you know, go for it, take the pledge. So, that's what I believe in.
Q- A destination wedding you have enjoyed the most. Can you share some fun filled interesting moments from the wedding?
Destination weddings are always a lot of fun. I have enjoyed it, I am a beach person and I thoroughly enjoy beach destination weddings because it's nice and warm outside. I love the sun and it just brightens my mood and everybody's moods, so of all the weddings that I have enjoyed which have happened over other destinations, it's always the beach weddings, that is my favorite.
Q- In Big Boss, as well as on your social media accounts, we have seen your impeccable sense of fashion. Do you have an inspiration for fashion that you follow? How has fashion always been important to you?
I am very glad that in Bigg Boss people took notice of my sense of fashion but to be very honest with you, there's no inspiration out there. We didn't even have a choice on the outfits that came in weekly for us. We had commissioned stylist to send us some outfits and whatever felt right we just put it things together, there was nobody inside to particularly style you and as I said for me style is comfort especially in the bigg boss house it was comfort because we were doing tasks all day and you know we were creating content all day and stuff like that so I just wanted to be comfortable.
Also, it's a show about being locked up in a home, so it didn't really make sense to wear heavy clothes through the week because it's like how you are if you are at your house so yeah, weekends were special because of course it was with Salman Sir and everybody used to dress up and again, there comfort was also important to me because we were shooting all day long, you don't have staff there to do your touch ups and fixes and tacking and stuff like that. So, I think that I was just comfortable but I was flirty with my clothes. I like to put things together and I think that worked, people liked it and I appreciate that.
Q- Do you have a skin care regime you cannot do without? If so, please share the same with us.
Yes, I do have a skincare regime that I cannot absolutely do without but that is nothing to do with applying anything on the skin, actually got to do with what I eat you know, the most part of our having great skin is what you put inside your body so I eat a lot of clean food I do not eat junk food or fried food and hydration is the key. It's been 25 years now, the first thing I do when I wake up is drink a liter of warm water and that helps in flush in all the toxins from my body that has build overnight and that kind of shows on the skin. What you apply on your skin is important but what you put in your body is more important. So, that is a very essential part of my skincare routine, other than that yes, I have a very very simple skincare game, I do not like to complicate it with a 15 step or 20 step skincare routines and I don't have the time, energy or you know patience for it.
Q- Any must-have skin care products that you can't do without ?
I have a rule, I do not go to bed with makeup on and I always keep my makeup brushes really really clean because you know that is healthy for the skin you know we don't realize that our makeup sponges and makeup brushes are dirty and that's what kind of gives you infections and skin may breakout and yeah hydrating with a lot of water and good moisturizer is all you need. I don't think I have reached the point where I need to start thinking about anti ageing products, I will soon, if need be but at the moment I'm really happy with just washing my face and putting on a lot of moisturizer whether it be day or night and yes, sunscreen, very very important. The moment I moisturize my face I have to put on sunscreen even if I'm home or I'm outside, all the more if I'm outside and if I can I try and reapply my sunscreen every 4-5 hours because sun can cause a lot of damage to the skin, so sunscreen is very very important.
Q- Destinations you love to travel to, and any plans in the near future ?
I love to travel, I am a Sagittarian, so I love to travel everywhere, all over the world. I have seen a lot. There is so much more to see but because of the 2 years of Covid and travel restrictions, there are so many places I had planned to and I couldn't go but next trip that I wanna take is to Croatia and I want to see Croatia, so that's on the agenda and I hope that happens soon.
Q- As this remains the current trend in the world of glamour, do you also depend on a stylist to design or decide your look for different occasions?
Now that we are a part of the entertainment industry, we have to take care of the glamourous side also, yes, we have stylists commissioned but of course they also give their inputs but when it comes to me I know exactly the event that I'm going for and what I want to wear so I meet with them and tell them that this is what I want, this is what I'm looking for and they arrange it for me and of course they also have their, I work with these bunch of really young, fresh stylists with excellent ideas so they also give in their inputs and I think collectively group effort really works but yeah it's very difficult to work without stylists because we constantly need outfits for shoots and shows and events every single day so to be able to do it all by yourself is not possible, you need a team to arrange the outfits for you, to source it for you, so yeah stylists are a must.
Q- Do you consider yourself a foodie? Please tell us five places you frequent in Mumbai to eat out and where one can bump into you.
I am quite a foodie, but I prefer eating green, healthy food. You'll see me a lot at Japanese restaurants, I love Japanese Sushi. Asian food I love, I love Thai as well, so you'll see me at places like yauatcha or hakkasan. Coming to Indian Cuisine, I love Mangalorean, South-Indian cuisine, so you may see me at Tanjore Tiffin Room. Bastian, OPA Kipos, OPA being my favourite, I love Greek cuisines, so you'll see me there too. Other than that, I'm quite, I love Sunday brunches so you'll probably see me on most Sundays at The Marriott Sunday brunch, I really like their spread and it's like going there so many years regularly on Sundays, I know the staff, I know everybody so well, it's just like coming home but I am a "Ghar ka khana" kind of person so I don't eat out too much when I'm in Bombay but these are the places I like to eat when I'm here otherwise when I'm travelling, that's when I like to try new places but I'm a quite _____otherwise
Shoot concept & Styling done by
Barkha Arora and  Associate Editor: Divya Khanna
Hair style by ; Richa Agarwal
Makeup: Yasmin
Photographer: Trisha Sarang
Styling assistant: kanchi Mutha
Yellow Outfit ; Label Arshi Singhal
Red Outfit: House of Rishabh Grover
Jewellery: Rama Krishna Jewellers
Location: Hilton Mumbai
https://www.highonpersona.com/
High On Persona magazine for doze of Entertainment Fashion Food Fitness Hospitality Technology and Travel News.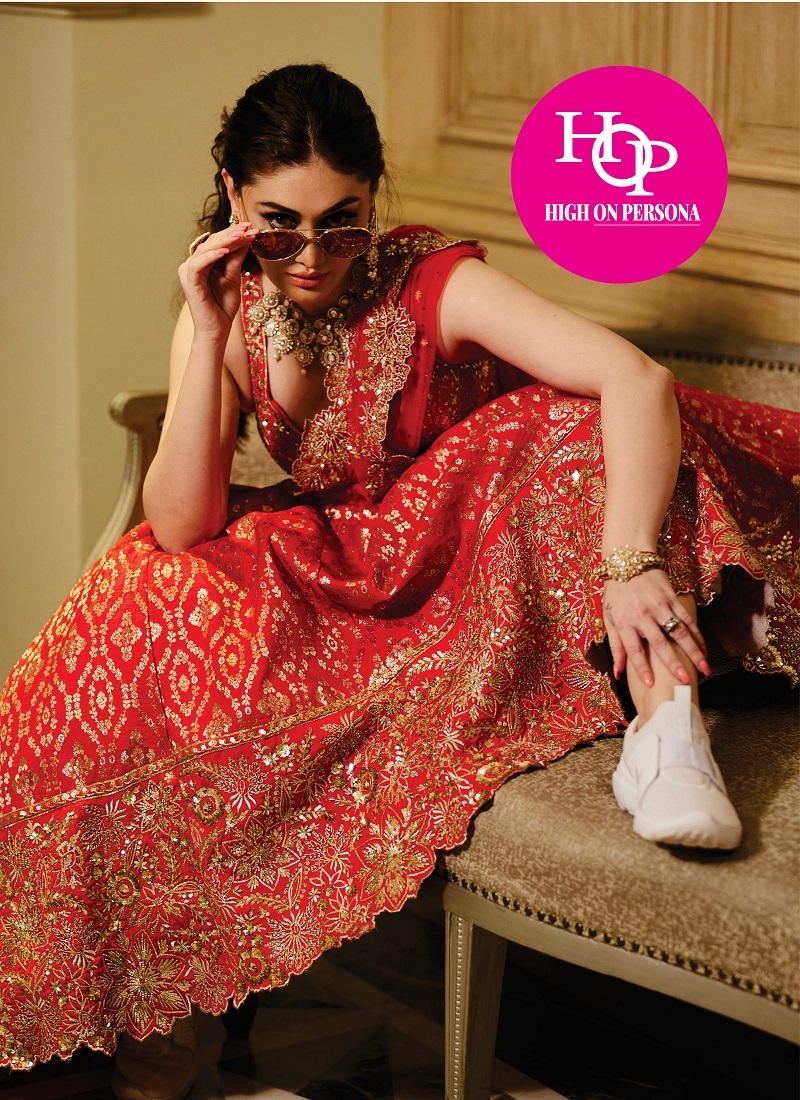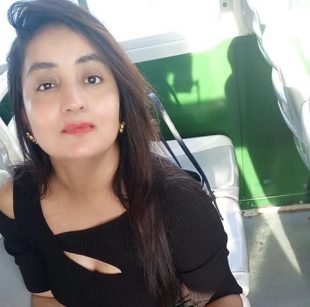 She has been there and done that. After graduating from Delhi University, she completed her diploma in Journalism from Bhartiya Vidya Bhawan, Delhi. Down the line, she completed her internship with National Herald Newspaper successfully,, and went on to Join Mainline Business daily, Business Standard. She also dabbled in image management and brand consultancy. She is a prolific writer on lifestyle entertainment, branding, lifestyle, travel, and politics.
Contact her at [email protected]