Investors are moving towards HealthTech startups: what lies ahead?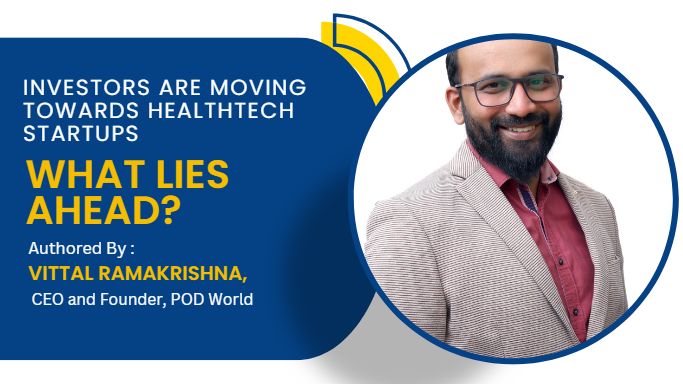 There is no denying the fact that since the advent of digitalization, a slew of new trends have
emerged, with health tech being one of them. The use of technology to improve healthcare
includes everything from telemedicine and remote patient monitoring to electronic health
records (EHRs) and artificial intelligence (AI) powered diagnostics.
Health tech startups use these technologies to develop innovative solutions that improve patient outcomes,reduce costs, and streamline healthcare delivery. Furthermore, the Indian health-tech space, dominated primarily by online pharmacy and doctor consultation apps, is entering a consolidation phase. Several startups are additionally getting into strategic M&A deals with established corporates and more significant deals, particularly when their funding has begun to dry up during the
operations.
According to IBEF, India has become a startup hotspot, with new-age businesses vying to
change the game. This is the area where numerous investors are moving after realizing the
great potential of the ecosystem for health tech startups. As a result, there has been a notable
increase in investor interest in health tech startups over the last few years, with many investors
recognizing the potential for innovation and growth in this sector. HealthTech startups are
developing cutting-edge technologies that are changing the way healthcare is delivered and
consumed, from telemedicine platforms to wearable devices. In addition, as of March 24, 2022,
there were 7,128 health tech startups in India, according to Tracxn. Furthermore, as we look
ahead, it is clear that HealthTech will remain a priority for investors. So, let's delve into some of
the trends shaping the industry landscape and what the future holds for investors interested in
this sector.
Investing in Healthtech Startups is a Wise Decision: Benefits and Challenges
Finance is the cornerstone for organizations to grow at a reasonable rate. And investing in
health tech can be a wise decision as it provides numerous benefits such as improved patient
outcomes, lower healthcare costs, increased efficiency, and improved access to healthcare.
However, there are several challenges that should be considered when investing in health tech.
Benefits of investing in health tech: Healthtech has the potential to improve patient outcomes
by providing real-time patient monitoring, personalized treatment plans, and more accurate
diagnoses. This could result in better patient outcomes and an overall improvement in care
quality. It can also help to lower healthcare costs by increasing efficiency, decreasing errors,
and enabling remote care to save money for both healthcare providers and patients. It also
assists healthcare providers in streamlining their operational procedures and increasing
operational efficiency, which improves patient throughput and reduces wait times. Finally,
making it easier for patients living in underserved or remote areas to access healthcare. The
disparities in healthcare can be bridged, and everyone will have access to high-quality care.
Challenges of investing in health tech Sector
It is fair to say that the health tech industry is highly regulated, and navigating this regulatory environment can be difficult. Understanding the legal requirements in each market where the technology will be used is crucial. Second, it guarantees data security and privacy, essential for gaining and sustaining patient confidence. Integrating the idea with current healthcare systems can take time and effort. Therefore, ensuring the technology can easily integrate with existing systems is crucial. Some technical difficulties are associated with these, involving new-age technologies like artificial intelligence and machine learning that require specialized knowledge to develop and implement.
What is Influencing Investors to Invest in sector
As we look to the future, it is evident that HealthTech will remain a hub for innovation and
investment. Investors can take advantage of the rising demand for innovative healthcare
technologies by concentrating on startups at the forefront of these trends. The increasing
demand for healthcare services as people have become more cautious of their wellbeing is one
of the main factors influencing investor interest in HealthTech.
Healthcare spending has significantly increased as the world's population ages, and more people need healthcare services. By offering creative solutions that enhance healthcare delivery and outcomes while also lowering costs, health-tech startups are well-positioned to capitalize on this trend. The growing use of data in healthcare is another factor influencing investor interest in
HealthTech. Healthcare providers now have access to a lot of patient data thanks to the widespread adoption of EHRs, which can guide treatment choices and enhance outcomes. HealthTech startups use the data to create personalized treatment plans, predictive models, and other cutting-edge techniques to improve patient outcomes. The COVID-19 pandemic has also accelerated the adoption of HealthTech solutions. Telemedicine and other digital health solutions are becoming increasingly popular due to the demand for social isolation and remote care. Investors are becoming more willing to support HealthTech startups as they become more aware of the potential of these solutions to revolutionize healthcare delivery.
Potential Investors: The Future of HealthTech
The future of HealthTech is extremely promising, and there are many ways for investors to profit
from this expanding sector. HealthTech is centered on utilizing technology to enhance and
improve healthcare services. This can range from wearables and medical equipment to
telemedicine and health apps. And in the years to come, investors who see this potential and
are willing to invest in health tech startups will likely see sizable returns. Though, health tech's
advantages make it a wise choice to invest in. However, it is crucial to take into account the
difficulties that come with investing in HealthTech and to make sure that these difficulties are
resolved during the development and application of the technology.
Article is penned by Vittal Ramakrishna, CEO and Founder, POD World