Father's Day Special : Celebrating the Unconditional Bond of B-Town's Favourite Father & Daughter Duo: J.P. Dutta & Nidhi Dutta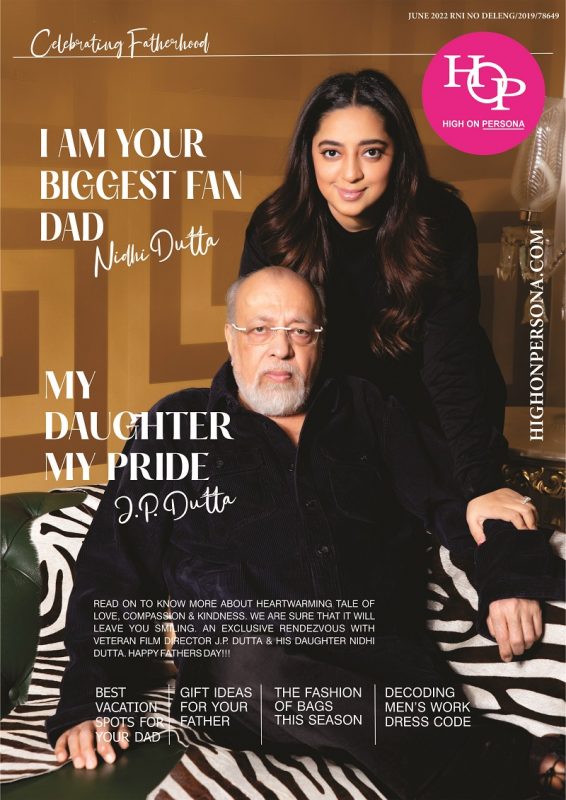 Nothing matches the unconditional love between a father and daughter duo. While a father is always the superhero of her daughter, the daughter is forever a princess for her father; a pious and magical relationship that cannot be defined in words. With the Father's Day around the corner, we speak to Bollywood's one of the most celebrated father and daughter duo – JP Dutta and Nidhi Dutta who never shy away from expressing their affection for each other.

While JP Dutta has proven to be the beacon of light both professionally as well as personally for Nidhi, she has equally aced her role as a daughter who continues to bring a perpetual smile of pride and contentment on her father's face.
Born to Bollywood film producer, writer and director, JP Dutta and the eternally graceful actress, Bindiya Goswami, Nidhi is magnificently progressing ahead in this journey of life, while making big moves. She is elegantly carrying forward the rich legacy that has been set by her father for producing pioneering and impactful movies like Border, Refugee, LOC, Kargil, and Umrao Jaan to name a few.
In a candid tête-à-tête with this adorable father and daughter duo, we explore more about their roles in the shoes of a father and daughter respectively, and how they are different in the 'real life' in comparison to the 'reel life'. While Nidhi spills the beans about some fun memories with JP Dutta during her childhood,
JP talks about how he cherishes being a father and how a genuine smile on Nidhi's face makes his day, no matter what!Read on to know more about this father and daughter duo's heartwarming tale of love, compassion, and kindness. We are sure that it will leave you smiling. Happy Father's Day!
JP Dutta: You don various hats including that of a film producer, writer and director. Walk us through your journey while you made it big in all your professional endeavors?
I've been blessed.When I was a child, the teachers in school complained to my parents that your son is a daydreamer in class. Now I make those dreams and show the world. it's what I've always wanted to do and goddess Saraswati held my hand so here I am.
Nidhi Dutta: Trailblazing gracefully on your father's footsteps, you have carved your identity as a celebrated producer and director. Tell us more about your humble beginnings and your experience so far?
Thank you for saying that but I have a long long way to go when your born to a legacy like mine with my Grandfather (O P Dutta) my Dad and of course my mom too (Bindiya Goswami) it's a responsibility and a blessing but it also means I have to work that much harder to live up to the lineage and everyday I wake up and try to be worthy.

JP Dutta; You are renowned for directing many patriotic war films and films in the action genre such as Border, Refugee, LOC Kargil and "Umrao Jaan". What has been your source of inspiration for all this while?
I've always made films that have been on subjects that have affected me personally I believe a filmmaker depicts his times and that's what I've tried to do I've also had the honour of working so closely with our armed forces and having lost my brother I understand the pain of losing a loved one to the battlefront and so I connected and brought those stories to life.
Nidhi Dutta – What are some genres that you want to explore as a director or producer?
For me it's two things One is again the journey that my father has started to tell the stories of our soldiers… that's something I am working on doing also… because there are so many more stories to tell… and it's like a sense of responsibility that we must do it…
And secondly I want to make movies I would want to watch myself… that way I know I'm being true to what kind of cinema I would want to be a part of.

JP Dutta and Nidhi Dutta: Shed some light on the highs and lows of your professional trail. One professional learning that you would like to share with our readers.
JP: The highs and lows are a part and parcel of this industry but mainly it's not about making a hit or a flop it's about making a good film… and being true to what you set out to make. I've never been affected by success or failure.
Nidhi: I've been lucky enough to watch my fathers journey closely… and I've learned to have my shock ups strong like him… so one has to take it in your stride.
JP Dutta and Nidhi Dutta: Tell us more about your upcoming projects?
Nidhi: We are currently working on 2 Armed forces based projects and then I have one film that will be announced shortly which will go on floors at the end of this year and of course "Ghudchadi" is nearly ready which is directed by my husband and will release at the end of the year.
On occasion of Father's Day, we would like to know more about the unconditional father- daughter bond that both of you share!
JP Dutta : What do you enjoy the most about being a father?
Seeing my daughters smile.Nidhi Dutta: On the other hand, what is the best part about being JP Dutta's daughter?
Oh God !!! where do I begin my father recently got bestowed with the honour of being the only civilian to have received the Marigold badge (symbol of the fallen soldier of the Indian Armed Forces) and as I was sitting there I just kept thinking Me and my sister were the only people in the Country that can our father is up there receiving this great honour. It's so humbling being born to a man who not only is an absolute institution in himself in filmmaking but he's made sure his journey has counted for a meaning to bring forth so many stories of our Soldiers and make such meaningful cinema. There is definitely someone up there who must be very happy with me that he chose to send me as my fathers daughter.
JP Dutta: Are there things you wish you would have done differently as a father?
I've been the best father I could and done it to the best of my ability nobody is perfect I guess but I've tried not to let even a frown cross my girls faces I hope I've done my bit.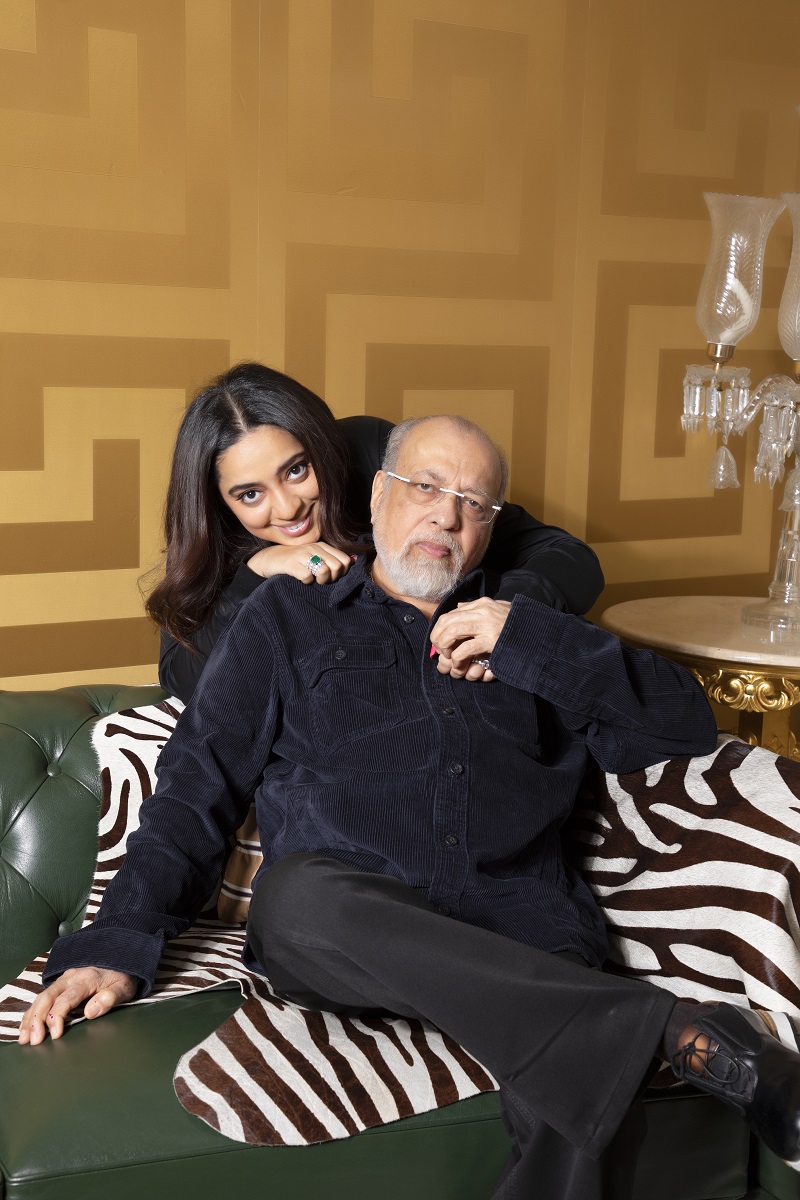 Nidhi Dutta – Are there any things you wish your father would have done differently?
I wish he hadn't been so selfless…. From the day I was born I think he's never thought for himself… never wanted anything only done things me or my sister or my mom wanted, I love that about him but still wish he did something for himself once in a while.

JP Dutta – What is your secret to raising a humble and successful daughter like Nidhi?
My Karma I think Has been clear.. and tried all my life to be a good human being and that's why I think I've been blessed to have a daughter like Nidhi.
Nidhi Dutta – How would you describe your father during your upbringing? / What makes your father a great dad?
He made sure he was never missing no matter how long his shoots were he made sure every birthday, Diwali, New Years everything was celebrated together no matter where he has either we would go to him or him to us So many of such qualities that he makes look so effortless I hope I can one day do for my kids too.
JP Dutta and Nidhi Dutta – Share with us some of your fondest childhood memories as a father/daughter?
JP: From the first time I see my girls in that delivery room to every time even today when they walk into a room it's a memory and it's my best moment.
Nidhi: I have so many random fun memories with dad (haha)I remember we were on our way to the borders shoot and we were in the car on some road in Rajasthan and suddenly my dad stops the car and makes me get off and makes me run into a field of Cauliflower and steal one (haha) it was the most exhilarating and coolest thing I remember thinking my father is this larger than life man who does this too and within an hour he was back on set with 300 people waiting for his Instructions!
JP Dutta and Nidhi Dutta – In what ways are both of you alike and in what ways are both of you different?
Nidhi for both Ans: We are way more alike than we would like! Haha my mom and sister think we are twins… but seriously I think like my dad I work like my dad my values and rights and wrongs are my dad And I love it!
JP Dutta – One piece of advice that you would like to share with all the fathers out there?
To forget the 'self',once they're born it's only about them.
Nidhi Dutta ; One piece of advice that you would like to share with all the daughters out there?
Ans:- A father is always the head of the family but don't forget he still needs to be treated like a baby once in a while… spoil him, love him, respect him and learn everything you possibly can from him because Dads always knows the best.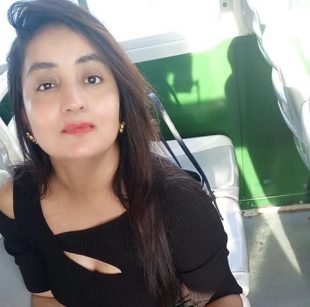 She has been there and done that. After graduating from Delhi University, she completed her diploma in Journalism from Bhartiya Vidya Bhawan, Delhi. Down the line, she completed her internship with National Herald Newspaper successfully,, and went on to Join Mainline Business daily, Business Standard. She also dabbled in image management and brand consultancy. She is a prolific writer on lifestyle entertainment, branding, lifestyle, travel, and politics.
Contact her at [email protected]