From a Celebrity Chef to a Trailblazing Entrepreneur, Sachin Sahgal's journey is adorned with accomplishments 
Sachin Sahgal Co-Founder, Meatington
The brain behind India's leading frozen food brand 'Meatington', Sachin Sahgal the Co-Founder of Meatington has carved a niche as a celebrity chef as well as a trailblazing entrepreneur in the food and beverage industry. With his knack for food, proficient expertise in this industry, and an indelible acumen for revolutionizing what's going on our plates, Sachin is contributing indispensably to this industry by transforming the way the frozen food sector is expanding.
The inception of his illustrious journey started right during his childhood days when he used to be fond of trying his hand at a variety of food recipes. While reminiscing his childhood days, Sachin shares, "Sometimes after coming back from school, without changing my uniform, I would try making snacks for myself and my siblings. Initially, my hidden talent was only shared with my siblings. It was only later that my parents discovered when the monthly stored raw cooking material would finish in just a few days. After getting motivation from my parents, I was able to garner my passion for food.".
He informed. "From that time onwards, I decided to become a Chef who would craft happiness through his skills. This passion for food made me experiment new dishes and that started picking up quickly. My friends used to polish all the food in just a few minutes. This kept going and in the blink of an eye, my passion converted into my profession. I feel great that I could achieve my dream of becoming a celebrity chef and I am proud of myself," Sachin adds with a satisfied smile on his face.
View this post on Instagram
MAKING A FORAY INTO ENTREPRENEURSHIP
Ever since childhood, Sachin wanted to become a renowned chef. Due to his hard work and perseverance, he soon curated his identity as one of the youngest Executive Chefs in the country. However, there's no stopping this visionary leader who aspires to make a mark in this industry like never before.
This revelation encouraged Sachin to lay the foundation stone of Meatington, a first-of-its-kind tasty and healthy frozen and ready-to-eat food venture. "After tasting success with my dream profession, I was confident and open to exploring more and more in the food industry. With this zeal, I started studying new trends, keeping in mind the need of today's busy world, where people work for food but do not have a lot of time to make good food.
Thus, the concept of frozen food that is full of taste cropped into my mind. The thought of preparing frozen food made me so happy and with full motivation, we crafted veg and non-veg frozen foods. When I had the first bite of my creation, I could not stop eating the full portion of the food that was served to me for tasting.
This tasting infused confidence in me to go ahead with this concept. Hence, we decided to execute it and make it available to our customers," Sachin informs, who laid the foundation stone of Meatington with co-founders Neeta Malik and Ashutosh Malik.
View this post on Instagram
While talking about the beacon of light that encouraged him to start Meatington, Sachin shares, "As I am a creative person and I cannot sit idle, Meatingtons idea came during the first lockdown when we all were bound to sit at home and the supplies were limited. We were not getting the variety of food that we would get easily otherwise. That is the time when my partners and I thought of introducing Meatington to the market. The concept was thoughtfully designed, and execution was done with a lot of love. Hence, the product reflects the same in looks and taste."
He further informs about his role in the spurring success story of Meatington, "I am a designer, who has crafted the product. My other two partners Neeta Malik and Ashutosh Malik are food lovers and they decided to connect with me after tasting the food. Through their experience, we have been able to take this product to a wide range of markets people in a well-planned manner. All strategies were applied to design the packaging, procuring the right platform to introduce our product, and organising and participate in the events. Hence, we are here today running Meatington with Taste, Intelligence and with Beautification."
Turning the Narrative of Indian Dining the trio at Meatington is gracefully turning the narrative of Indian dining experience with frozen foods and surpassing the age-old myth that frozen food is all about preservatives. "I would say that it is all about using the right technique, food knowledge, and education about frozen food which needs to be spread in the market. In earlier days our elders /grandparents also used preservatives to store pickles and chutney. Preservatives could be salt, sugar, oil, etc.
View this post on Instagram
We use these ingredients as preservatives for our vegetarian products and for non-vegetarian products we use Ascorbic Acid which is used primarily as an antioxidant, and it also provides multiple benefits to the food products. It slows down the oxidation process and preserves its colour and freshness. The low pH of ascorbic acid can help prevent microbial growth; thereby preventing spoilage and preserving freshness," Sachin affirms. "Our frozen food products are completely unique from other food products which are available in the market.
Our focus is on doing healthy tasty products which are our own created recipes. We believe in doing products which can be fed to our kids and family first and then to our customers. For example, in the vegetarian range, we have broccoli corn kebabs, akhrot ke kebabs which have walnuts, falafel, and hare bhare kebabs which have avocado in it. In our non-vegetarian range, we have herb grilled chicken breast for the health freaks, and we also have chicken tikkas, stuffed chicken tangri etc.
We have products for every age group and every occasion," he further adds. Moving Ahead on a Prosperous Note Needless to say, all the creative juices for the trio worked in the right direction during the lockdown and gave birth to Meatington! "After this pandemic and the kind of other diseases which are spreading all over and making people sick, frozen food is something safe to consume at any given time.
It has a shelf life of 6-9 months, untouched by hand, cooked at the right temperature and safe to eat. The frozen market is growing day by day and correct knowledge of the same will not only deliver safe and tasty food but also eliminate the problem of food wastage," Sachin avers.
View this post on Instagram
ENVISIONING AN UPWARD GROWTH TRAJECTORY
The team at Meatington firmly believes in expanding it to a global brand in the years to come. While providing a sneak-peek into their plans of expansion, Sachin shares, "We are in the process of expanding our business. However, we would not be doing franchise as our motive is not to make money. For us, it's our brand which comes first. We would like our customers to enjoy the products which are prepared with a lot of love and passion.
Our products are available at almost every branded grocery store like Modern Bazaar, Sodhi, Needs, Gobble etc. Gradually, we will also be spreading our wings in the northern part of the country and then Pan India too. "We procure the best ingredients from the best sources, so that the final product comes out magnificently and gives a great experience to our customers.
Our product attracts the customers with their delectable looks and makes them a repeat customer with their delicious taste. I have always believed that if there is something genuinely good then it will be liked by a majority of people.
It is not only about us but even when others do great work they get appreciation. Our style of cooking appeals to a broader palate as we try our best to create delicious recipes and do justice to what we claim. "An Ever-Evolving Eating Palette after experiencing the worst time of COVID, people were sceptical to eat from outside but after knowing the fact that frozen is more healthy, safe and better, people have started opting for frozen foods. Especially when a brand like Meatington is curating a wide variety of products that are both healthy and tasty.
"We have been getting a lot of appreciation from our existing customers and new customers who have recently tried Meatington. Word of mouth, different media platforms, and right targeting at the right time has helped us garner attention of our customers. Other than this, we have been spreading awareness about our brand and its delicious products through social media, our own application and our website.
View this post on Instagram
We have many interested customers who are looking forward to having our products in their cities soon. We are working on it already!" smiles Sachin."Our brand Meatington and Grab a Green is very much available in all the premium daily groceries stores. As of now, we have not faced any challenge in selling our products. The supply has increased exponentially due to the best quality and taste," he concludes, while signaling towards the vibrant future of Meatington ahead.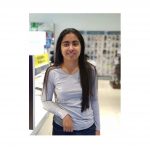 Divya Khanna is the youngest member of the team, with a background in political science. She has joined High on persona print magazine in order to gain hands-on experience in various aspects of editorial coordination as associate editor of the magazine and news site. She has a penchant for writing and enjoys meeting new people and interviewing celebrities. She has a passion for writing, she has an eye for details, loves traveling, and a quick learner. She comes from the Mecca of Indian Journalism, Delhi.
Email: [email protected]