OTT brings back more bollywood actresses from the 90s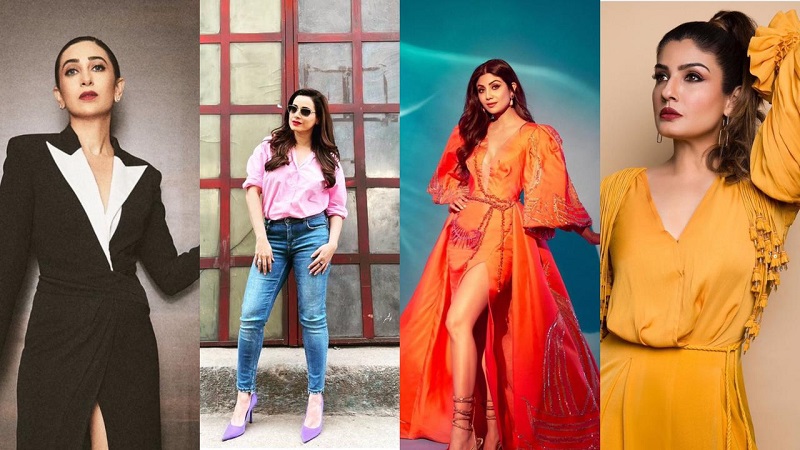 We all loved watching Juhi Chawla in the recently released Sharma Ji Namkeen on OTT platform, the actress from the 90s has appeared on OTT Platform after a long hiatus, apparently, she will also appear in another show, *Hush Hush*. Just before Juhi Chawla Bollywood's superstar of the 90s Madhuri Dixit had made comeback with The Fame Game and now With Juhi, the tally of actresses from the 90s who have made their comeback through OTT has only grown and expanded, and according to insiders we might soon see more Bollywood actresses who don't have any projects lineup for theatre release are gearing up to make a come back through OTT and why not all these actresses have ruled Bollywood and enjoy massive fan following, Fans simply couldn't ask for more.

We were introduced to a number of new artists by the OTTs as well as discovering new talent, they also contributed to the resurgence of some of the older players who were the stars in the 1990s. But there's more to Bollywood than just plot lines that intrigue. Queens from the 1990s have often provided us with some unusual role models.

There have been several actors of note like Madhuri Dixit, Raveena Tandon, Kajol, Karisma Kapoor, and a lot more.
In addition, other players are getting involved in meatier roles, as well as carving new territory for themselves within the industry. Whether it is Raveena Tandon's Aranyak, Sushmita Sens Aarya, or Madhuri Dixit's The Fame Game, audiences love to watch their favourite performers perform.

In the following list, you will find the updated tally of actresses who realized their comeback dreams through online streaming and who have received immense support from their fans

Madhuri Dixit
View this post on Instagram
The Fame Game was the digital debut of Madhuri Dixit with her debut film. As its original title, Finding Anamika was the title of the program. On February 25, it was available on Netflix. As the title suggests, "The Fame Game" is designed to make its viewers go on a rollercoaster ride through highs and lows in superstar Anamika's (Madhuri) life as well as uncover hidden truths and cruel lies.

Kajol
View this post on Instagram
Although Kajol hasn't been away from the big screen for long, her move to OTT was an unexpected move in the right direction. With Tribhanga, we see three generations of women confront their pasts and engage on a deeper level. Kajol, Tanvi Azmi, and Mithila Palkar star in the film, which is about a dysfunctional family of three women and their eccentric life choices.
Raveena Tandon
View this post on Instagram
Raveena Tandon made her Netflix debut in the murder mystery 'Aranyak,' which takes place in Sironah, a fictional highland village. Her character is SHO Kasturi Dogra.
from the show. The actress, who is known largely for her works in rom-coms and dramas, surprised audiences with her portrayal of a cop in the film.

Sushmita Sen
View this post on Instagram
Sushmita Sen, the former Miss Universe and a powerful woman, plays Aarya, who possesses great strength and determination.There is a compelling
story about a woman who would go to any length to protect her family in the Hotstar series.

Karisma Kapoor
View this post on Instagram
Karisma Kapoor was one of the first people to rise in the ranks from that batch of performers. Fame in the 1990s to venture into OTT with mental hood, and now she is back to show us more of what she's all about when it comes to acting prowess as well. The actress is curently shooting for a series called 'Brown' which will be released on Zee5.
Lara Dutta
View this post on Instagram
With her recent work as an actor, Lara Dutta, a former beauty queen turned actor is known for her rom-coms and romantic movies. Lara has made her OTT debut with Zee5's Kanun Banegi Shikharwati, her first ever OTT appearance in which she plays the king's daughter.

Pooja Bhatt
View this post on Instagram
It was on Netflix that Pooja Bhatt made her debut as a leading lady in the drama series "Bombay Begums.". The show follows four ambitious women who live in modern-day Mumbai.Each strives to reach their goals at any cost. Pooja Bhatt played the character of Rani and her fans simply loved her playing a very dominating role.

Shilpa Shetty Kundra
View this post on Instagram
It is no secret that Shilpa Shetty Kundra has dominated Bollywood for the past decades! Her career has been a success for her and her films. Through her long acting career, she has kept us entertained with her great performances of now, she is the only actress whose presence is felt across all platforms. including OTT.
Juhi Chawla
View this post on Instagram
We all loved seeing her in the Bol Radha Bol movie with Rishi Kapoor and this was a treat for her fans to see her sharing camaraderie with Rishi Kapoor on Sharma Ji Namkeen streaming on Amazon Prime Video. Juhi Chawla will appear in the Amazon Prime Video series Hush Hush as well with Soha Ali Khan, Karishma Tanna, and Kritika Kamra will also play important roles in the series.

Neelam Kothari
View this post on Instagram
After keeping her distance from the acting world, popular 90s actress Neelam Kothari made a comeback with Karan Johar's Netflix show Fabulous Lives of Bollywood Wives. Her comeback was a resounding success. The show focused on the personal and professional lives of the wives of well known actors, including Neelam, Maheep Kapoor, Bhavana Pandey, and Seema Khan.