From Drama to Action: Discover the Versatile Actors Dominating B-Town Today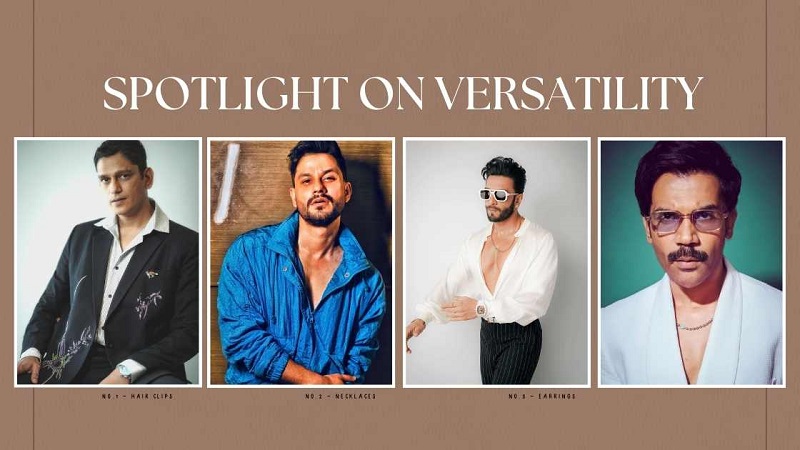 Spotlight on Versatility: The Top 7 Actors Redefining Bollywood's Acting Landscape
Check out Bollywood's most versatile actors of the current generation! With their incredible range of characters and unique acting styles, they have truly made a mark in the Bollywood industry. These actors are able to take on different characters and embody them in a way that is convincing to audiences. They are able to bring a unique energy and perspective to each role, making them stand out from the crowd. With their ability to bring fresh energy to any role, these versatile actors truly set themselves apart from the rest.
Celebrating such talented artists, below we list Bollywood's seven most versatile actors who have won hearts with their performances one after the other. Not only have these actors delivered remarkable performances, but they have also set a benchmark for aspiring actors to follow.
These actors have crossed all boundaries and have established themselves as the best in the industry. Their successful journey is a source of inspiration and motivation for many. They have created a legacy that will be remembered for years to come.
Ranveer Singh: Ranveer Singh Shines Bright in 'Rocky Aur Rani Ki Prem Kahani' and Solidifies His Position as Bollywood's Best
View this post on Instagram
With all the love and appreciation, he is receiving for his latest release 'Rocky Aur Rani Ki Prem Kahani', Ranveer Singh is rightfully considered one of Bollywood's best bets today.
Since starting his career in 2010 with 'Band Baaja Baaraat', the actor has delivered notable performances in films such as 'Lootera', 'Goliyon Ki Raasleela Ram-Leela', 'Bajirao Mastani', 'Gully Boy', and '83'. Ranveer Singh continues to win hearts with his diverse filmography and larger-than-life off-screen persona.
Ayushmann Khurrana: The Versatile Actor Breaking Boundaries
View this post on Instagram
One of the most versatile actors is Ayushmann Khurrana. His films have dealt with a wide range of social issues, from homosexuality to mental health. Known for his heartfelt performances, he has won multiple awards. He is also known for his willingness to take risks and push boundaries, something that is often lacking in mainstream films. This has allowed him to break into genres that often go unnoticed, shining a light on stories that are often overlooked.
Ranbir Kapoor: The Transformative Force in Bollywood Cinema
View this post on Instagram
Ranbir Kapoor is known for his intense performances and his ability to disappear into his characters in Bollywood. His films are always engaging and thought-provoking, and he has won numerous awards. His most notable films include Rockstar, Barfi, and Sanju. A dominant and influential actor in Indian cinema, he continues to be a fixture in the industry. He is renowned for his ability to act with subtlety and nuance, and he is often praised for his dedication to his craft. He has worked with some of the biggest directors in the industry, and his filmography showcases a range of characters and genres.
Kunal Kemmu: A force to be reckoned with.
View this post on Instagram
There is no doubt that Kunal Kemmu, as an actor whose versatility speaks volumes about his caliber, is one of the most underrated actors in Bollywood today. Having performed a range of characters from comedy, romance, and action to intense roles, his films include "Go Goa Gone," "Loot Case," "Malang," He has consistently delivered powerful performances and has proven his mettle as an actor time and again. He has also received various awards and accolades for his performances.
He has also appeared in Traffic Signal', 'Kalyug', 'Golmaal' series and more. Besides starring in Raj & DK's web series 'Gulkanda Tales', Kunal Kemmu will also be directing Excel Entertainment's upcoming comedy-drama 'Madgaon Express'.
Shahid Kapoor: The Bankable Star of the Hindi Film Industry
View this post on Instagram
Hailed as one of the most bankable movie stars in the Hindi film industry, Shahid Kapoor began his acting journey two decades ago and ever since then, there's been no stopping him. He has featured in successful films like 'Kabir Singh', 'Kaminey', 'Udta Punjab' and 'Haider' and has won numerous awards for his acting. He has also become a role model for many aspiring actors.
Shahid Kapoor made his long-awaited OTT debut with 'Farzi', which received immense praise from critics and audiences alike. 'Farzi' season two is expected to premiere in 2024, following the success of season one. He has already established himself as an acclaimed actor in the film industry and is now set to take the OTT platform by storm with the much-anticipated sequel of 'Farzi'.
Rajkummar Rao: Exploring the Depths of Acting with Versatility and Critical Acclaim
View this post on Instagram
From comedy to drama, Rajkummar Rao's has demonstrated his exceptional range as an actor and became a favourite among the audience. Known to be one of the most experimental actors today, Rao easily moulds into any character that comes his way. He has received tremendous critical acclaim for his portrayals in films such as Newton, Stree, and Bareilly Ki Barfi, which have showcased his ability to bring out the nuances of the characters he plays. His performances have been praised for their depth and complexity. Among his finest works are 'Badhaai Do', 'The White Tiger', 'Bareilly Ki Barfi', 'Stree', 'Omerta', 'Newton', 'Shahid' and 'Bheed'. His next role will be in the highly anticipated 'Street 2', which is currently in production.
Vijay Varma: From Supporting Character to Leading Man in Critically Acclaimed Films
View this post on Instagram
In Vijay Varma's journey from being a supporting character in 'Pink' to currently playing the lead in a number of critically acclaimed films, he has come a long way in his career. Varma has consistently chosen projects that have pushed him to explore his capabilities by taking up diverse roles. He has also been consistently praised by critics for his performances which has helped him gain recognition in the industry.
Vijay's intense and passionate performance, along with the gripping narrative, made 'Dahaad' a riveting watch. His stellar portrayal of the main character was widely praised, and left viewers enthralled. As a result of his performance in critically acclaimed films such as 'Gully Boy', 'Darlings', and 'Lust Stories 2', he has once again proven his versatility as an actor, raising the bar of expectations from the actor even higher.
Kaalkoot is a psychological thriller and Vijay Varma's character has been widely praised for his complexity and depth, which has added to the suspense of the show. His performance has been lauded for his ability to bring to life a complicated character and to deliver a stellar performance.