Bollywood's Finest Graces Jio Mami Mumbai Film Festival with Style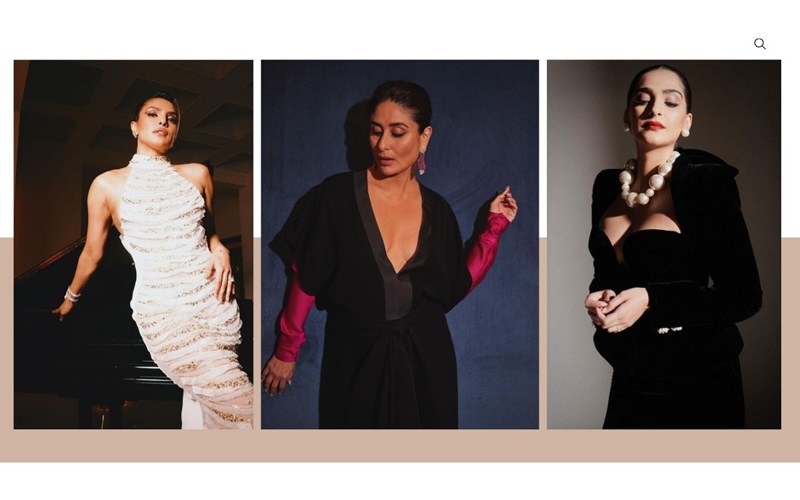 The Jio Mami Mumbai Film Festival, an eagerly anticipated event for film enthusiasts and fashion aficionados alike, recently became the epicenter of social media buzz. The reason? The dazzling presence of some of Bollywood's most iconic celebrities who graced the red carpet in style, setting the town on fire with their glamorous appearances.
View this post on Instagram
Priyanka Chopra: The global sensation, Priyanka Chopra, left no stone unturned as she jetted into Mumbai especially for this grand affair. With her star power in full force, Priyanka made a statement with a resplendent gown that exuded elegance and charisma. Her presence alone made the opening night a true spectacle.
Kareena Kapoor Khan: Known for her impeccable fashion sense, Bebo left the audience in awe with her choice of attire. For the premier of The Buckingham Murders, she donned a deep V-neck black ensemble that radiated class and sophistication. Kareena once again proved why she's a reigning fashion queen in Bollywood.
Sonam Kapoor: No event is complete without the fashionista Sonam Kapoor making a sartorial splash. She graced the festival in a magnificent black dress, masterfully designed by Tamara Ralph. To top off her elegant look, Sonam adorned herself with a statement white pearl necklace, leaving the crowd enchanted.
Karisma Kapoor: Karisma Kapoor effortlessly channeled elegance in a striking white saree adorned with intriguing black abstract squares and circles. Her ensemble was a true embodiment of modern sophistication, proving that sometimes less is more when it comes to making a style statement.
Shanaya Kapoor: Shanaya Kapoor made a grand entrance in a sleek and classy emerald green sleeveless dress. The bold color choice and the minimalist design highlighted her poise, making her a vision of sophistication.
Aditi Rao Hydari: Aditi Rao Hydari, the eternal beauty, embraced her ethnic roots in an Anarkali-style dress. What made her ensemble truly captivating were the ornate jhumkas that added an aura of tradition to her contemporary look.
Diana Penty: Diana Penty, always a picture of poise, donned a smart black power suit, redefining power dressing. Her outfit was complemented with intricate golden neckwork, adding a touch of elegance to her bold and contemporary ensemble.
Tara Sutaria: Tara Sutaria, with her timeless beauty, radiated charm in a gold-colored ensemble. Her fresh, dewy makeup and the subtle glint of jhumkas highlighted her ethereal beauty, making her a sight to behold.
Karishma Tanna: Karishma Tanna embraced the festive spirit in a resplendent black Anarkali-style gown dress with designer gala. Her ensemble was a perfect blend of traditional and contemporary, making her a vision of finesse.
The Jio Mami Mumbai Film Festival is not just about cinematic artistry; it's also a platform for Bollywood icons to showcase their fashion-forward sensibilities. The red carpet witnessed a blend of grace, glamour, and creativity, making it an event that will be remembered for years to come. Stay tuned for more updates!
#mumbaifilmfestival #jiomamimumbaifilmfestival #priyankachopra #priyankachoprafans #priyankachoprajonas #nickjonas #maltimariechoprajonas #celebmom #newparents #priyankachopranickjonas #priyankachoprahottest #priyankachoprateam #priyankachoprajonas #priyankachoprajonas #nickjonasandpriyankachopra #nickjonas #jonasbrothers #bollywood #mami #bhumipednekar #bhumipadnekar #bhumians #sonamkapoorhot #sonamkapoor #tejranlove #tejranfam #tejasswipraksh #BollywoodCelebrity #bollywoodstars #Bollywood #bollywoodnews