Paul Feig, eats breathes lives Arts & Aesthetics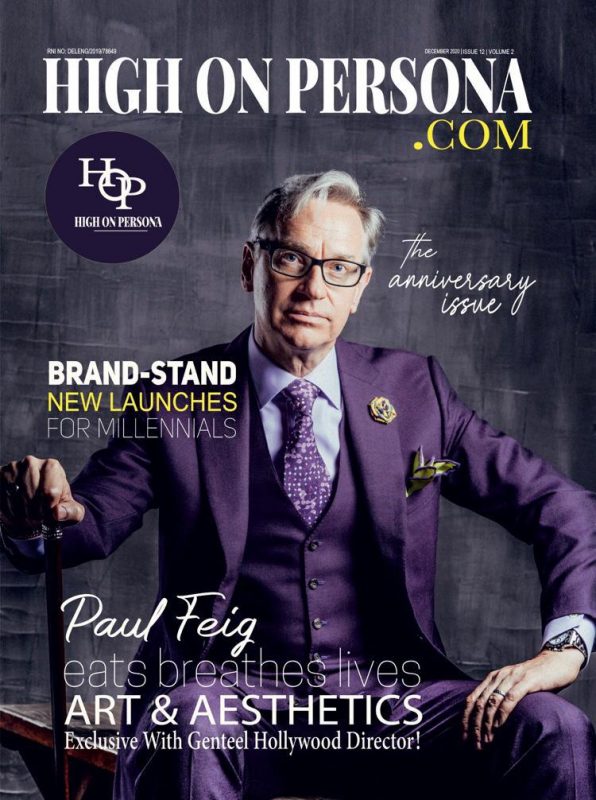 Connoisseurship does not imply possessing knowledge like a scholar but figuring out how to treasure intangibles by identifying them and appreciating them
detailing with a discerning eye.
As a distinguished Hollywood director, writer, producer, and actor, Paul Feig's passion for exploring diverse landscapes and sustaining the artistic standards comes naturally to him because he is gifted with a rare talent to create a work of epic proportions.
His broad aesthetic interests manifest themselves in fields, such as, filmmaking, mixology, and fashion, in which his stratospheric spirit is clear. The multifaceted individual knows his way around the nest with ease and finesse. This sneak peeks in his style illustrates his penchant for sharply tailored, impeccably tailored suits and timeless charm. While fashion trends are forever changing, he has cherished a sense of style that is timeless and pays homage to Michael Douglas, Robert Redford, Al Pacino, and Sean Connery.
One common factor with all of them is their genteel and debonair style. It is apparent that Paul has maintained the grandeur through his identifiable yet distinct style. Donning well snug, Double breast suits during a shoot for any director seem uncommon but for Paul, this is a de rigueur. "I always say if I am on the ship and the captain is in sweat pants I will get off the ship because he is not taking his job seriously and it is about giving respect, to the people who are working with you", reiterates Paul.
No wonder, his eye for detailing and an exclusive way of filmmaking have propelled him right to the top of the filmmakers' list in Hollywood. He surely is the metaphor for ingenuity and the brains behind many successful Hollywood blockbusters and most-watched television series.
After making his directorial debut with the drama 'I Am David', he went on to direct many incredible movies including Bridesmaids, Spy, Ghostbusters, A Simple Favour, and Last Christmas. Tally of his work also boasts of the comedy series Freaks and Geeks, episodes of the U.S version of e Office, Arrested Development, Weeds and Nurse Jackie, Mad Men, 30 Rock, Parks and Recreation, and several other applaud worthy projects.
As the Director he keeps his chin and gin up and raises the bar with several fundraisers for novel initiatives presently, High on Persona had the privilege to indulge in an insightful tête-e-tête with Paul Feig on diverse issues. Being a captain of the ship as a director he gave his viewpoint on 􀄕lm making while orchestrating distinct elements and the process and his unwavering love for gin and penchant for fashion.
During this free-flowing virtual conversation with Barkha Arora, Editor, High on Persona magazine, we also got acquainted with the cheerful and gregarious side of his personality.
Q. From working as a tour guide in universal studios to a Hollywood director, how has been your journey so far?
When I was a tour guide and Hollywood just seemed like a faraway dream. You are looking at all these productions going on, you see all those successful people around you and it felt so unattainable, but then also, it is so inspiring that maybe it is possible if you work hard. The fact that the current movie "The Last Christmas" is at the Universal Studios, It reminds me of my lonely tour guide days when I was just 17 years of age.
Q. From your first movie as a director 'I am David' to your last movie 'the last Christmas in 2019, how have things evolved in the last two decades?
Now, there are more opportunities to get things out into the world. I love making movies, which is my passion, and bread and butter. I love doing TV too, earlier distribution, and getting a movie theatre was a very hard thing to think of. Starting in 2002 with 'I am David' we had to struggle to get distribution for the movie and to get our movie into movie theatres was another incredibly strenuous thing to do back in that time. That now we have much streaming. Platforms like Net flix, HBO Max, Amazon, and many other ways to showcase your movie where You can get your movie seen. So now, it is relatively easier than it was in 2002. Filmmakers are now in a better situation, their work has a larger audience too, and that's a vast deal, something we never had back then.
Q. As the industry is evolving at a great pace in terms of advancement in techniques as well as the thought process of the millennial, isn't it challenging or tractable for you?
That's an internal question that every filmmaker or a storyteller asks since the time movie-making was invented. That is one of the biggest parts.of our job to figure out which story will appeal to the audience. The first step is to just click the right story, then the second step is how we execute them and how big we do them starting from the casting to the job of final execution. Especially with me, I am making big-budget films, so I have to also make sure that it appeals to the wider audience, so you really run it through the litmus test. My litmus test is imagining myself seeing the trailer of this movie knowing nothing about it and is it something where I go like, 'Oh My Gosh I have to watch this movie in the theatre in the opening weekend' it is very hard to know, you can't really know, but if you put that kind of filter on it, you have a better chance and believe that hopefully, this is something that the audience would want to see.
Q. Do you ever get skeptical about the response movie will receive and take the opinion of your friends or colleagues before finalizing the script?
Yeah, we have many people who read them. For me the 􀄕first litmus test is my wife, other than myself, she has a populace tastes and she can tell me if the subject will be heavy or light, interesting/not interesting, the audience will care about it or not, sometimes its like a bitter pill to swallow, but that's the test you need because she is right. And I have got all the prominent people in my company. My producer partner is extremely intelligent. She recently got a project for me. Initially, I was skeptical about picking it but when I read the script; I was totally convinced to do it.
Q. Is social media a boon to connect with your fans and motivating or it takes a toll on you when it comes to trolling? How responsive you are to your followers and fans on social media. Do you handle your account or does your team do it for you?
I handle my account all by myself. It's all for me. Trolling happens more on Twitter. But with. Instagram, I feel and I find it to be more of a rational place. I appreciate constructive criticism. I have a public face, and It extends expanding my brand. It just puts people in a place where they can know me more and it's very important to do that. I am a comedy guy and funny in real life too, and people love to connect with me on social platforms.
Q. India has immense potential and talent. Is Hollywood comfortable in gelling with Indian actors in terms of professionalism and other areas of work as characteristics of both industries are wide asunder. How can an aspiring artist approach you from India?
In many ways, whenever I am casting something, I am always looking for Indian talents. My wife is very much into Indian films. They can get through casting people and there are many other ways, I am totally accessible if they want to work with me.
Q. Your fans often find you very suave and sophisticated in the way you dress up which portrays your predilection for fashion and aesthetics. Even during your work you can be seen dressed formally to the nines, any reasons for you tilt towards the look. Please name the designers you admire the most?
I love old Hollywood and love to wear the well-tailored bespoke suits and ties. Certainly, showing up in sweat pants or shorts you know, kind of just rolling out of bed and going to work is not something I can imagine doing. I always say if I am on the ship and the captain is in sweat pants I will get off the ship because he is not taking his job seriously and it is also about giving respect for the people who are working with you.
Again, I'm in charge and I want to look like a boss, look like a person who's in command and so many people respond to it and appreciate it. is also helps the way the set is run and personally, I just like dressing up. I don't want to waste my day not looking my best.
Q. How do you get all that time while handling multiple things, please share tips with us?
It's a part of my morning routine. It helps me to get focused for the day. Again, I couldn't be the guy who rolls out of the bed and goes to the set. I feel good and I feel content as I perfect my look. Well-groomed look, my pocket square, my tie knot, my watch, everything is very important for me, by the time I get ready I feel fully aware, focussed, and awake. I also associate dressing poorly with unsuccessful points in my career when I was a struggling actor, wearing jeans and a shirt waiting for the phone to ring, It is a part of the big picture for me, but I can't separate it.
Q. How often do u upgrade your wardrobe, what are the dominating colors in your wardrobe, and also Please tell us if you believe in traveling light?
I ship a lot of stuff if I am doing a job, I like to pack for six months, but when I travel I try to keep one big suitcase, a hanging bag, my favorite suits, I like to travel pretty light. My suits are expensive and I like bespoke suits with classic tailoring. I have actually added many in the last couple of years. I play with a lot of ties, shirts, pocket squares, and tend to get basic suits. I prefer colors like grey, dark brown, navy blue, and black. I mix it up. I try to avoid suits that look very memorable.
Q. Who are your favorite designers?
(Thinks) I am a huge Ralph Lauren fan; I have a lot of Ralph Lauren suits, then Anderson and Sheppard, it's more of a house style, they make a lot of my suits; they are the masters. In the UK, I prefer going to Saville Row to get customized suits. I don't like to experiment with many brands. I like Paul Smith too, but their suits don't fit me well, either I am too narrow for them or they are too boxy for me.
Q. I am sure all these designers would be very happy as you keep appreciating them on different platforms, why are you making high street and leisurewear brands unhappy by not wearing that trend?
(Laughs) I don't think I will make them happy because I look so terrible in those kinds of clothes. I have never been the guy to pull off those casual clothes, I think they would be happy if I don't wear their creativity.
Q. What do you think would be the future of the entertainment industry after the Covid crisis gets over?
Honestly, I think it's going to go back to normal once the vaccine is out. We have just been at our homes for half of the year, and as far as the entertainment is concerned, people miss the movie theatre experience. It's fun to watch movies on streaming platforms, but the experience of watching in a theatre with a common sharing experience is something different. It's irreplaceable and people miss that. These places should keep in the business. I am in allegiance with the theatres and really with that government should give them some stimulus, I would hate to see people who have dedicated their lives to the industry suffer because of pandemic effects.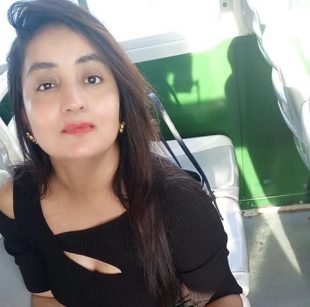 She has been there and done that. After graduating from Delhi University, she completed her diploma in Journalism from Bhartiya Vidya Bhawan, Delhi. Down the line, she completed her internship with National Herald Newspaper successfully,, and went on to Join Mainline Business daily, Business Standard. She also dabbled in image management and brand consultancy. She is a prolific writer on lifestyle entertainment, branding, lifestyle, travel, and politics.
Contact her at [email protected]