From Kolkatta to Delhi, Chowman brings finest in Chinese cuisine
FOOD REVIEW
A visit to Chowman Restaurant is a must for anyone looking for an authentic taste of Chinese cuisine in Delhi
View this post on Instagram
Chowman's cuisine is very famous in Bengaluru and Kolkata, and there is a high chance that you have heard about this chain of restaurants if you live or have lived in these cities. As part of its expansion into Delhi's East of Kailash D Block, and Noida's Sector 18, this well-known chain now serves some of the finest Chinese cuisine.
View this post on Instagram
In just a short span of time, it's become a big hit due to its vibrant flavors that are offered from Chinese, Schezuwan, and Thai delicacies.I was with my family in the East of Kailish area on this particular day and by the time we finished our work, it was already past 8 pm. We were feeling very hungry and my expectations were already set after hearing about Chowman's quality service and food. We headed straight to Chowman Restaurant without wasting any time.My visit to its East of Kailash restaurant showed me that, despite providing a decent fine dining experience, the restaurant serves an extremely large number of customers through online orders and catering as well.
During the course of my meal at the restaurant, I observed that the manager took orders from diners and handed out food packets to Swiggy or Zomato guys waiting in line outside the restaurant.When we entered, we found the place to be quite compact with a limited number of seating options. However, the setting was very sophisticated and appealing. The place looked very lively and vibrant from the outside as well, especially when it was lit up in an area that was relatively dark.
Featuring a distinctive red-and-black color scheme surrounded by low lighting along with the bronze Buddha statue, pots and bells, all beautifully arranged to create a soothing ambiance inside, the restaurant featured a signature décor with elegant red-and-black colors that harmoniously complemented low lighting.It was a very pleasant experience for me to walk into the restaurant and be greeted by hospitable staff who made us feel very welcome as soon as we entered. As soon as I saw the menu, I was struck by its extensiveness and versatility and how diverse it was. There were a number of options available to choose from.
View this post on Instagram
There is no way to think of heading to a Chinese restaurant on a winter evening and not trying a hearty bowl of Chinese soup. The manager, Mr Prahlad, came up to us and took our order. As soon as he saw that we were avoiding overly oily or fried options, he suggested some very healthy and delicious choices that were both wholesome and extremely tasty.To start, we had the Veg Monchow soup, the clear vegetable soup, and the clear chicken soup to pair with our stir-fried vegetables and chilly fish. Ginger and garlic were the main accents in the soup, which was loaded with spices and veggies, resulting in a healthy hot, sour, spicy treat. The stir-fried vegetables, on the other hand, were spicy and crunchy. Garlic flavors that had been roasted enhanced the taste of the soup. To satisfy our appetite for soup.
Lemon pepper soup was a less spicy option in a light soup. Lemon added to the tangy taste and coriander leaves gave subtle citrus notes to this vegetable soup. The soup was delicious and nutritious. Meatball soup was another option that we tried. This had tender meat carrots and spring onions in it as well. However, we chose to pass on this one in favor of vegetable soup only. When it came to Seafood Soup, the choice of soup was even broader. We had a very wide selection of starters to choose from as well.
View this post on Instagram
There were a variety of mouthwatering options on the menu, including Chicken Lollipops, Crispy outside, juice inside lollypops looked like a favorite starter for everyone. It was a dish prepared with marinated fried chicken drumsticks that had been tossed in a hot garlic sauce before being fried. As part of the menu, we also had the option of ordering Drums Of Heaven in Thai style, which we thought was a worthwhile choice for us to give a try. We were definitely expecting a bong touch to some of the dishes that were offered here along with the Thai styles. This is because the restaurant hails from Kolkata and the Kolkata Style Chilli Chicken served was an excellent example of this.As a starter, we were tempted to try Crispy Fried Prawn Wontons, with a choice of steamed or deep fried. However, we decided to start with the steamed one, which was a mouthful and melting treat. There was also Pepper Garlic Prawn, another delicious delicacy that was prepared in the Schezwan style along with Sliced Chicken. The Honey Chilli Lotus Stem, was another delightfully spicy Thai style sweet and spicy starter. This shallow fried crispy lotus stem flavoured with light soy sauce, honey and a hint of chilli sauce, was the restaurant's most popular starter. In terms of the main course, we chose to go with Shanghai Fried Rice.
This was more satiating and filling than fried rice. This was prepared with bell peppers, broccoli, baby corn, carrots, and button mushrooms and tossed with a spicy sauce. Additionally, for rice there was Seafood Fried Rice, Chicken Fried Rice too, which were whole bowls of garlic-tossed rice fried with shrimps, scallops, squids, crab meat, and garnished with coriander leaves. However, we were pleased to choose the vegetarian version. Despite the fact that I normally do not eat noodles, I could not resist eating Schezwan Hakka Noodles that were prepared with an abundance of vegetables. This Schezwan noodles dish is a flavourful Indo-Chinese street-style recipe popular for its distinct schezwan flavours.
At this point, we had eaten enough and were happy with our overall experience. However, we still expected the service to be very quick, but overall it was a memorable experience. To end our culinary journey on a sweet note we wanted to try a traditional Chinese dessert and that did not disappoint us either. We strongly recommend the Chinese traditional delicacy Darsaan here, which was deep fried flat noodles tossed in a tasty honey syrup which was sprinkled with roasted sesame seeds. This was served with a scoop of vanilla ice cream and combined with hot Darsaan this divine.
There was something incredibly special about the experience we had at Chowman and if time permits, we would love to visit again in the future to satisfy our cravings for Chinese food.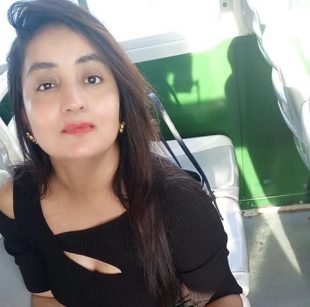 She has been there and done that. After graduating from Delhi University, she completed her diploma in Journalism from Bhartiya Vidya Bhawan, Delhi. Down the line, she completed her internship with National Herald Newspaper successfully,, and went on to Join Mainline Business daily, Business Standard. She also dabbled in image management and brand consultancy. She is a prolific writer on lifestyle entertainment, branding, lifestyle, travel, and politics.
Contact her at [email protected]