A visit to Bir Billing, Himachal Pradesh with Rithvik Dhanjani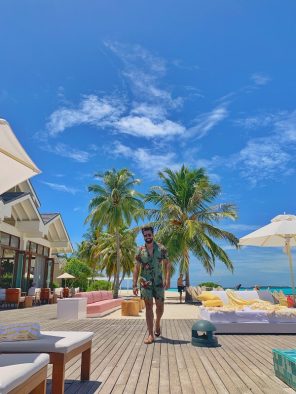 Because of restrictive policies and pandemic phases, domestic travel has nearly taken over international travel in recent years. Now as the hills are open to travelers in India, there has been an influx of people into hill stations, making hills overcrowded. The scenario looks alarming since we are still in the pandemic phase. 
Our celebrities, however, prefer to spend their time on secluded hilltops in the hills. And there are a few places in India that are truly exotic and attract the attention of celebrities, one such as Bir Billing, in the district of Kangra in Himachal Pradesh is worth frequenting. This tranquil and picturesque place is a hot spot for paraglider pilots from all over the world, and the flying season runs from September until October. 
The serenity and enchantment of this place are nothing short of extraordinary and Television celebrity Rithvik swears by it. His love for mountains and adventure makes this destination an ideal location for holidaying for him. 
Considering that he plans to visit this destination again, we asked him about all the details about this destination and the beauty of the place through his experience. 
Q. Your last travel to this place?
Q. Are you a beach person or a mountain person?
Definitely, a mountain person, mountains have my soul.
Q. What is the one fondest memory of yours attached to the place?
Several fond memories that I can't begin to explain, trekking up the mountains to see how heavenly our world is, to play my hang drum in the open fields, to go for walks under the moonlight are all such mind-blowing experiences. 
Q. What did you buy as a souvenir from Bir?
I brought back a picture with aunty Bella, who I met in the mountains at her little cafe where she makes pizzas for everyone and she treated me like her own son, so that's my memory which I brought back.
Q.  Advice you would like to give to the people who are planning to visit Bir Billing?
Mountains are the places where you often have divine experiences, go to the mountains with no expectations, and with an open heart and mind, you'll see the magic happen.
Q. What time of day does the place look most beautiful? 
It's the most beautiful all year round but during the summers it can be really hot for a lot of people so apart from that any season is good in fact all seasons have their own different charm about the mountains.
Q. What makes the place famous?
Paragliding it's got the world's second-largest para-gliding peak in the world.
Q. Was there a particular fashion item or brand you bought there?
It's actually not very heavy on fashion but yes you get amazing woodwork there hand-made by the villagers it's a delight to have them.
Q. Is there an eatery or outlet you still remember?
June 16 cafe that' is and will be my all-time favorite.
Q. Any meal that you had there and can still feel its taste on your buds?
The carrot cake with vanilla ice cream..yum!!
Q. Is there anything historic about the place?
There is a mountain peak where there is a temple that's about 140 something years old, and it's a very freaky fact that many people think that the monk sitting there is more than 100 years old and some also have a weird reason to believe that it's Subhash Chandra Bose, this intrigued me so much this at I had to visit this temple I did, also met the 100+-year-old monk well I was unfortunate coz I don't think he was Bose babu.
Q. Did you do any adventure sports up there?
Paragliding, it was amazing !!!
Q. Where do you prefer to shop there?
Well, my favorite shopping destination isn't Bir but of course, it's Dubai it's the place where I grew up and I think it's the best place in the world to shop.
Q. Can you tell me about your packing style? Do you travel light or carry multiple bags?
Oh damn, I travel heavy like I have outfits planned for each day kinds and shoes to go with it I am definitely not light travel. Multiple bags hell yea!
Q. Did you notice any rules or habits people there followed that inspired you?
In the mountains yes, I love how close-knit they all are and the families are so warm and welcoming that it made me feel like if our entire country even became half of it we'd be so much happier together. One little habit they have is no matter who you are if you enter someone's home you will not be allowed to leave empty stomach even though you've had food at 4 houses before this you'll have to eat something at the 5th one they love to feed their guests it's so heart-warming.
Q. Do you carry any gadgets with you at all times?
Lots actually just tripod my drone to film things also my gimbal all for my phone filming.
Q. In your bag, what three skincare products are always found?
Moisturizer, night cream, face wash.
Q. Next, what are three countries you hope to visit?
So many, I want to see the world. 
Q. What do you pack but never use?
Haha, so many extra clothes. 
Q. Hotel beauty products–steal or leave behind?
Ah leave behind, but I do steal the toothbrushes sometimes they come in handy a lot. 
Q. Your most treasured souvenir so far?
I can't remember but definitely, a gift that I treasure is a guitar that was gifted to me by a fan in South Africa, her name is desired.
Q. Which country's traditions of fashion and jewelry do you admire?   
Italy and also Korea, not north though.
Q. Tell us something about your birth city and What do you most recall about your birth city? 
I was born in Mandsaur, Madhya Pradesh, I definitely recall playing with gully cricket, kanche, Maaram-patti (the one where you hit each other with a ball for no rhyme or reason) sittiloa (pithu) with my friends when I was a child.
Q. Traveling light: what tips can you share?
I am the wrong person to ask.

Q. Describe your travel style in 5 words?
Travel fashionably no matter what!
Q. How do you usually dress for travel?
Too subjective about how I am feeling.
Q. Upon entering your hotel room, what is the first thing you do?
Take a front flip on the bed. I've broken a couple of beds like that. Don't ask me which hotels were these with such cheap beds, I sometimes travel on a budget 
Q. What's better, the beach or mountains?
Q. When you travel, do you always carry a camera?
Q. When visiting a new destination, what do you do first? 
Explore, go pottering about.
Q. Aisle, Window, or Middle Seat?
Q. Road trip or International?
Q. Hotels, Airbnb, or Couch Surf? 
Never couch surfed, but hostels definitely.
Q. 3 countries, you have on your bucket list next?
Hampshire, Croatia, Japan.

Q.There are two types of travelers, those who carry loaded baggage and almost stuff everything and those who minimally do, so in which type or category do you assume yourself to be in?
Q. When traveling are you the person who's trying to relax or laze around the property and the poolside or trying to be a real traveler and like to explore everything real quick and cover everything about the place?
I'd say a mix of both depends on my company as well but if I am to make an itinerary i like to do things and explore more than just sitting and chilling by the pool, that's could be a few days of the holiday but not every day.
    • You have taken home toiletries from a hotel before. 
    • You do research about a place before visiting.
    • You always try the local cuisine.  
    • You are always updating your social media when you travel
AJAY is a successful entrepreneur, tech savy, and ardent traveller , he is a multifaceted personality. He has travelled to various domestic and international destinations and is an engineer by education. He is on the panel of High on Persona Magazine with a specific intention of advising to guide us to cater to our readers in holistic manner covering a plethora of subjects , He has penchant for writing and loves to write on technology. Email: [email protected]