With the evolution of the digital world, the scope for a wide variety of content and demand for innovative concepts in the film making has increased, No longer the work of film making revolves around the cliche subjects now as filmmakers are willing to break the glass ceiling and experiment with out of the box ideas for their movies. In India Bollywood, South, and Punjabi movie Industry is seeing rapid growth, and the popularity of Indian movies is growing in the international market as well. The growth of the sector is seeing the skyrocketing demand for filmmakers and aspiring filmmakers are in the constant lookout to update their knowledge and skills on the subject. However, many would agree that the best learning comes from practical training and work. 
"Hands-on experience always scores over the professional learning", shares ace filmmaker Karishma Kohli, who acquired her professional skills from New York and is now extending her expertise to Bollywood's big-budget movies. 
We interacted with Karishma Kohli and tried to explore the scope and possibility of film making as a career choice for aspiring professionals. While throwing light on various facets associated with film making Karishma also shared with us her own experience as a filmmaker. Having worked as Assistant Director in movies like 'New York' to 'Karishma Kapoor' starter Mentalhood recently she is on the constant journey to whet her skills with experience and churn out good cinema. 
Q. Did you take any formal Filmmaking training?
Karishma- Well, I did go to New York to study filmmaking. I was there for the two-year course, but I realized that actually the industry we are in, it's actually better to have a hands-on experience. When in New York, I made four films. It was a beautiful experience because on my team I had people from Japan, Argentina, and China. So, I just got a good insight of you to know how they see filmmaking, as we had similar subjects that we had to make films on. So, it was a good learning and a beautiful experience. But largely I came back to Mumbai and worked on films here.
Q. How did you meet Kabir Khan and how his guidance helped you?
Karishma- It is a funny story, I remember I was driving from Nasik to Sula and Kabir was putting up his team for Kabul Express and I had pretty much all his documentaries by then, I really wanted to work with him. For me, I was very driven by documentaries and I did want to just work on documentaries, obviously totally, discouraged by my parents as I was the kind who would take off somewhere and they were petrified about it. So, I called Kabir, and I remember my conversation with him and he was like, "Unfortunately Karishma, we are not taking any girls on, because we are going to Kabul, so maybe next time", obviously I was heartbroken then. Then, I happen to work on a film called 'Thoda Pyar Thoda Magic' back then in 2007, and it was produced by YRF and Kunal Kohli. Our office was not in Yashraj, it was in Ajivasan. I used to end up going to Yash Raj's for edits. I was a script supervisor and an online editor for the film. There, I met Ali Abbas Zafar, he was recruiting for Kabir's team for New York. So, he saw me around and asked whether I will be interested for Kabir's next. He was like but as a second AD. I was like OMG, yes! I will work as anything, it is absolutely fine.
So, in 2007, I met Kabir, I started working for New York and since then I just never left. He is the best mentor, I could have asked for. I still enjoy listening to his same stories, its been over 12 years. Kabir, Mini, and the kids are family to me. I have seen kids grow up. So, I remember the first day when I went to the set for my first show, "The Reunion",  I was a different person. I have been the first AD for so long and the AD in you never really dies. But on the first day, I was sitting on the corner, and as usual, things didn't go as per plan, but instead of loosing my cool, I was so calm and composed. I sat on that corner, and I realized and smiled, 'Wow! This is how Kabir would have reacted'. So, that was a good sense of realization and every day I went on the set, be it of 'The Reunion', 'Mentalhood' or my short film, I directed, every day-every minute, I have thought how he would have reacted and how he would have kept his calm. You know, when it comes to shot taking, I see a lot of Kabir Khan, that I am inspired by him. I have worked with him so closely. I remember for New York, he used to do reflection shots, and for me, photography has also been an integral part of my life. I have learned a lot of tricks from him. Shooting through a lot of reflections has been Kabir's trademark. I think that is something I too do that a lot.
Q.  At a very young age, you have got a chance to work with actors like Salman Khan, Katrina Kaif, Karisma Kapoor, or Mini Mathur, how does it feel?
Karishma- So, one the first film I worked on was Umrao Jaan, I was 18, it had Abhishek and Aish in it. The setup was very grand. It also had Shabana Azmi. I was definitely very nervous and excited at the very same time. That was first working with big actors. Then it came down to Salman, Katrina, Saif, Rani, Kareena, and now Karisma. I have learned a lot from them. I don't think I was really nervous to work with any of them. I have always enjoyed my job. I am always open to learning from anybody on the set. This is the beauty of filmmaking, right?
It could be a light dada, who could have been there for 30 years and I have so much to learn from him. Be it light dada, sound dada, or spot boys, they can teach you a lot. This is the beauty of filmmaking is that people from different sectors and come together, and everyone knows their department so well and there is no ego as well. It is just high of making something together. Creating and shooting something together for 100 days is great learning. My first film with Salman Khan was a bit intimidating, but through the shoot, we warmed up, so it was great working with him.

Q. What was it like to work with Karisma Kapoor for Mentalhood?
Karishma- So, when Mentalhood came my way and I was told the Lolo has been signed on, I was on 'top of the world'. I have always been a fan of Karisma Kapoor, always. It was like god sent. When I read the script, I loved it but I am not a mother, I am not married. I have very few friends that are married, I don't have a big joint family, I so don't have a personal insight into motherhood, but we all have a good insight into motherhood due to our mothers, as they have just been the best.
It was great working with her. I remember the first day we shot with her, I was sitting by the video village and starring her shot. I was in awe of her, I was like, "Wow, It is actually happening, I am shooting with Karisma Kapoor." Then she came and sat next to me, and she was like, "It's bizarre, I have worked with your dad, he directed me, and now you are directing me." Her mother, Babita Ma'am came on set. My dad has worked with her also. In a strange way, it was a film cycle, where we all have worked together, my dad worked with her, I have worked with her. It was a great experience.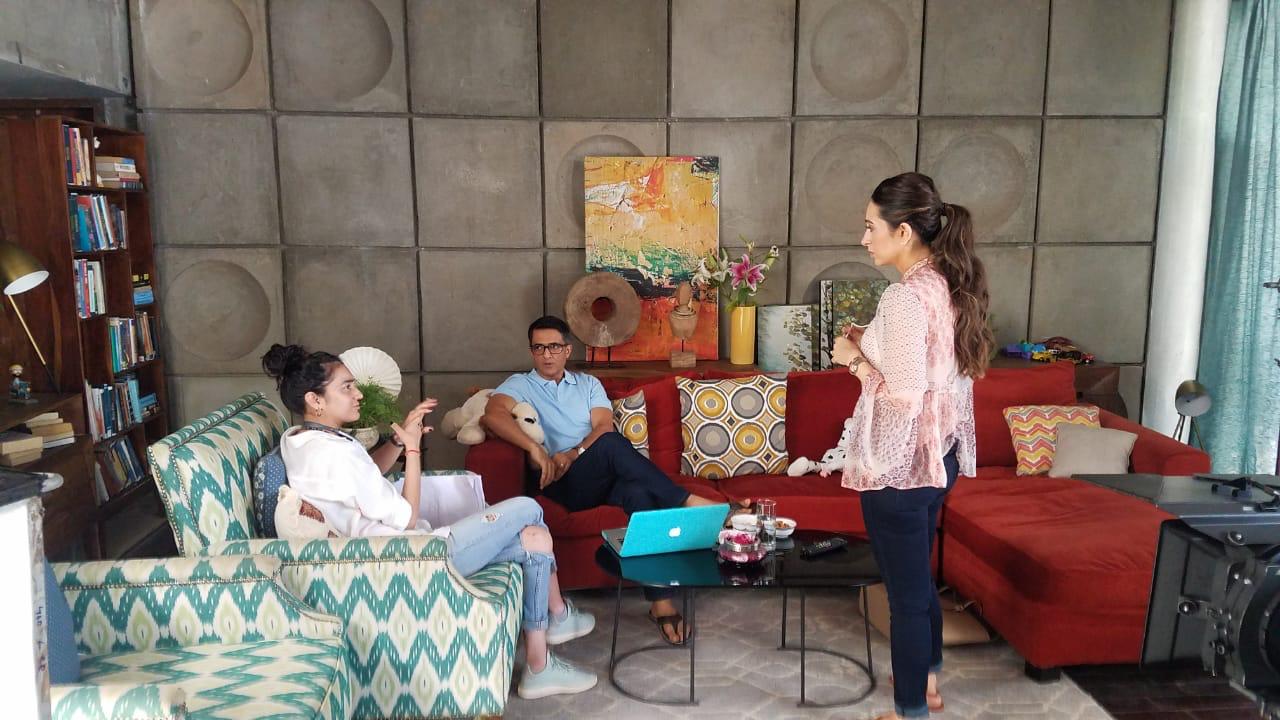 Q. Will there be a Mentalhood Season 2?
Karishma- I don't know, but I definitely hope for it. In these times, right now, we are just wondering when the industry will open up completely. Ads have still started but it is going to take a while for features and web series. I think we should ask this question from Ekta and hopefully, we can have a season 2.
Q. How has your life changed after the success of Mentalhood?
Karishma- Well, I don't think it has changed much. It's the same. I am happy that people really liked the show. I met amazing actors. I actually worked with a great bunch of actors, who are my friends now.  But otherwise, it is pretty much the same. I am happy and the same person.
Q. What kind of scripts are you currently working on?
Karishma- I have been working on the two scripts, both are family dramas. That is my strength, I enjoy family drama more than a Love story. I have never really gotten down to writing a love story. But, I also find love in families, there's where actually a core relationship is, whether it is a mother-daughter relationship, or father-daughter, with grandparents or even among siblings.  So, I have been working on two scripts around these topics.
Q. How can upcoming filmmakers approach you?
Karishma- They can just message me, call me, or mail me. I am very open to having chats with people. It is funny, but I remember there you used to be one boy, who used to message me for AD's job, I tried to get him a job here and there. I have never met him, so one day he just called me saying that he has been offered a job of Script Supervisor, I don't know what to do, I have never been a script supervisor before. So, I was like Okay, we sat on the phone for 20 minutes and explained to him what exactly a script supervisor does.
After hanging up, I felt like I have just had a long conversation with a random stranger, explaining to him about a job. I am very open to chatting with people.
We all have been in the same boat, where we would have to reach out to someone for guidance, so I more than happy to talk, chat, and guide someone.
Q. Suggest 3 Movies/Series that have intrigued you in COVID phase?
Karishma- The Politician, Sex Education, and Dark, I have enjoyed these three-spaces.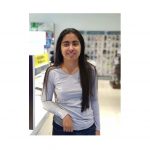 Divya Khanna is the youngest member of the team, with a background in political science. She has joined High on persona print magazine in order to gain hands-on experience in various aspects of editorial coordination as associate editor of the magazine and news site. She has a penchant for writing and enjoys meeting new people and interviewing celebrities. She has a passion for writing, she has an eye for details, loves traveling, and a quick learner. She comes from the Mecca of Indian Journalism, Delhi.
Email: divyakhanna3197@gmail.com