'Bebaakee', better known As Frankness in English, is streaming on AltnBalaji currently. The web series has received excellent ratings and responses from the viewers for the very fresh content, unlike other cliched or banal subjects. Although 10 episodes of the show are released, viewers are unable to speculate how the story is going to unfold in upcoming episodes. Hence, they are waiting with bated breath to watch the remaining episodes. Giving a slight clue about forthcoming episodes the main lead actress of Bebaakee, Shivjyoti Rajput divulged and informed, "I can only tell you that people will get to see a lot more 'Bebaakee' in the forthcoming episodes", well viewers are definitely prepared to be amused and beguiled by an added dose of entertainment. For now, she remains a happy camper as her heart is imbued with glee for all the praise she is receiving for her performance. 
During an immersive and freewheeling conversation with High on Persona, she also expressed her desire and aspiration to work with her favorite film star Ranveer Singh, As she remained hopeful to be paired against the heartthrob of Bollywood and make her Bollywood debut, we got her engaged to participate in Rapid Fire round and disclose more about her debut in 'Bebaakee' and its forthcoming episodes. 
Q. Tell us about your role in Bebakee?
Shivjyoti: Kainaat is a go-getter, calm, humble, and result-oriented person. She is a very principled person. She is highly self-disciplined and she doesn't consider her self-discipline as a flaw. In today's generation, people think that if you are disciplined, you are boring but she doesn't really give attention to those negative comments. She feels if you are a disciplined person and you are dedicated to what you want in life, you can go ahead and get it. Life is not about wasting time, life is all about utilizing time in the right manner and I think that is what Kainaat is doing. She is grabbing each and every opportunity at the right time or I would say that she is doing the right things at the right time.
Q. How was it working with Kushal Tandon, since he is an already established actor?
Shivjyoti: Kushal sir is a very warm person and he welcomed each and every one of us so well. I remember, on the first day of the show, he was told me that Jyoti, I am on the same page as you and Karan. You guys aren't different, I am on the same page. Don't consider me that I am on the 20th page, I am on the same page as you are. Don't see me like I am someone who is already there or established. It is our web series and it is a beautiful story, so we have to work together on this, so I think that unity and respect that he has given to me and Karan, it was amazing to see such a big actor say things like this.
Q. What are your upcoming project, what's more in store for your fans?
Shivjyoti: So far it is Bebakee, we are still shooting it. You are going to see a lot of Bebakee in the coming times and apart from that I don't think so, now is the time to talk about it. Once the things are out, you and I will chat here again.
Rapid Fire Round with Shivjyoti Rajput
– An actor you would want to work with?
Shivjyoti: Ranveer Singh
– If you need career advice, whose number would you dial?
My Brother
– A director you really want to work with?
Shivjyoti: Karan Johar
– An Instagram account you secretly stalk?
Shivjyoti: Nobody, I don't spend too much time on Instagram.

– Akshay, Saif, or Kushal Tandon, who would you want to work next with?
Shivjyoti: I am working with Kushal sir, we are shooting for Bebakee. Saif sir, you know maybe one day. I have worked 3-4 times with Akshay Sir in the past, but I would love to do a full-fledged movie with him.
– If you have to start a rumor about yourself what would it be?
Shivjyoti: That Shivjyoti has got 6 pack abs
– A form of exercise that you love?
Shivjyoti: Squats
– Yoga, Pilates, Weight lifting, Cardio or Kick Boxing?
Shivjyoti: Yoga. I am not a ritual follower of yoga or pilates. I control my diet more than anything else because you know being in this profession, you hardly get time to do the workout. You have to find the time, so home workout comes to rescue at times.
– What is one food you wouldn't want to give up? A guilty pleasure of yours?
Shivjyoti: Halwa
– A hobby that you have adopted or you revisited in this pandemic phase?
Shivjyoti: I have been reading books, and restarted writing. I am working on creating new content.
– Books that you would want to suggest?
Shivjyoti: I am from a management background, I am reading those books only and I don't think so, anybody would want to read those books.
– A place where you would want to travel post COVID?
Shivjyoti: My Home in Delhi, I'm currently in Mumbai.
– 3 all-time favorite movies
Shivjyoti: Dil To Pagal hai, Salaam Namaste and Hadh Kardi Aapne
– One thing you would want to have before turning 30
Shivjyoti: Lots of Money and a Bentley car.
– An actor you secretly admire?
Shivjyoti: Diljeet Dosanjh
– An actress, who inspires you?
Shivjyoti: Madhuri Dixit
– Most used app on your phone?
Shivjyoti: Snapchat
– Who is on your speed dial?
Shivjyoti: My best friend
– The last person you texted?
Shivjyoti: Meetali, my publicist
– One day, If you wake up as following, what would your reaction would be or what would you do as that person:
A.Ekta Kapoor
Shivjyoti: I would make amazing content shows for Television, OTT, and movies.
B. Kushal Tandon
Shivjyoti: I will pull off great and fun pranks on the people around me.
C. Akshay Kumar
Shivjyoti: I will call Jyoti and say let's do a movie together now, just sign it.
D. Ranveer Singh
Shivjyoti: I will be dancing here and there without any shame and shine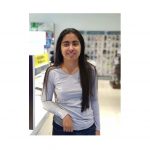 Divya Khanna is youngest member of the team, with a background in political science. She has joined High on persona print magazine in order to gain hands on experience in various aspects of editorial coordination as associate editor of the magazine and news site . She has a penchant for writing and enjoys meeting new people and interviewing celebrities. She has a passion for writing , she has an eye for details, loves travelling and a quick learner. She comes from the Mecca of Indian Journalism, Delhi.
Email: articles.divyakhanna3197@gmail.com