She is someone who has proved her mettle in a very short time not just in Bollywood but has also secured her position in Pollywood and in the South film industry too. Coming from a household of revolutionaries Sonia Mann has an altruistic personality by instinct and during the COVID crises, we saw that side of the actress as she worked as Police Volunteer during the Lockdown period. "Working as a Police Volunteer during Covid-19 Lockdown was a new thing and helped me look at things and understand that there is nothing larger than life, so to all young and vibrant aspiring actors I'd like to say" – "Jaan hai toh Jahan hai" be patient and excellence will follow, said Mann while leaving a message for young and ambitious actors.
During tough times and phases of toxic idleness, 

Mann

 has been practicing social distancing and taking all due precautions while working on her upcoming projects, even though it's not very congenial but she is still doing what she can and trying to break a sweat on the sets by keeping a diet and fitness routine to boost her immunity, after working as a police volunteer it was only valid to understand the pandemic up close and inject the insights to her and carve some sets of precautionary measures.
This young and beautiful actress has held her fort for long yet there's so much about her that is yet unknown to many, she indeed is a person of great substance given that she is prodigal with talent. 

Mann

 has seen it all from the professionalism in the south to highs and lows of Punjab movies and favoritism that prevails in Bollywood,  but all this has not let her lose her pace and is also seemingly vocal on issues surrounding the entertainment industry which surely adds to her undaunted and convivial charms.
But, Not anywhere is everyone unfair. "I have received great mentorship from Himesh Reshammiya Sir and Salman Khan Sir as well", so it would be unjust to dump the blame on the film industry as a whole, testified 

Mann

 who is now working on a sequel of "Happy Hardy and Heer " with Himesh. Walking us through a period of life that left 

Mann

 in a blue funk for some time,  when she was replaced by Parineeti Chopra in Sidharth Malhotra starer "Jabariya Jodi" at the last minute because 

Sonia

 wasn't a famous face around Bollywood at that time, this perhaps says a lot about talent and connections' placement in the shelves of Film Industry. But this did not leave the actress perturbed and she stood strong and tall against all adversities she faced in the beginning. Today her plate is full and she is brimming with enthusiasm following a plethora of lucrative offers and projects, hard work and patience have certainly paid for the actress. Success has not come as a benediction but she is working hard to earn it. Today a lot hasn't happened regarding nepotism in Bollywood but a lot has been said concerning the launches of star kids to which 

Sonia

 

Mann

 also added, "Every industry be it Tollywood, Pollywood or Bollywood have had their shortcomings but Nepotism is not just a shortcoming anymore but a problem that's taken down people into depression and even left them sulking. 
Sonia

 

Mann

 went all candid with Divya Khanna, Associate Editor, High on Persona on vivid issues concerning the current state of work in Bollywood, Pollywood, and Tollywood while divulging information about her personal life. Presenting exclusive excerpts from the candid chat :
Q – Please tell us about your future projects in Punjabi, South, and Bollywood movies?
My plate is full currently and I have to resume work for impending shoots and projects, recently my Hindi film was released, I had a two-film contract with Himesh Reshmia, another movie which is a sequel to happy hardy, Tanu weds manu's producer who made 'jabriya jodi ', 'judgemental' movie, In addition to that I am doing music videos too and the shoot for the same took place in Benaras. 

Q- How comfortable do you feel to shoot in the time of Corona, there are different perspectives about the commencement of shoots as some feel comfortable with this and some are still refraining?
Yes, indeed the situation is not very congenial for the commencement of the work, but one has to be responsible for maintaining social distancing and keeping safety measures under check while working. I am currently shooting for a song, have also done a bridal shoot for a brand. whatever could be possible by being inside the state I have done, I am not planning to cross over to another city for shooting right now. 

Q- What kind of extra measures you will take up if you decide to begin work?
The situation has taught us to be extra vigilant about many things including health and wellness. I am being very careful about my diet and fitness routine too. 

Q – How innovatively you spent your time during the lockdown, your fitness and beauty routine, also tell us about your diet regime? 
Well during the lockdown period, I registered myself as a police volunteer and worked with the police in different villages, we provided food and took care of basic necessities of villagers. providing food from visiting different villages. As for my diet, I am always on diet, I avoid dairy products and sweets. I believe in eating organic and seasonal food and my diet includes lots of fruits and vegetables. 

Q- Have you been in touch with Himesh Reshammiya after doing a movie with him, any plans to repeat your on-screen camaraderie with him?
Yes already doing part 2 with Himesh Sir, he is like a guru to me. Whenever I am stuck up with something I look up to him for advice. Even Salman Khan sir also gave me several tips about fitness and motivated me. 

Q- You were quite vocal and audacious about raising the issue of nepotism in Bollywood after your predicament by being replaced in Jabaria Jodi, what's your stand now?
Nepotism is definitely there, Youngsters don't get the kind of lavish launch star kids get, they get good pr support and a good number of screens. Everything is pre-planned for a star kid from cover shoots, appearances, sponsorships, shoots, acknowledgments, tie-ups with stylists, and designers. Newcomers don't get all these privileges and unaware of all this. 

Q- Do you think that practices like nepotism and casting couch exist in Punjabi cinema too or in south cinema for that matter?
No in Punjabi industry there is no nepotism but groupism is definitely prevalent in the Punjabi movie industry. Singers are given preference in Punjabi industry and there are many good singers, the issue of casting couch also exists and I believe that exists in any industry.  My stint in Punjabi industry, however, has been smooth, I am happy that I got to work with Harbhajan 

Mann

 who is the backbone of Punjabi cinema, the family of Dara Singh ji also helped me a lot in Punjabi industry. 

Q- What's your message for aspiring actors who are talented and want to make it big but don't have any Godfathers in the industry?
It is very important to keep patience whether you are in Bollywood, south, or in Punjab. I have been in this industry for the past 10 years, one should not succumb to depression and take a drastic step because " jaan sey zyaada zaruri kuch nahi hota;', nothing is more important than your own life. Recently Sushant Singh Rajputs case shocked everyone, I fail to understand why he had to take up this kind of step, he had a flourishing career, from nowhere to somewhere he created a name for himself in a short period of time. Maybe there were some personal issues too that were bothering him, from the media reports different things are being shown and names of many celebrities are being dragged into this controversy. Since I know Salman sir one thing I can say with surety that he can't think bad for anyone. I still remember how he encouraged me to go to the gym, improve my Hindi and be an all-rounder, he told me " Ki kya tum competition face Karney key liye taiyaar ho ? ( Are you ready to face the competition )"  I am also a girl from a non-filmy background yet I received overwhelming support and encouragement from Bollywood. 

Q- Please tell us about the characteristics of Punjabi and South cinema, which medium is more appealing to you?
In the south everything is preplanned and disciplined, everyone is thoroughly professional, they know everything beforehand and back up everything with proper research. My experience in Bollywood is also great. 

Q- Punjabi cinema still has its limitations and boundaries and is still evolving, what are the reasons for the slow pace of Punjabi cinema?
I think in Punjab many movies are made but all of them are not promoted properly, only singers are promoted as hero and they remain real heroes for films. Talented Actors don't get the kind of recognition they deserve. Like in Bollywood performers are admired and artists like Naseeruddin Shah, Nawazudin Siddiqui, Irrfan khan get all the credit, they are real actors.

Q- Any plans to venture out with the OTT platform?
I am still contemplating that right now, I have received a few offers from Balaji but for web series, you ought to expose more. I come from a traditional background and have responsibilities, there are limitations that I don't want to cross.   

Q- Five places to hang out in Punjab, South, and Mumbai?
I love to hang out in Amritsar for its food, Chandigarh for the calm and tranquility of the city. Hyderabad when in the South for its appealing vibe.

Q- Your favorite eating out joints in Punjab, Mumbai, and South?
When I am in Mumbai, I love visiting Bombay Salad in Bandra, they serve organic and tasty food with a good array of salads and when I am in Punjab I don't have to think much about the taste and food its good even in a Dhaba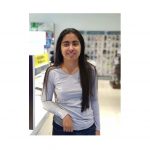 Divya Khanna is the youngest member of the team, with a background in political science. She has joined High on persona print magazine in order to gain hands-on experience in various aspects of editorial coordination as associate editor of the magazine and news site. She has a penchant for writing and enjoys meeting new people and interviewing celebrities. She has a passion for writing, she has an eye for details, loves traveling, and a quick learner. She comes from the Mecca of Indian Journalism, Delhi.
Email: divyakhanna3197@gmail.com