Highlights:
Salons in Metropolitan cities find innovative ways to deal with the crisis.
Spas & Salons in tier 2 cities pledge to create COVID safe environment.
Starting a business is risk-bearing and hectic where revenue is not promised but investment must be done. The salon industry is no different, where it takes years of training to learn the craft, personalize the experience for the client to win over them for the healthy growth of both customer and the service provider.

Just like any other industry the outbreak of COVID-19 has hit the beauty sector hard too. However, for the beauty industry, the blow is only severing because the business is done in close proximity with customers and it cannot be stressed upon enough that the use of hands is simply inevitable.
Breakdown of COVID-19 is changing the dynamics of the beauty sector and the pinch is felt across geographies. The industry is grappling with ambiguity and challenges but at the same time remains determined for staying relevant and mitigating, the impact by bringing in transformations in the form of increased safety and hygiene measures. As salons reopen in many countries, the scenario looks uncertain and hazy in India. From metropolitans to tier two cities, states are having different approaches and contemplating zone wise strategies.
HIGH ON PERSONA tried to explore the landscape by talking to celebrated stylists, established beauty experts, and freelancers from different cities. We discussed with them about how the landscape is evolving for them and how they plan to bounce back while working through innovative ways of staying relevant.
In the time of challenge Richa Aggarwal, promoter of Cleopatra chain of salons is keeping her chin up, she remains unequivocal and positive. For her, it's a no holds barred scenario. She is training her team for zero-touch beauty therapies and is going to enhance all safety and hygiene measures. "After reopening the salons our priority is to unveil zero-touch beauty services and therapies. We are going to adhere to the guidelines issued by the government", She informed.
Visiting salons used to be an alien concept a few years back in city beautiful Chandigarh, but now it has become part of the lifestyle. People are impatiently waiting for the salons and spas to open. Throwing light on the scenario Richa Aggarwal feels concerned and adds, "Yes it's true that people are eagerly waiting for salons to reopen soon. Beauty, the community has felt the impact of a pandemic but we do not want to take any chances when it comes to the safety of our staff and clients. Therefore, we are not in the haste to open Salons. Rather we will prefer to ensure all measures first and go for a phase-wise the opening", she informed.
On asking about the plans for enforcing the safety measures, she informed, "We will go for staggered appointments, adhere to hygiene norms as laid down by the government. You will see changes from the entry point itself, no walk-ins will be permitted, appointments will be pre-booked, temperature check will be done at the gate itself, zero wait at reception, digital payment, checking Arogya Setu app, constant sanitization of salon and surfaces will be done stringently. We will use disposable kits and tools, disposable towels, disposable bed sheets, single-use kits, and many other measures that will be implemented too. We will adhere to social distancing norms like ensuring a distance of six feet, working with 50 percent reduced staff strength, the spacing between chairs, etc. In addition to this, wearing protective shields, masks, gloves, glasses will be a binding and necessity for everyone present inside the salon area, client or staff," informed Richa.
In an unprecedented time like this, the rampant trend is also seen where people are calling freelance beauticians for home beauty care services. However, the practice remains fraught with risks as safety measures are compromised and chances of transmitting the infection are higher. On asking about the surge in these kinds of instances Richa cautioned against the practice and said, "Even we are getting calls from our patrons for providing home beauty services, but we don't promote that as we would prefer to serve our clients at completely sanitized environment by professionals who are following all safety and hygiene norms."
As pepping up safety measures remains a priority, keeping in touch with the clients is crucial too. Hiral Bhatia, a Mumbai based celebrity hairstylist of Bollywood actor Sonam Kapoor, is keeping her fingers crossed and hopes that situation will become normal soon. She is utilizing the time to maintain contact with her clients and is working towards enhancing her skills. In an interview with High on Persona, she divulged, "I feel that corona is going to be a part of our lives for a long time. All of us need to be careful, alert, and remain positive while inventing ideas to serve our clients better. Things will get back to normal. It is easy to assume that Shoots for which I have to do styling will start a little later though. Many shoots that were scheduled and were canceled due to COVID will be taken up first. Again, this is my opinion, I do not know what call the authorities will take. Currently, I am utilizing the time to teach online, I am taking master classes, shooting videos, and tutorials on easy to do hairstyles. In addition to this, I am also giving at-home hair care tips. However, we are not promoting cutting hair at home. Post this lockdown, many people are going to rush to salons as they are in desperate need. After salons reopen, I will spend more time in the salon but reducing the number of clients and maintaining the utmost hygiene level will be the top priority. Moreover, I am also expecting to do fun haircuts with a lot of texturing and new coloring techniques."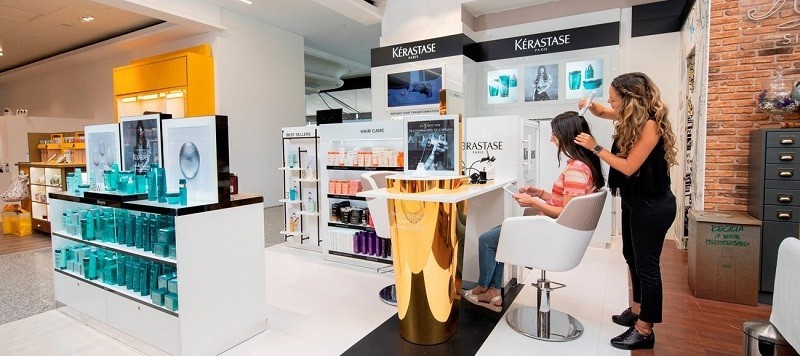 Situation though remains challenging for the fraternity but salon owners are resolute to take up the gauntlet and remain positive in the face of adversity. Delhi based beauty expert Aashmeen Munjaal, who runs a chain of salons in different parts of Delhi the situation is challenging but tamable.
She remains optimistic and feels, "This kind of crisis has never been experienced by anyone. Salon industry the world over is still trying to come to terms with this. Fraternity across the globe is implementing safety protocols and strategies to cope up with the situation. Like anyone else, we too are waiting for the lockdown to be lifted and salons to open. However, as the situation is new for us so we prefer to depend on the guidelines issued by the government.
Revealing about the beefed-up safety measures she added, "We remain determined to execute all precautions as per the guidelines given by the government. As part of our enhanced sanitization strategies that remain vast, we are contemplating preparing a sanitizing spray tunnel for our staff, for clients, or whoever visits the salon. We will do therapies that are contactless for example threading will be done through hands only with hand scissors movement. We are training our staff with innovative techniques to do therapies through webinars. All this will be slightly difficult in the beginning but will be manageable; in any case, there will be no compromise with safety. Eventually, the situation will get better for everyone", concluded Munjaal.
Delhi based beauty expert Mallika Gambhir also echoes a similar sentiment and adds, "This is the time for salons not to think about making instant business but assuring clients about creating the COVID safe environment. People will be apprehensive to visit salons hence inviting them for trials will be a good idea, also sharing videos with them about hygiene measures will make them feel comfortable. Everyone wants to visit salons but no one wants to take chances with their safety. Post lockdown salons will no longer be the area for waiting or relaxing at the lounge, clients will have to reach at a fixed time, get the work done, and leave", she concluded.

Just like many others, Mallika is also ready to incorporate all necessary changes.
In smaller cities, keeping clients hooked and involved is a crucial task but with intensified efforts, it has become a new norm for many Salon and Spa owners'. Social Media Handles and the internet has once again come into play largely. In Jaipur, famous brands like Lakme, Style n Scissors, Silverine Salon, and spa have taken it to their Instagram handles.

They are trying to keep people engaged and the clients intact by paring up with renowned stylists and going live with the DIY Home friendly sessions to keep the skincare routines in place as well as teaching different ways to practice make-up and styling on their own which justifies the rising make-up sales during the pandemic.
According to Purnima Goyal, Beauty expert, Silverine Salon & Spa, "We are harnessing technology to remain in touch with clients and staying relevant. While giving us insight into how her brand will manage to operate post lockdown she said, "In addition to providing salon services we also provide spa services. Hence, keeping optimum standards of hygiene and sanitization has been a regular practice for us. Moreover, from now onwards we will escalate our efforts and be extra vigilant. Everything from chair covers, towels, gowns will go disposable, a single-use kit for the purpose of beauty services will be used, and contactless hair services will be implemented. We remain a technology savvy company and we will incorporate several technology-driven measures too. From the lift, lift buttons, lobby, surface areas, and entire salon area will be sanitized. In addition to this, we will de-clutter space and go minimal with things.
But there are small scale salons also who aren't resourceful enough to have collaborations with world-class stylists and display their craftsmanship but to stay in business they are posting COVID-19 guidelines in their own fun way. They are incorporating beauty hacks and information at the same time; some have taken to YouTube, uploading DIY haircut tutorials or homemade face packs, etc.

Rajni Gandhi of Perfect Look Unisex Salon, Jaipur says "We are trying to make the best of what we have by learning from online classes and will come out better prepared and more qualified in our fields to serve best with our services"
The Industry is testing its cards and will slow down sometimes, but, gradually will emerge to win.