White sand, pristine, off the beat and unexplored beaches surrounded by hillocks and mounds with a lavish variety of eateries are the ethos of South Goa. Relishing the seafood with global delicacies of South Goa remains a fascinating experience for travelers and food connoisseurs. The spread of global palate through shacks and happening eateries in the bylanes of different beaches top the wish list of ex-pats and Indian travelers. 
Inadvertently, we bumped into one such eatery called USSR run by chef Femmy or people also call this USSR, FEMMY'S KITCHEN, the restaurant in Canacona serving Indian, European and Asian food right in front of Lalit Hotel in South Goa, where we stayed during our trip. Although the restaurant was very raw and simple with minimalistic decor from outside as we entered inside the entire place oozed comfort and simplistic charm thus giving us an unexpected experience. Looking at the board and banner outside the place we thought that the restaurant specializes mainly in Russian and global cuisine, Albeit, we were slightly apprehensive to explore the place. 
We were in two minds but we decided to move ahead and rather try the Goan delicacies there. Chef and owner of the place Chef Femmy was standing at the gate itself with beaming smile,  he escorted us and suggested us signature delicacies of the place and gave us personalized attention, all this made us feel pampered already. And USSR as the name suggests restaurant is a hit with Russian ex-pats and the place was bursting at the seam. The chef was giving personal attention to each guest for their gustation delight with his amiable demeanor. when asked how he manages to do all the things with finesse and ease, he replied, "All my guests are like my friends, they come to my place to have a good time over good food and I want to ensure that they leave my place with a broad smile on their faces, in addition, to give them delicious food I want to give them a sense of comfort and fun too", well said Chef Femmy. Coming to the ambience of the joint, this was reverberating with Indian Bollywood music and the chef himself was on Karaoke and singing Kishore Kumar hits. While chatting with us, he even told us that he sings every Sunday at Agonda beach and also conducts cookery classes for the amateurs, Chef Femmy definitely left us inspired and impressed. 
Chef Femmy's had set up a counter of fish too and guests had the privilege to select fish and get that prepared according to weight and quality of it, they looked happy to select their fish and saw it being cooked live. As I shared my concern of being a bit skeptical about the quality of the fish and strong weft and odor of the fish that always deters me to tuck into, Chef took note and paid extra attention by his ingenuity and skills to prepare the fish that was marinated with specific condiments to mask the odor of the Red snapper fish that we ordered. And I must underscore that to be a must-have on your wishlist too. Menu carried a lot of basic Indian kitchen delicacies like lentil seasoned with cumin seeds and coriander, the taste of ginger and garlic is still lingering on my palate. Punjabi Yellow Dall Tadka and Allo Gobhi was a pleasant surprise amidst the nonvegetarian cuisine, we felt like sitting in a Punjabi restaurant that served Punjabi delicacies cooked in perfect desi and traditional style. The staff of the restaurant was very polite and prompt. The place had ample space from the open verandas to the first floor overlooking beautiful Goan houses surrounded by greenery in nearby area and Hotel Lalit from the front side area. I will not lie but during our long stay of more than a week, we visited USSR several times to satiate our cravings for Indian and Goan food and even got the tasty Daal Tadka packed for ourself which we relished in our hotel room.
How badly we wish that the covid 19 period gets over soon and we fly back to experience the buzzing life of Goa and also get to relish delicious food at Femmy's Kitchen USSR.
Location : Femmy's Kitchen, Rajbaga, Main Street, Canacona, South Goa, Opposite Lalit Golf & Spa Resort, South Goa.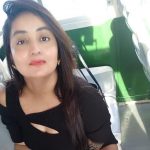 She has been there and done that. After graduating from Delhi University, she completed her diploma in Journalism from Bhartiya Vidya Bhawan, Delhi. Down the line, she completed her internship with National Herald Newspaper successfully,, and went on to Join Mainline Business daily, Business Standard. She also dabbled in image management and brand consultancy. She is a prolific writer on lifestyle entertainment, branding, lifestyle, travel, and politics.
Contact her at hopdesign07@gmail.com