Exclusive Interview with Jaipur based fashion designer Himmat Singh 
Jaipur is known for the royal and cultural grandiosity, magnificent destination weddings, and high-end fashion. Royal Exuberance of fashion and larger than life weddings that used to portray the ethos of the pink city has somehow lost its ebullience and luster. Just like any other corner of the world, the pink city is also withstanding the worst due to the outbreak of COVID 19. "Those lavish events, weddings and now the nightlife and party life that the city was getting accustomed to now look memories of the past, those were the golden days", reminisces ace fashion designer of Pink city Himmat Singh. 
In an exclusive interview with High on Persona, the designer opened up on how his sector is coping up with the crisis, he also went on to tell us how other related sectors like wedding, hospitality, and event industry is suffering, leading to direct fallout on the fashion industry.
However, the designer known for being one of the heavyweights in his sector chooses not to be bogged down by the gloomy scenario, but look into the eye of the storm. He has his plans set to unleash a new line of affordable yet classy collection to keep the things afloat. Reviving Khaadi, adding inventiveness to the cool fabric, helping Indian weavers and artisans is a priority for him.
Known for designing couture fashion he boasts of an impressive tally of clients including the elite of India and Rajwadas. His designs are donned by Bollywood's who's who like Amitabh Bachchan, Comedy king Kapil Sharma and Bollywood's Singham Ajay Devgan to name a few.
While speaking to us designer also expressed his views on how India can benefit from 'Vocal for local', the boycott of Chinese products and the issues he feels most touched about that is inculcating values of self-reliance in his kids.
How are you coping up with the crisis caused by the pandemic?
The situation is very grime and gloomy all over the World and Jaipur is no different. However, the pandemic has proved to be a teacher to the humankind and given good learning to all of us. This has come as an epiphany and a profound lesson. Pandemic has made people self-reliant and changed their habits in a positive way. I personally try to make my children imbibe and ingest the true meaning of empowerment and sanskaras through self-reliance during this period, they have learned to do all household chores too. Empowerment is not just a cliché or rhetoric frippery. If you are empowered you can do your own work rather than depending on others. Being independent and self-reliant is truly empowering. The virus has also made us learn the importance of social distancing, good hygiene, work from home, online education, virtual meetings, etc. Earlier we used to waste a lot of time traveling to far off locations for meetings or work but now we know that all that was unnecessary and wasteful and we can now cover up for that through virtual meetings.
Secondly, I think pandemic has changed our perspective towards life. We used to be spendthrift and drivel away impulsively and arbitrarily but now we are trying to live the frugal way of life. People used to spend a whopping amount in ostentatious weddings and ceremonies for the snob value and for a status symbol, which actually has no real meaning. Now they can do a wedding in a meager amount only. People in this time have cherished the bond of family, doing small little things together, trying to pep up each other, and understand each other better.
Are you satisfied with the role of state Government?
Sadly, the role of government during this pandemic has been very abysmal as testing was not done munificently as well Authority could not restrict the migrant laborers, as a result the situation further deteriorated. During the lockdown, people were not earning anything but they were paying school fees, all the bills, loans, etc. There was no respite or rebate from the side of the Government too.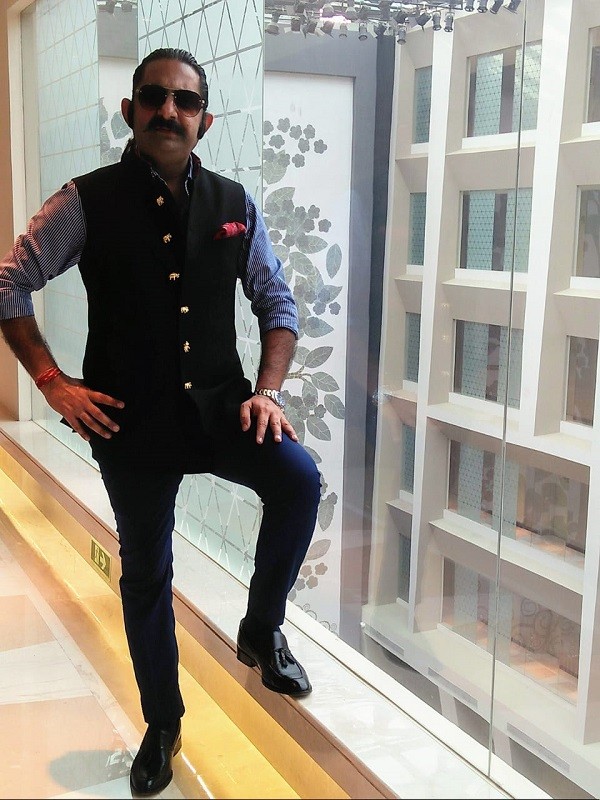 How has your Industry suffered and is gearing up to bounce back now since the lockdown period is over?
There is no demand or liquidity in the market. People are not willing to spend on fashion. At most, they will buy for torn clothes or would go for clothes that are very basic and necessary. No one wants to go and buy high street fashion as this involves selecting and trying clothes. People will make random or online purchases only. In addition, couture fashion designers are going to face a very tough time. In the end, you will see people going for the made to measure over on the cuff clothes. Moreover, people buy couture fashion during weddings and events but right now, that possibility looks dim. Events are not happening and there are no parties too, Booze and binging are plummeting, the nightlife is passé. Hence, the hospitality sector, event planners, and caterers are suffering too. These core areas are highlights of Jaipur and things have come to a sudden halt. Weddings and event management go hand in hand and the entire chain is suffering too.
To bounce back I am going to remodel and reshape part of my business segment. I have planned to revive Khaadi and the plight of artisans and weavers. I will dedicate a special line to Khadi, remodel the fashion line and catapult affordable line keeping in view the wearability.
What is your take on Vocal for Local, do you think it is going to help the fashion sector?
Yes to a great extent, from my side I will make sure that I do not source anything from China now, fabric, padding for dresses, buttons, or accessories. I will source all this from India only and sometimes from the US. We have seen how in difficult time only local products have saved us; we must promote local artisanship, manufacturers, and local goods. Towing in the line of Modi Ji, I am receding the business form and trying to remodel by using indigenous products over any Chinese products. Khadi and linen are going to be the cornerstone of our fashion line as both yarns are best suited for skin, especially in a hot and humid climate. In fact, I would make an appeal to Bollywood for not promoting China through their movies. Film stars inspire people and they are followed frantically. Hence, it is very important that Bollywood becomes very responsible during their projections and promotions.
How did you spend the time during lockdown?
Well even now, I prefer to work from home. I wake up early in the morning, do meditation, yoga, pooja that goes for one hour to be precise. After that work begins in my mind, I do zoom meetings and give time to family. I feel thankful to God that I live in a big bungalow with facilities like Jacuzzi, pool, etc so staying fit and healthy on my priority list too.
What kind of diet are you taking to boost immunity?
As you know Rajasthani food is loaded with Indian herbs and masalas like turmeric, black pepper, ginger, coriander, and garam masalas, so all my meals are good enough for immunity. Chatak masaalas, Chaach, and milk are a regular part of a diet for a Rajasthani and by default; we are taking an immunity-boosting diet only.