By now all of you must be tired of being cooped up for long and every part of yours must be itching to go unshackled and unrestrained. You are willing to let your family get off the hook too and go unrestrained with your plans to unwind. So If you had kept your ambitious holiday plans on hold due to the outbreak of the pandemic followed by restrictions it's the time to feed your wanderlust now. explore the far-flung destinations and find your way around.
Although, you must be getting a lot of information on the internet on vivid options to choose from the most sought after destinations but we thought of making globetrotting celebrities and travel aficionados your travel companions to lead you to the best of the places and decode the most exciting locations for you. From Big towns to tranquil getaways, decadent, and most coveted destinations these celebrities have rounded up a plethora of exciting options for you to choose from.
As a jet setting actress and model Asmita Sood has been documenting her vacations through captivating pictures on her social media feeds, be it indulgent dinners, satiating brunches to soaking up in sun and exploring exotic locations, her feeds are giving her fans reasons and temptations to embark upon a journey that is full of fun, razzmatazz, and adventure. As part of the series, we are set to make you familiar with some facts about this beautiful long country located in Northern Europe.
Living in Norway is like living the life of a protagonist of a Hollywood movie. Especially, in the major cities like Oslo, the capital city. The nature of the climate and people here is vividly opposite. On one hand, Norway experiences extreme and huge differences in climate on short distances due to its geographical location. On the other, people here are tolerant, humble, and open-minded. Norway is a green country and you are never far from the serenity of mountains and fjords. It is a saying in Norway each fjord has its own characteristic and personality. You can take a cruise around the 'seven sisters' waterfall which is strategically placed alongside the 'bridal veil' and the 'the suitor'. Other than this, the lush green mountains here welcome you to trek in the summer and early winter season.
If you want to witness coastal islands, incredible landscape, glaciers that make their way through the sky, untamed rivers, wilderness and much more than Norway is the way to go. In Winters or summers, the entire city has its unique charm and highlights. Activities like dog sledding, northern lights, white water rafting, skiing, snowmobiling, etc keep you on the edge and busy. Hence we can safely sum up saying that his place makes a perfect choice for fitness freaks who want to make the best use of their holiday while keeping themselves fit. You should at least spare one week's time to get a feel of this country and you must cover Stavanger Region (Southwestern Norway), Flam (Southwestern Norway), Tromso Region (Northern Norway), Svalbard – Spitsbergen (Arctic Region)  once you are in Norway. 
Due to the long coastline, seafood is common and majorly eaten across the country. Other than this, the Norwegian Flatbread is a traditional favorite. Bread/open sandwiches are often covered with some kind of toppings and are called 'palegg'.
One thing that differs Norway from the other countries of the world is that other countries have monuments and places to visit, but in Norway, tourist visits the whole city. The main attraction of tourists here is the northern lights in northern Norway. The Viking Ship Museum of Oslo is a treat for history lovers. The popularity of this museum has led authorities to extend the museum, which will be available to the public by 2024/25. Cities like Oslo, Bergen, and Stavanger have their own vibes which just trap tourists in themselves and make them fall in love with this country more. The most beautiful thing about Norway is that it has a lot to offer to everyone and takes nothing in return. The vibrant nature, food, and people compel every travel lover to visit the country once in their lifetime.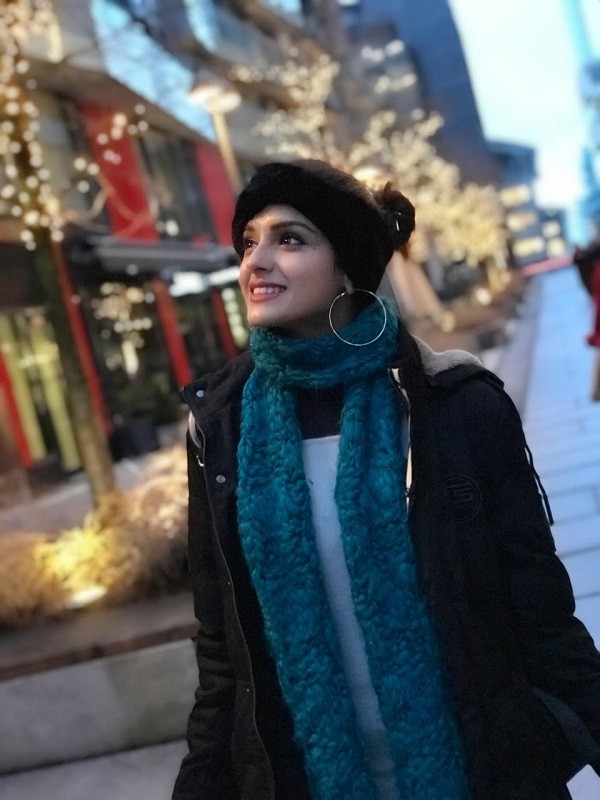 Q. When did you last travel to that place? 
February  2019 was the last time I traveled to Norway. It lies to the edge of Scandinavian countries and is known for its hills which are quite complex and huge. 
Q. What is the one fondest memory of yours that is attached to the place? 
Watching the Northern Lights, it's surreal. It is a natural phenomenon and the night sky looks as if it has been painted. 
Q. What did you buy as a souvenir from there? 
Troll dolls and a coffee mug of the cruise I went in.
Q. What advice would you like to give to the people who are planning to visit there? 
A. If one is planning to go in winter, it's really really cold. Temperature sometimes drops down to -25 degrees. Please ensure that you have packed well for the same – gloves, boots, thermals, et all. 
B. Go camping if you can to check out the Northern Lights! 
C. Travel in a group will cut down the expenses as Norway is a damn expensive country.
D. Try the reindeer meat!
E. Strawberries, raspberries, and other berries are exceptionally tasty in Norway during the summer season. This is due to the cool summers – together with the long days – which allows the berries to grow slower, thus intensifying the concentration of aromatics in the berries.
Q. At wht time does the place look most beautiful? (Sunrise, noon, sunset, night)? 
Norway's hours of daylight vary greatly throughout the year. Seasonal variations crucially depend on the region as well as altitude. Some areas also have winter darkness (polar night) when the sun does not rise above the horizon at all. Norwegian weather is at its most pleasant during the summer. The sunsets at around 15:30 hrs in December. It is pitch dark by 16:00 hrs. 
Q. What is the place famous for? 
Norway is famous for its amazing landscapes, fjords, icebergs, and the northern lights!
A fjord is a Norwegian word – it means a long narrow inlet of the sea between cliffs. The country has complex and deep fjords along its west coast which stretches from the North Sea near Denmark and Scotland into the Arctic Ocean and has borders with Finland, Sweden, and the northwestern tip of Russia. 
Q. What fashion items/brands did you purchase from there? 
None!! I had packed my bags enough from India, as Norway is cold. 
Q. Any eatery/outlet, that you still remember from the place? 
Typical Norwegian food consists of variations of yeasted and unyeasted bread and other forms of bakery, porridges, soups, potato, salted and smoked meat, and fresh, salted, or smoked fish, etc. The national dish of Norway is a stewed casserole of lamb's meat and cabbage. Norwegians are also known for eating a lot of frozen pizza. I visited a famous restaurant called Olivia and had yummy continental food. 
Q. Any meal that you had there and can still feel its taste on your buds? 
Q. Do you know of any historic facts related to the place?
The famous Vikings originated in Scandinavia; particularly Norway and Denmark.