(3.5 / 5)
Streaming Platform: Netflix
Director: Sharan Sharma
Cast: Janhvi Kapoor, Pankaj Tripathi, Vineet Singh, Manav Vij, Angad Bedi, and Ayesha Raza
Let's raise a toast to celebrate womanhood, valor, accomplishment, and the act of bravery with Gunjan Saxena – The Kargil Girl. Its the story of first women officer of IAF who made India proud, she risked her own life to save the life of many soldiers during Kargil War ( 1999 ), she executed act of incredible courage and immense bravery and proved for once and all that it's not your gender that defines and determines your success but hard work and tenacity that does. 
"I want to become a pilot", a boy making this statement may not surprise you in our patriarchal society but raises many eyebrows when the same wish is expressed by a girl. Gunjan receives the same response when she asserts her desire to become a pilot. However, the decision is opposed by her brother and mother vehemently but backed and impelled by her supportive father, the role played by ace actor Pankaj Tripathi.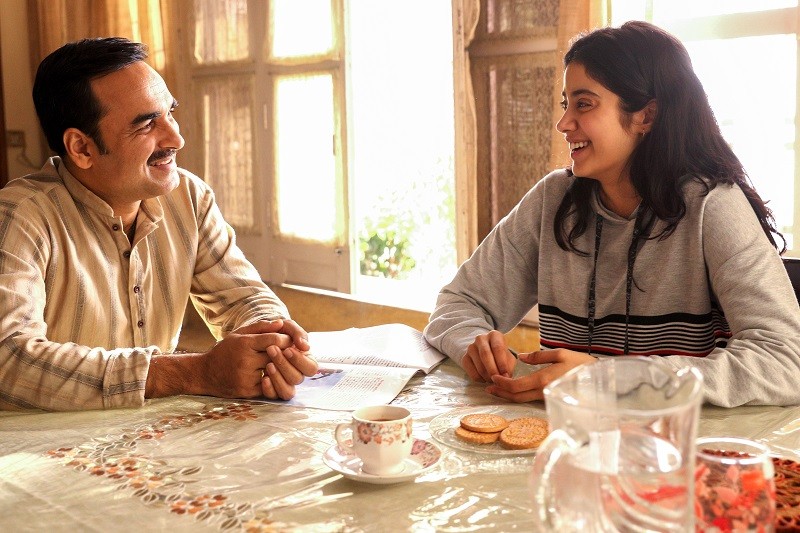 Gunjan nurtures the dream of flying since her childhood and wings of empowerment are lent by her Father.  There are several heartwarming dialogues that rationalize her father's stand, and the dialogues like, "Plane chahe ladka udaye ya ladki, udane wale ko Pilot hi bolte hai" remain motivating and praiseworthy. As the story unfolds Gunjan grows up and visits an academy to learn flying, but due to different circumstances, she fails to join it, She clears the exam but gets rejected in medical tests because of being slightly overweight. She overcomes these challenges and becomes the first IAF woman pilot to get recruited. As the story unfolds Gunjan braces herself to face multiple battles, one at the work front, and another at the battleground, issues of gender discrimination and inequality chase her to no end and make her experience at IAF disappointing and desolate.  
The chauvinistic atmosphere at IAF makes her rethink her decision of joining IAF in the first place. Dialogues by Gunjan to the concerned officer that, "Problem meri kamjori nahi, aapka darr hai. Aapko darr hai ki kahi ye 'madam', 'sir' na ban jaye", really show the mirror to the patriarchal society and leave a hard-hitting message. She is even asked to do arm wrestling with male pilots and her co-workers at IAF are not ready to take briefings from Gunjan, her flying sorties are canceled deliberately too. These kinds of incidents are not in good taste and leave her dismayed and in the blue funk. But at this stage too her father extends support and comes to her rescue and this time there is no stopping for Gunjan. The relationship between the father and daughter has been portrayed beautifully. I will also use the opportunity to confess that character of Pankaj Tripathi surely is the soul of the entire movie. The way he invents and comes out with sweet, simple yet impactful ways to convince his daughter to remain positive and resilient brings a smile on your face. 
Its surely an era of biopics and recently we saw another biopic  'Shakuntala Devi' that looked more like a movie laced with elements of entertainment, entertainment, and entertainment. I mean elements of drama, comedy, romance, music, etc. But the presentation of Gunjan Saxena is in total contrast to Shakuntala Devi. I am not trying to compare the two movies but as one would expect from a biopic it should look like a story of a real-life character than looking like a  typical stereotyped Bollywood flick. 
Coming back to Gunjan Saxena the treatment given to this movie is entirely different although this might be a difficult proposition for any director to make a movie without embellishing the movie with much-needed elements of the entertainment. But the makers have been successful in bringing out a real-life story that remains inspiring and encouraging. Her journey is mired with struggle, moments of achievements, and disappointments but in the end, she sails through to emerge victoriously.
The movie ends with the Kargil war and Gunjan being the finest pilot goes ahead and proves everybody wrong with her flying skills and passion to not let her country and father down. During the Kargil War, the attitude of the soldiers changes towards her as she brings back the trapped soldiers safely with her intelligence and courage. The picture is produced by Dharma Productions, and in the past also Karan Johar had released 'Raazi', a movie with patriotic fervor hailing valor of a woman.
Debutant director Sharan Sharma has painted the canvas of the movie very beautifully. The film not only highlights the emotions of patriotism, valor, and bravery but it touches your heart in many different ways. Pankaj Tripathi shines in the role of the father of Gunjan Saxena. Vineet Singh and Manav Vij as IAF's commanding officers have given pace to the story.
Janhvi Kapoor has done a great job in the film as Gunjan Saxena. There are instances where she makes the character so relatable. There is a tremendous improvement in her performance since Dhadak and Ghost Stories. She is able to prove her mark despite being surrounded by great actors like Pankaj Tripathi, Vineet Singh, and Angad Bedi. You will also agree that Janhvi in her first movie "Dhadak" was very natural and displayed the soft emotions of a girl in love on the screen with ease. In this film too, Janhvi expresses passion and dedication towards her career and essays the role of a young girl who is clear about her career choice but gets confused and demotivated also at times. I will refrain from naming anyone, but even today, there are many actresses in Bollywood who are surviving because of good looks and networking and even after years pass by, they are far from acting. In contrast, Janhvi, in her third film only, looks very dedicated and convincing in the role of Gunjan. Talking about Vineet Singh, he impressed us immensely with his skills earlier too in the movie "Stand ki Aankh". And once again he has impressed us infinitely. Pankaj Tripathi remains the soul of the movie and this would be wrong to say that this movie is without a hero, because he is the hero of the movie. The brilliant actor Pankaj is known for his well-known style and in this film too he has proved that there is no one like him to bring to life characters with versatile traits. I would sum up saying that the movie is a one time must watch and would give it a rating of 3.5 out of 5.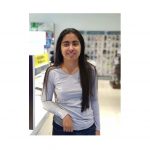 Divya Khanna is the youngest member of the team, with a background in political science. She has joined High on persona print magazine in order to gain hands-on experience in various aspects of editorial coordination as associate editor of the magazine and news site. She has a penchant for writing and enjoys meeting new people and interviewing celebrities. She has a passion for writing, she has an eye for details, loves traveling, and a quick learner. She comes from the Mecca of Indian Journalism, Delhi.
Email: divyakhanna3197@gmail.com