Motorola to launch Razr foldable phone on November 13 with clamshell design
After Samsung Galaxy Fold released and Huawei Mate X making buzz around its upcoming release after waiting for almost a year, Motorola is about to introduce its own unique foldable phone clad in a clamshell design that resembles its Razr flip phone series.
According to the report by BGR India, Motorola is expected to launch the device on November 13 while its Indian release could be expected sometime around the end of this year. Leakster Evan Blass posted a few images of the Motorola Razr in its full glory which appears as a reminiscent of classic Razr V3 but with a foldable display.
Unlike Samsung Galaxy Fold or Huawei Mate X or even Microsoft Surface Duo, Motorola Razr will follow a flip phone or clamshell form factor where the phone has a tall display that folds like a flip phone using its state-of-the-art folding mechanism. The device is expected to arrive with a front-mounted fingerprint scanner on its chin while the front will also have a 5MP selfie camera followed by a 16MP camera at the back just below the secondary display when the phone is folded.
According to the reports, the device will have a 2.7-inch gOLED display at the back that must show notifications and a few other details while the main internal screen is a 6.2-inch foldable pOLED panel with a resolution of 2142×876 pixels with an aspect ratio of 21:9 which is imminent since the device will be taller. 
Apart from that, the device doesn't have any water-resistant property and there won't be any 3.5mm headphone jack either. The USP of the phone is its price tag which is around $1,500 i.e. Rs 1,07,800/- making it one of the most expensive phones from Motorola while also listing it among the expensive foldable phones although the device is expected to be less fragile than Galaxy Fold. 
The device is expected to arrive with Qualcomm Snapdragon 710 on-board alongside 8+128GB of base variant although there is a 6+256GB variant as well that will surely cost more so beware of it. Motorola is going to make the Motorola Razr official on November 13 so check it out.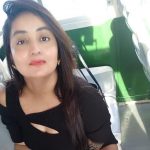 She has been there and done that. After graduating from Delhi University, she completed her diploma in Journalism from Bhartiya Vidya Bhawan, Delhi. Down the line, she completed her internship with National Herald Newspaper successfully,, and went on to Join Mainline Business daily, Business Standard. She also dabbled in image management and brand consultancy. She is a prolific writer on lifestyle entertainment, branding, lifestyle, travel, and politics.
Contact her at [email protected]