Highlights:




Live Q&A Instagram show begins with Jessica Ross




Mogul productions line up a series of live interviews with prominent faces of Hollywood
Come May 4th and fans of actress Jessica Ross will get to see her live and interact through a special series by Mogul Studio. She will appear as an esteemed guest on Mogul Studios Live Q&A on Instagram.
Following the launch of their new website Mogul Studio is launching the live series that involves celebrities from Hollywood and a world of entertainment. According to Mogul Productions, the lineup of other celebrities for live interviews includes prominent Hollywood guests like Dane Hallett ( Aquaman, Mad Mad, Pirates of the Caribbean ) and Jordan Ver Hoeve (Huge in France, Exploited 2021). Hence, Jessica Ross happens to be the first celebrity on the list who will answer the questions live.
Jessica Ross is a famous actor and writer, who is known for her work in Kingpin Katie (2019), Total Forgiveness (2019), and College Humor Originals (2006). In addition to this, the actress is a publicist and knows the ins and outs of Hollywood. She has appeared in many films, television shows, and magazines. "Jessica has a tremendous command of the film industry, both from being on television but also behind the scenes on how entertainment artists need to navigate publicity, I was thrilled to be able to get someone of her talent and inside knowledge," informs film adviser and one of the co-founders, James Pratt, who looks all excited to host live Q&As.
With this series, progressive new company Mogul Studios is making efforts to reach out to aspiring participants and professionals. The company through its new website has extended invites to the users to invest, vote, and interact on Hollywood and films. In short, Mogul is providing a platform for connecting filmmakers, investors, and fans. According to information shared on its website, Mogul is working to connect investors, industry professionals, and fans and build a transparent and open community. Investors can reap benefits by having access to globally diversified film funds and create a base from the start. Aspiring professionals can get opportunities to shape their careers. According to available information provided by Mogul, between the film advisers, Mogul has handled close to 1 billion in film budgets and produced over 80 award-winning films. Other than the investment part the new website of Mogul also invites professionals to sign up, network, display their work, and interact through direct messaging.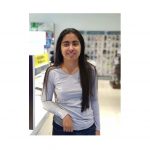 Divya Khanna is the youngest member of the team, with a background in political science. She has joined High on persona print magazine in order to gain hands-on experience in various aspects of editorial coordination as associate editor of the magazine and news site. She has a penchant for writing and enjoys meeting new people and interviewing celebrities. She has a passion for writing, she has an eye for details, loves traveling, and a quick learner. She comes from the Mecca of Indian Journalism, Delhi.
Email: divyakhanna3197@gmail.com